Now that summer is slowly making its way to Mumbai (after an unusually long winter), I am back to making my stock of traditional summer drinks like Majjiga (Andhra Buttermilk) to keep cool and hydrated. You can think of this drink as Andhra's version of Neer Mor from Tamil Nadu.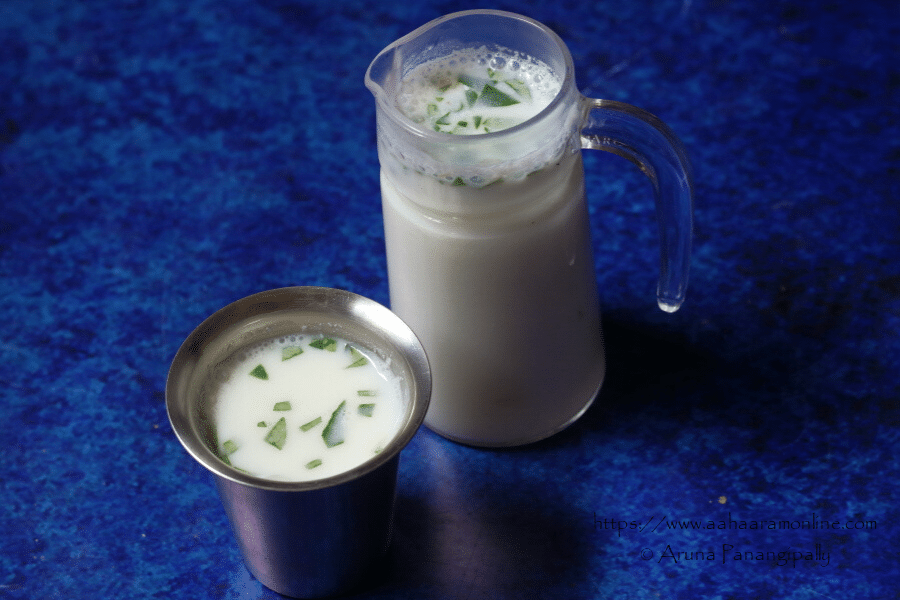 I absolutely love curd (yogurt) and all its derivatives; be it Chaas, Majjiga Pulusu (Andhra Kadhi), Nimmakaya Majjiga | Lemon Flavoured Buttermilk, Menthi Majjiga | Fenugreek Flavoured Buttermilk, Kadhi and more.
I always a bowlful of curd with lunch (and on occasion at breakfast as well. :)) While the benefits of eating curd (or dahi as it is called in Hindi) everyday are well-known, for me as a South Indian, it is almost a sacrilege to end a meal without dahi or buttermilk.
During summer months, you will always find me sipping buttermilk and offering it to anyone who visits. We also serve this drink on Rama Navami and Akshaya Trittiya.
Buttermilk is not only cools the body, it also helps in digestion. Also, the milk added to the curd to make this drink greatly reduces the mild acidity of curd and makes this drink a great cure for acidity and heartburn.
You should use at least 3 cups water for 1 cup curd to realise the benefits of Majjiga. The consistency should be very thin and close to that of water.
In reality, buttermilk is a term for the liquid leftover after extracting butter from cream. However, in India, this is the English term used to describe highly diluted plain yogurt or curd. I believe this is called "cultured buttermilk" in the western world.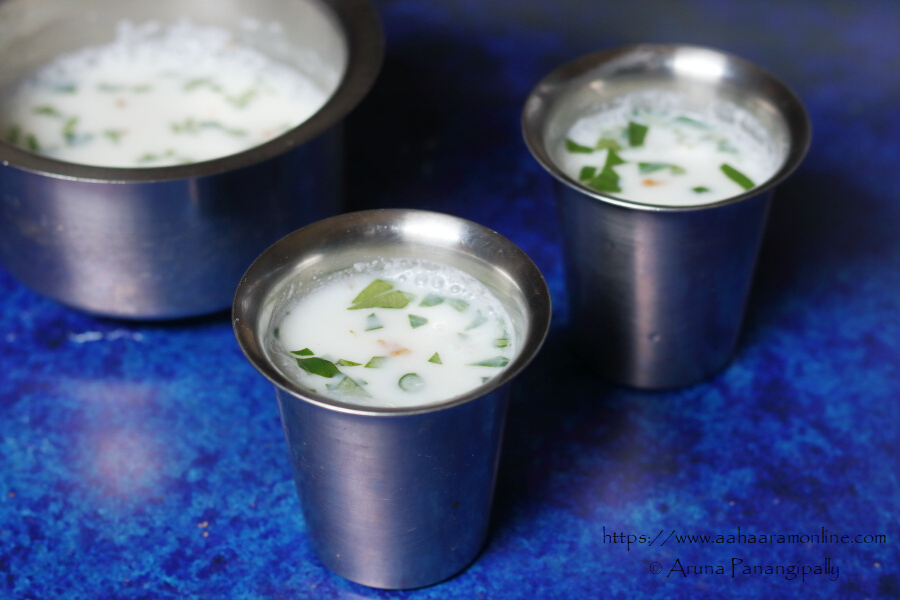 Recipe to Make Majjiga | Andhra Spiced Buttermilk | Neer Mor
Majjiga | Andhra Spiced Buttermilk
Majjiga is a mildly spice buttermilk made in Andhra. It is offered as a drink to anyone who visits in summer, and also to end a meal.
Ingredients
1

Cup

Curd, Plain Yogurt

4

Cups

Water

2

tsp

Grated Ginger

1

tsp

Pounded Green Chilly Paste

10

Finely Chopped Curry Leaves

Salt to taste
Instructions
Whisk the curd or yogurt well till it is smooth and had no lumps. Mixing it vigorously with a heavy spoon also does the trick.

Add the ginger, green chilli, curry leaves and salt. Mix well.

Refrigerate and serve when needed.
Notes
If you suffer from sinus trouble or then are on a anti-inflammatory diet, add some crushed pepper to the majjiga.