This weekend we had the classic combination of Majjiga Pulusu and Patoli | Bharda Palya for lunch. I took this opportunity to update this post which was originally posted in March 2014 with new pics and better descriptions.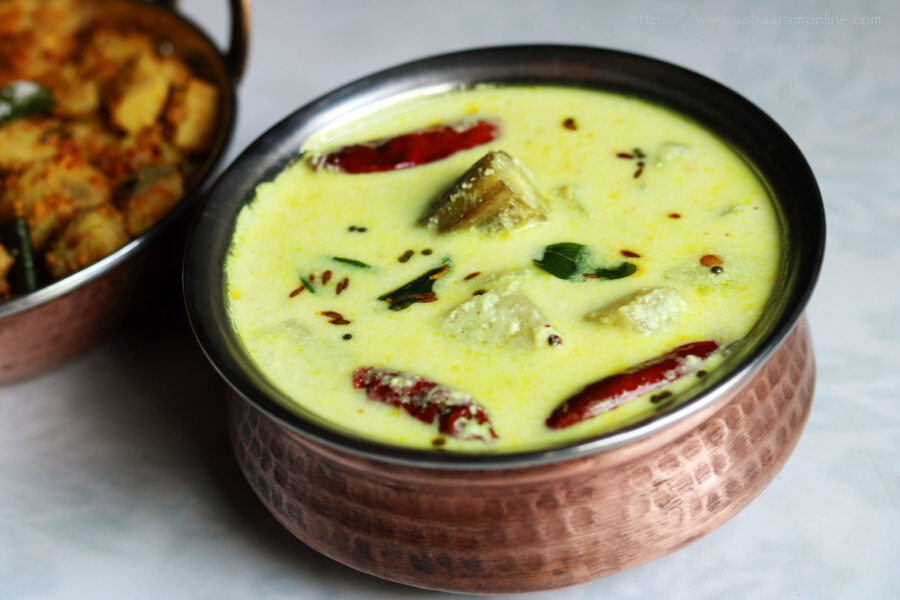 I have two variations of the basic Majjiga Pulusu that I make; one with coconut and one without. This is the variation with the coconut.
Called Mor Kuzhambu in Tamil Nadu, this buttermilk stew can incorporate a range of vegetables from such as bendakaya/bhindi/okra, vankaya/baingan/aubergines, mullakada/shenga/drumstick, anapakaya/lauki/bottle gourd) or then with greens.
In my home, we like to make Majjiga Pulusu with greens. Do see my recipes for Chukka Koora Majjiga Pulusu (Buttermilk Stew with Green Sorrel).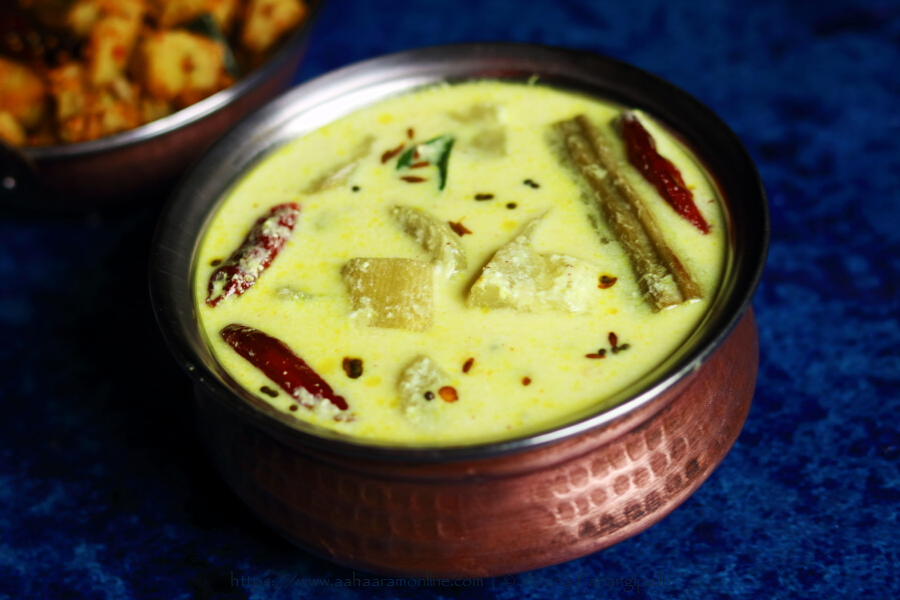 Recipe for Majjiga Pulusu | Mor Kuzhambu | Andhra Kadhi
Majjiga Pulusu | Mor Kuzhambu | Andhra Kadhi
Majjiga Pulusu is a buttermilk stew from Andhra Pradesh and Telangana. It is called Mor Kuzhambu in Tamil Nadu. In Andhra, we add a whole range of vegetables to this Kadhi. In this version, I have used only drumstick and bottle gourd. However, on other occasions, I also add okra or lady fingers and brinjals as well.
Ingredients
1

Cups

Curd

1

Cup

Water

3/4

Cup

1" Bottle Gourd Pieces

~125 gms

1

Small

Drumstick, Cut into 2" pieces

(~100 gms)

Salt to Taste
For the Coconut Paste
1/4

Cup

Grated Coconut

2 or 3

Green Chillies

2

tbsp

Water
For Tempering
2

Red Chillies

1/4

tsp

Turmeric

1/2

tsp

Mustard Seeds

1/2

tsp

Cumin Seeds

1

tsp

Oil

A Few Curry Leaves
Instructions
Cooking the Vegetables
To a heavy bottomed vessel, add the bottle gourd, drumstick, 1 cup of water and 1/2 tsp salt.

Over medium heat, cook without a lid till the water starts to simmer.

Cover and cook till the vegetables are done.

Let the vegetables cool a bit.
Making the Paste
Grind the grated coconut and green chillies with 2-3 tbsp water into a smooth paste.

Getting the Yogurt Base Ready

Add the ground coconut-chilli paste to the curd and beat well to get a smooth thick liquid. Do not add any water at this stage because the vegetables are being cooked in a lot of water.
Tempering the Final Step
In a ladle, heat the oil.

Add the mustard seeds and wait till they crackle.

Add the cumin seeds and fry for about 10 seconds.

Add the split red chillies and curry leaves, and fry for a few seconds.
Putting Everything Together
When the vegetables have cooled a bit, add the spiced dahi to it and mix well.

Add the tempering a mix well.

On low to medium flame, heat the Majjiga Pulusu for about 5 minutes. Do not let it boil because there is no binding agent and the yogurt will split.

Turn off the heat.

Cover and let the Majjiga Pulusu rest a bit.
Serving Ideas
Serve the Majjiga Pulusu with plain steamed rice, or as a side to rice mixed with Kandi Podi | Paruppu Podi, rice mixed with Patoli | Bharda Palya, or then rice mixed with Kandi Pachadi | Andhra Tuvar Dal Chutney.
Notes
If the pulusu looks a bit pale in the beginning, do not add more turmeric. The colour of the turmeric kicks in only after the majjiga pulusu comes to a simmer.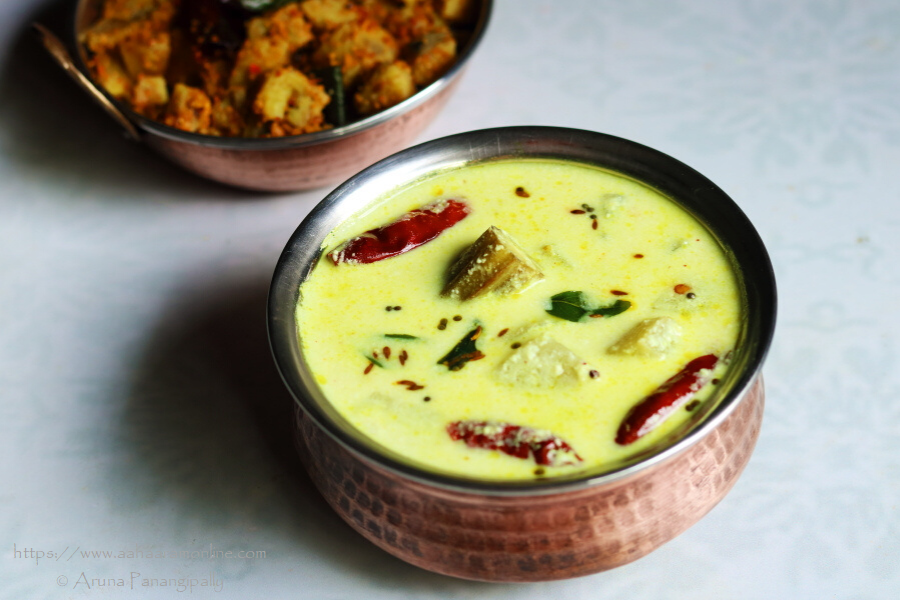 Method to Make Majjiga Pulusu | Andhra Kadhi | Mor Kuzhambu
Cooking the Vegetables

To a heavy bottomed vessel, add the bottle gourd, drumstick, 1 cup of water and 1/2 tsp salt.
Over medium heat, cook without a lid till the water starts to simmer.
Now, cover and cook till the vegetables are done. The bottle gourd pieces will become translucent and can be cut easily with a spoon while still being firm.
Turn off the heat, and let the vegetables cool a bit.


Making the Paste

While the vegetables are cooking, grind the grated coconut and green chillies with 2-3 tbsp water into a smooth paste.


Getting the Yogurt Base Ready

All you need to do is add the ground coconut-chilli paste to the curd and beat well to get a smooth thick liquid. I do not add any water at this stage because my vegetables are being cooked in a lot of water.



Tempering the Final Step

In a ladle, heat the oil.
Add the mustard seeds and wait till they crackle.
Now, add the cumin seeds and fry for about 10 seconds, or till the cumin seeds start to change colour.
Finally, add the split red chillies and curry leaves, and stir-fry for a few seconds.

Putting Everything Together

When the vegetables have cooled a bit, add the spiced dahi to it and mix well.

Next, add the tempering a mix well.

On low to medium flame, heat the Majjiga Pulusu for about 5 minutes. Do not let it boil because there is no binding agent and the yogurt will split.


Turn off the heat.
Cover and let the Majjiga Pulusu rest a bit.

Serving Ideas

Serve the Majjiga Pulusu with: