This weekend I wanted a dessert that did not involve much cooking and so I made this super simple Mango Bhapa Doi or Aam Doi.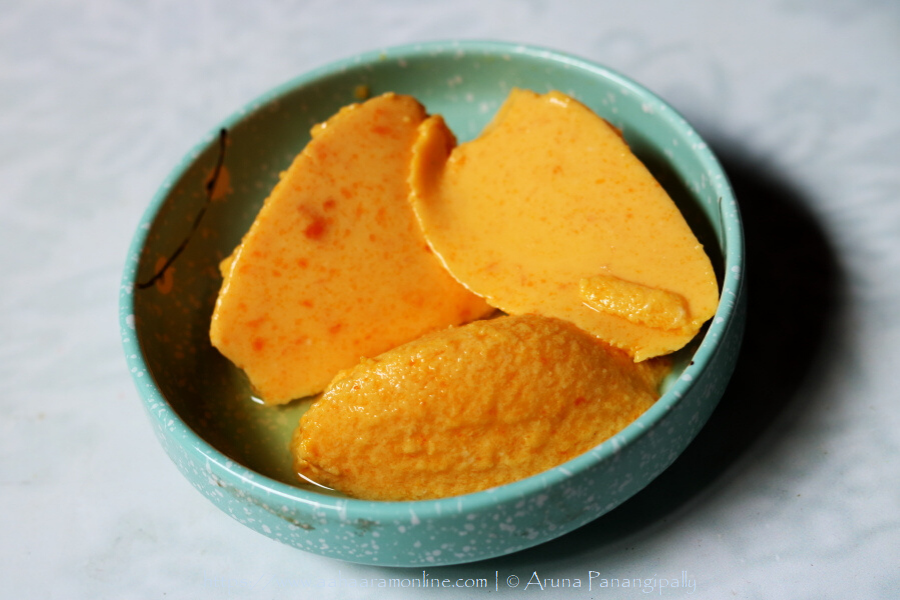 Also called Aam Doi, this simple Bengali dessert is made with mango pulp, condensed milk, yogurt and milk. All you need to do is mix all these ingredients together and steam them. Literally, that's all you do and you get a delicious creamy dessert.
Truth be told, I prefer this traditional Bengali sweet to Mango Cheesecake; Mango Bhapa Doi is lighter on both the tongue and the stomach and equally delicious.
If you refrigerate this sweet, it lasts for a couple of days; that is if you or others withh access to your refrigerator don't fall prey to temptation.
Tip: I found that if you steam this dish in an earthern vessel, you lose the creamy texture; I guess the earthern vessel absorbs a lot of the moisture. So I always use a steel or a ceramic vessel.
If you like Bengali desserts, do try my recipes for The Perfect Rasmalai | Rossomalai: Durga Puja Special Recipe, Nolen Gurer Payesh | Bengali Rice & Milk Pudding with Date Palm Jaggery, and Chennar Payesh | Bengali Cottage Cheese Kheer | Paneer Kheer.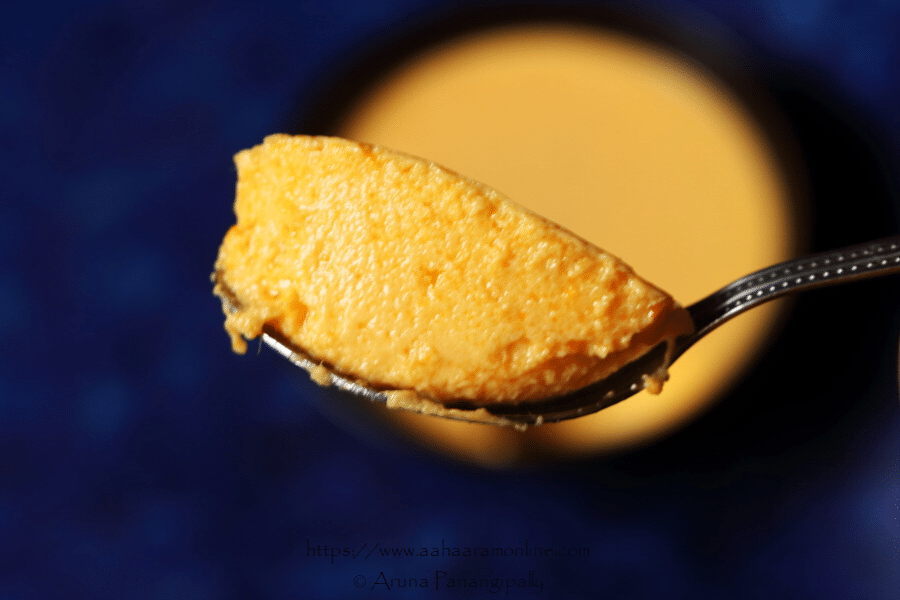 Recipe for Mango Bhapa Doi | Bengali Aam Doi | Steamed Yogurt with Mango
Mango Bhapa Doi | Bengali Aam Doi
Bhapa Doi is a steamed sweet yogurt made in Bengal. I added mango to it to make Mango Bhapa Doi or Aam Doi. Think of it as India's version of cheesecake.
Ingredients
400

gms

Sweetened Condensed Milk

250

ml

Milk

250

gms

Thick Yogurt

(See Notes)

150

gms

Mango Pulp

(~1/2 Cup)
Instructions
Add water to a steamer and let the steam build up.

Whisk the yogurt and mango pulp together till the mix is smooth and has no lumps.

Add condensed milk and milk, and mix well.

Transfer into individual bowls or into a large bowl.

Cover the bowl with cling film, foil, or a tight-fitting lid.

Let the steamer cool and then remove the Bhapa Doi from the steamer.

Let the Bhapa Doi cool to room temperature and then chill for 3 to 4 hours.
Notes
If you feel the water content in the yogurt is high, transfer to a sieve and let the excess water drain out. 
Alternatively, you can use a little less milk (about 200 ml instead of 250 ml).