Upma is a light and filling breakfast or tiffin (afternoon snack) item that is very popular in South India. I have already written about Tomato Upma and Onion Upma. Today I am writing about Vegetable Upma.  
I love to have this version of Upma with Coconut Chutney or then Magai Perugu Pachadi.
Here is the recipe for this simple, healthy, tasty, and filling breakfast.
How to Make Vegetable Upma
Serves: 4
Time: 20 Minutes
Ingredients
Rava, Semolina, or Cream of Wheat – 1 Cup
Onion – 1 small
Potato- 1 small
Carrot – 1 small
Peas – 1/2 cup
Udad Dal or Husked Black Gram – 1 tsp
Rai or Mustard Seeds – 1/2 tsp
Green Chillies – 3
Grated Ginger – 1 tsp
Water – 2.5 Cups
Curry Leaves – 6 to 8
Oil – 1 tbsp
Ghee – 1 tsp (Optional)
Salt to Taste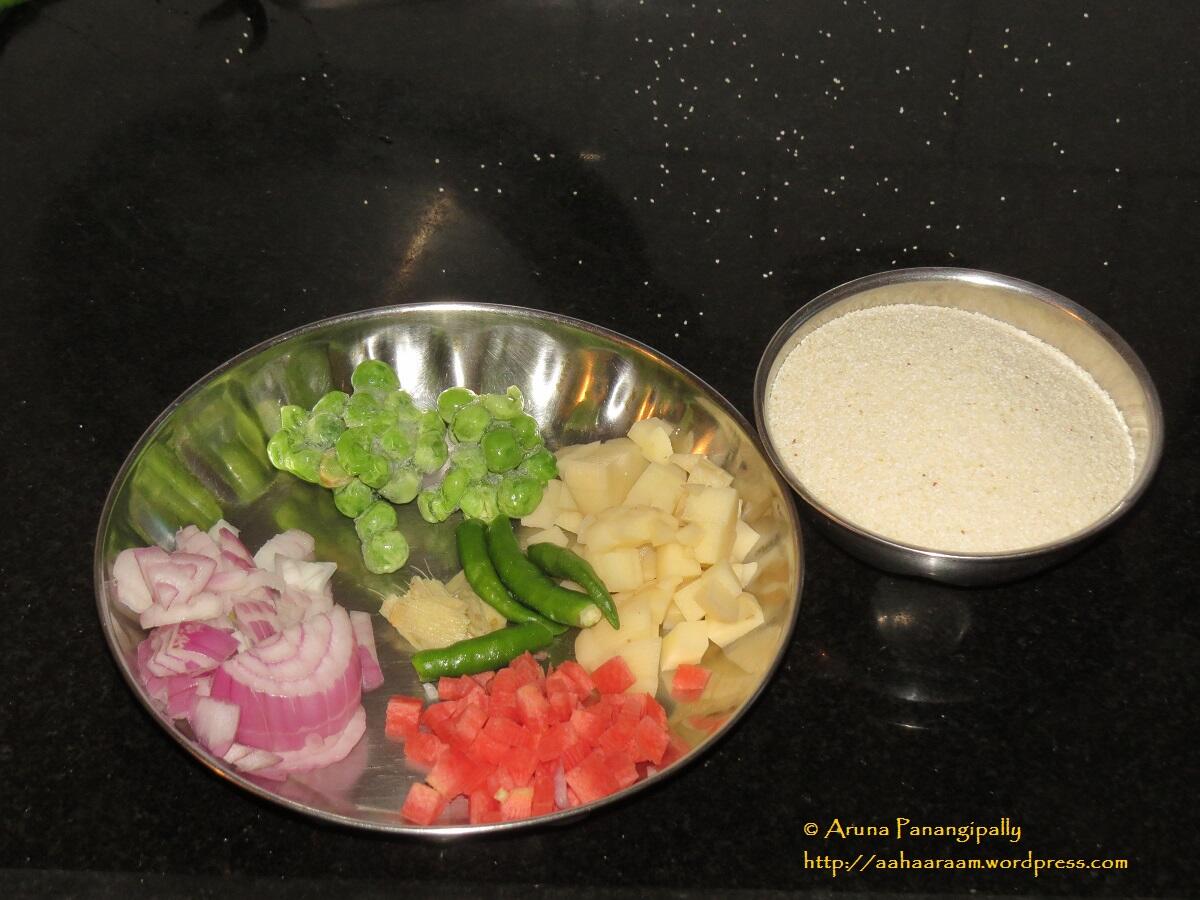 Pin
Method
Over medium heat, dry roast the rava till it just starts to change colour. Stir continuously.
Set aside the roasted rava.
Peel and chop the onion into 1/4″ pieces.
Peel and chop the potato into 1/4″ pieces.
Peel and chop the carrot into 1/4″ pieces.
In a kadai or a wok, heat the oil.
Add mustard seeds and wait till they splutter.
Add the udad dal and fry till the dal turns light brown in colour.

Add the potato and carrot pieces.
Stir-fry for a couple of minutes.

Add the onion pieces and stir-fry till the onion just starts to turn transparent.
Slit the green chillies.
Add the green chillies, grated ginger, and curry leaves.

Stir fry for a minute.
Add 2.25 cups of water and salt.
Bring the water to a boil.

Turn the heat to low.
Add the roasted rava while stirring continuously to ensure that no lumps are formed.
Mix well.

Increase the heat to medium.
Cover the kadai and let the Vegetable Upma cook for 5 minutes.
Uncover and mix well.
Cook for a few minutes more till all the water is absorbed and the rava is cooked.
Turn off the heat.
Add the ghee and mix well.

Serve the Vegetable hot with Coconut Chutney, Magai Perugu Pachadi, Molaga Podi or Nimmakaya.
Tips
Do not fry the onions till they are brown. The Upma will have a faintly bitter aftertaste if you do.
Just add enough salt to the water such that the water starts to taste slightly salty.
Resist the temptation to add more water. The Vegetable Upma will cook in the water we have added.