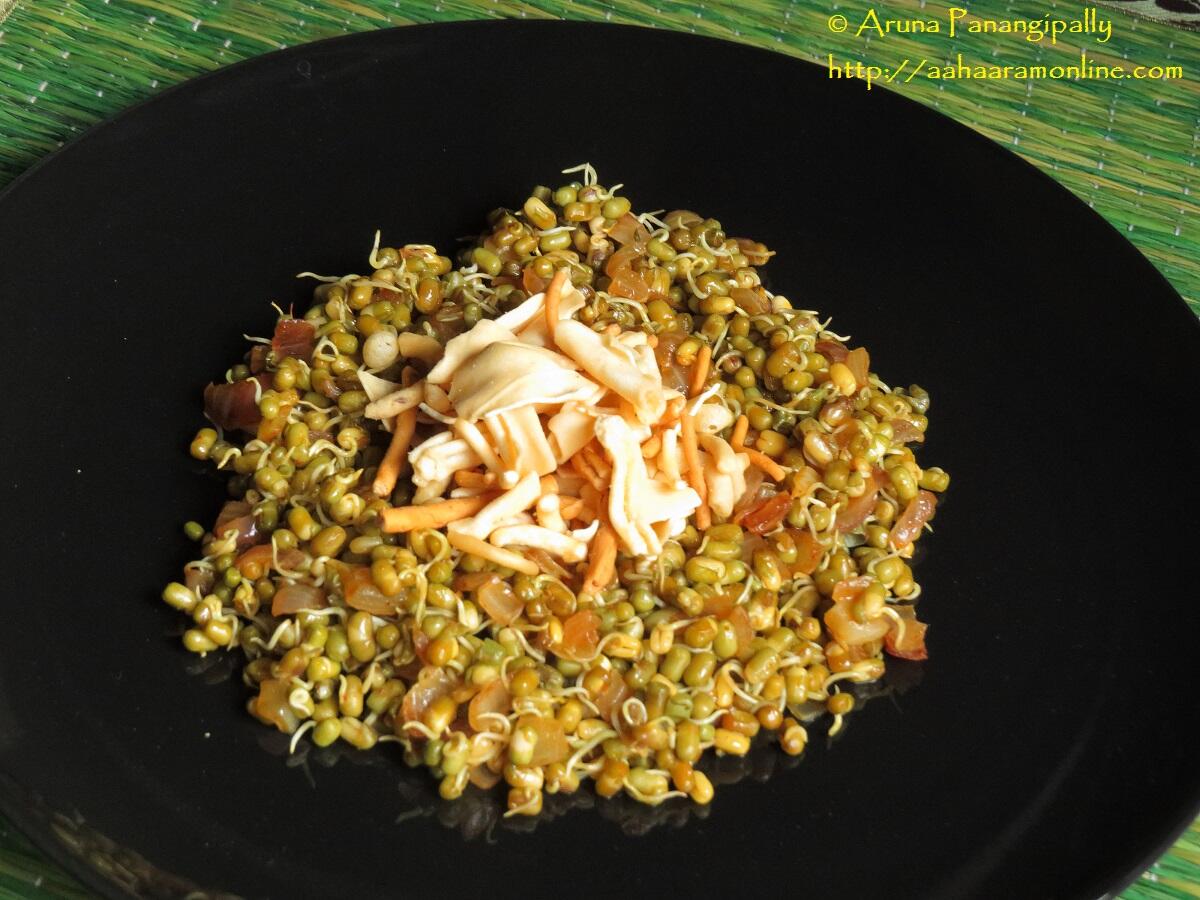 Pin
I try to include Moong Sprouts as a part of our family diet to up the protein quotient. Of course, I often use use the sprouts to make Moong Sprouts Bhaji, Moong Khichdi, Moong Palak Khichdi, or Pesarattu. There is another way I enjoy simple moong sprouts and that is by sauteeing it with some onions and then topping it with Farsan.
Actually, this is my Mom's recipe. Over the years, I have realised that my mother resorted to very creative ways of ensuring that my brother and I ate healthy, yet tasty food. This recipe, which combines healthy moong sprouts with the notionally unhealthy Farsan, not only satisfied my mother's wish that my brother and I eat healthy but also satisfied our craving for 'junk' food. The best part about this recipe is that it is a great way to transform moong sprouts into a snack.
I like to have this with some cold dahi/curd.
Adding Some Fun to Moong Sprouts with Farsan
Moong Dal Sprouts and Farsan
This is a simple recipe that spices up Moong Dal Sprouts with some Farsan.
Ingredients
3

Cups

Moong or Green Gram Sprouts

1

Cup

Farsan

1

Large Onion

1

tsp

Chilli Powder

1

tbsp

Oil

Salt to Taste
Instructions
Chop the onion into small pieces.

In a wok/kadai, heat the oil.

Add the chopped onion and fry till transparent.

Add the sprouts and stir fry for 5 minutes.

Add salt and chilli powder.

Mix well.

To serve:

To a small bowl or plate, add about 5 tbsp of sprouts.

Top with 2 tbsp of farsan.
Notes
Other toppings you can add are finely chopped tomatoes and raw onion.
For those who like the tangy taste, add a dash of lemon juice.