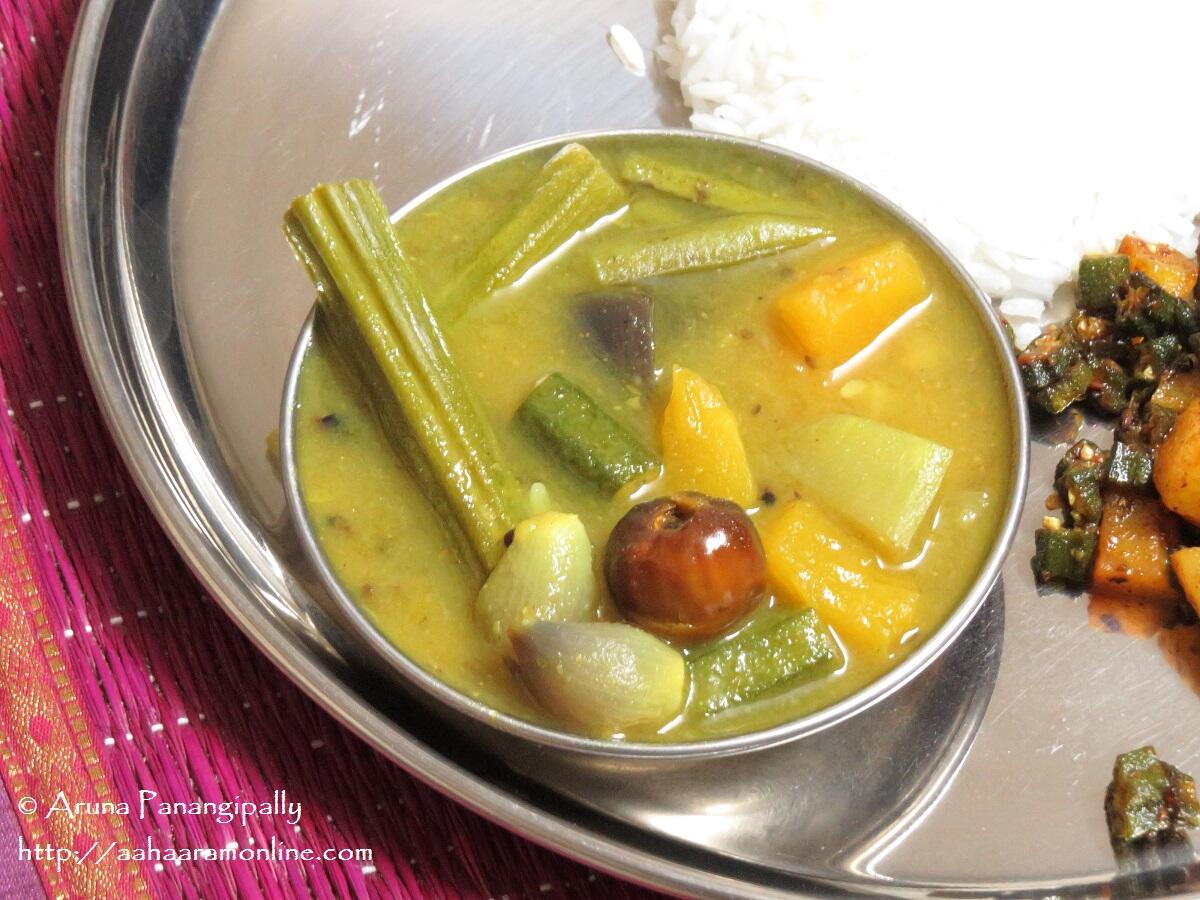 Pin
An eternal favourite in my home is Mukkala Pulusu. This sweet and tangy pulusu is also a very wholesome and healthy option because it combines a variety of vegetables and some lentils. Just eat this with rice and your daily quota of proteins, carbs, and several vitamins and minerals is taken care of. Children love this pulusu because it is sweet. Mothers love this pulusu because their children eat so many vegetables in one shot when they eat this pulusu.
Also known as Teepi Pulusu or Bellam Pulusu, this wonderful dish is a must for lunch or dinner during most poojas and festivals in Andhra Pradesh. A well-made Mukkala Pulusu has just the right balance of sweet and sour and tastes great as a side-dish for Mudda Pappu Annam or then Nuvvula Posi Annam.
Ingredients
Mixed Vegetables – 2 Cups

Red Pumpkin/Gummidikaya/Lal Bhopla
Bottle Gourd/Anapakaya/Lauki/Doodhi
Sweet Potato
Drumstick
Lady Finger
Madras Onions/Shallots (Omit if you are making for a puja or naivedyam)
Small Brinjals
Gavar or Goru Chikkudikaya

Tamarind Pulp – 1 tbsp
Grated Jaggery – 4 to 6 tbsp
Rice Flour – 1 heaped tsp
Tuvar Dal/Kandi Pappu – 2 tbsp
Turmeric – 1/2 tsp
Mustard Seeds – 1/2 tsp
Cumin Seeds – 1/2 tsp
Red Chillies – 3
Oil  – 2 tsp (Sesame oil or Nuvvula Nune preferred)
Asafoetida/Hing – a pinch
Salt to Taste
Curry Leaves – 6 to 8
Method to Make Mukkala Pulusu, Teepi Pulusu or Bellam Pulusu
The Preparations

Peel the shallots, red pumpkin, and bottle gourd.
Cut all vegetables into 1/2″ pieces.
Dissolve the tamarind pulp in 1/2 cup water.
Pressure cook the tuvar dal separately till it is mashable.
Set aside.

To Make the Mukkala Pulusu:

In a heavy bottomed vessel, heat oil.
Add mustard seeds and wait till they sputter.
Add the cumin seeds and split red chillies.
Stir-fry for a few seconds.
Add lady finger pieces and fry for about 2-3 mins.
Add the shallots and stir-fry till the lady finger and shallots are fried a bit.
Add hing and curry leaves.
Stir-fry for a few seconds.
Add all vegetables.
Cover with enough water and cook covered till vegetables are cooked.
Add tamarind pulp and jaggery.
Cook till jaggery melts.
Add mashed dal, salt, and turmeric.
Mix well.
Mix rice flour with 1/4 cup water.
Add to the Mukkala Pulusu.
Mix well and bring to a boil.

Serve with hot rice and ghee or as a side for Mudda Pappu Annam.
Tips
The red pumpkin should be ripe and orange. It adds a wonderful sweetness to the pulusu.
If you add lady finger along with all the veggies right in the beginning, the pulusu will be sticky.
Cook the dal separately and not with the vegetables as it needs longer to cook.
Add more jaggery if the pulusu is not sweet enough.