Think of a spicy accompaniment for Idli or Dosa, and most people think of the traditional, Khara Podi (aka Milaga Podi). My favourite, however, is Andhra Nalla Karam; a name which literally means Spicy Black Powder. 🙂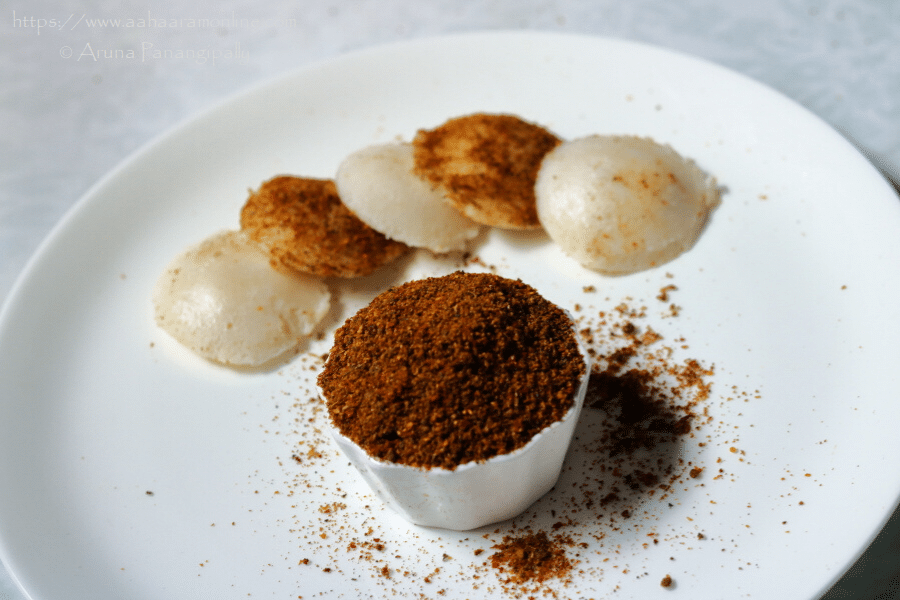 Nalla Karam Podi is almost black in colour and derives its name from its colour. The colour comes from the use of the udad dal with skin and roasted curry leaves, while the karam (meaning spicy) comes from the use of spicy red chillies.
Tip: This podi is to be made only with udad dal that has skin (split or whole does not matter).
The relatively bland Idli or Dosa serves as the perfect vehicle to enjoy this absolutely delicious and spicy powder. Another great way that we Andhras relish Nalla Karam is to mix it with some hot rice with ghee, and then eat it at the start of a meal.
On a more serious note, most of our traditional recipes are so very nutritious. The udad dal, curry leaves and coriander seeds in this spice blend give one a good dose of calcium, carotene, potassium, magnesium, iron, vitamin C, and fibre. Given that Nalla Kharam is almost always eaten with ghee, a person can get a good dose of calcium in one shot.
Do try my recipes for Thengai Podi | Chammanthi Podi | Roasted Coconut Chutney Powder, Angaya Podi (Without Dal or Paruppu): Post Partum Recipe, and Karivepaku Podi Idli | Idli with Curry Leaves Powder.
Read more about the nutritive value of various spices on this webpage maintained by the Spices Board of India.
Recipe for Andhra Nalla Karam
Andhra Nalla Karam Podi (No Garlic Version)
Nalla Karam is a traditional chutney powder from Andhra Pradesh that is used with idli, dosa as well as with rice. Made with Udad Dal (with skin), curry Leaves, coriander seeds and chillies, the name literally means "spicy black powder".
Ingredients
1/4

Cup

Coriander Seeds, Sabut Dhania

(25 gms)

4

tsp

Udad Dal (Whole or split, but with skin) (20 gms) See Notes

2

tsp

Chana Dal

(20 gms)

1

tsp

Cumin Seeds

(5 gms)

1/4

Cup

Fresh Curry Leaves

(10 gms)

6 to 8

Spicy Red Chillies

(6 gms)

3/4"

Ball

Tamarind

(4 gms)

1 to 1.5

tsp

Oil

1/2

tsp

Ghee

(Vegans can use oil)

Salt to Taste
Instructions
In a heavy bottomed kadhai, over medium flame, add a few drops of oil and roast the coriander seeds till they start to change colour. Transfer to a plate.

Add a few drops of oil and roast the udad dal till it becomes aromatic. (Important: See Notes). Transfer to a plate.

Add a few drops of oil and roast the chana dal till it becomes golden brown. Transfer to the plate.

Add a few drops of oil and roast the curry leaves till it become crisp but be careful they do not become black. Transfer to the plate.

Add a few drops of oil and roast the red chillies till they change colour. Transfer to the plate.

Without any additional oil, roast the cumin seeds till they start to change colour. Transfer to the plate. Roast the cumin seeds at the end because they tend to stick to the kadhai. If you fry them earlier, then there is a good chance that some seeds will stick to the kadahi and char when you fry other ingredients.

Just add some salt and the tamarind to the kadhai and leave them till all other ingredients cool. Transfer to the plate.

When all the roasted ingredients cool to room temperature, grind them with the salt and tamarind to a coarse powder.

Over low heat, melt 1/2 tsp ghee.

Add the ground Nalla Karam and roast till the powder is aromatic.

Turn off the heat and let the chutney powder cool to room temperature.
Enjoying Nalla Karam
Serve Nalla Karam by itself or then mixed with ghee along with Idli or Dosa.

Mix a spoonful of Nalla Kharam with ghee in hot rice. Mix well and enjoy as the first step of a meal.
Notes
Nalla Karam is always made with udad dal with skin. It is this roasted skin that gives this powder its distinctive dark colour.
Roasting the udad dal can a bit tricky if you are using whole udad dal with skin because you won't see any change in colour. Here you have to rely on the aroma. If you use split udad dal with skin you will see the lentil change colour and become golden brown.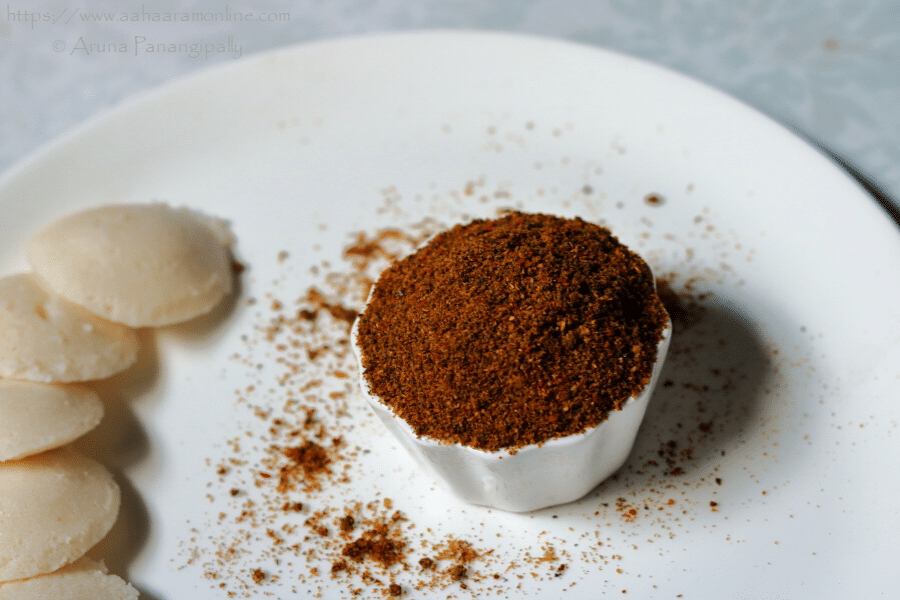 Method to Make Nalla Karam Podi from Andhra Pradesh
Using a few drops of oil each time, roast each of the following ingredients separately till they start to change colour.

Coriander Seeds
Udad Dal
Chana Dal
Curry Leaves (roast them till they are crisp but still green)
Red Chillies
Cumin Seeds (roast them last because they stick to the kadhai)

In the end, add the tamarind and salt to the hot kadhai and leave them there. This dries them out a bit.
I transfer all ingredients to a common plate as I finish roasting them and let them cool to room temperature before I grind them. If you grind hot or warm ingredients, there will be some degree of condensation that cause the podi to develop mould.


Grind all ingredients to a coarse powder.

In a kadhai, over medium heat, melt the ghee.
Add the Nalla Karam Podi and stir-fry for 3 to 5 minutes. The podi will become aromatic and darker in colour.
Let the podi cool and store in an air-tight bottle.
Serving Nalla Karam:

With idli and dosa, serve the podi by itself or with ghee.
Mix a spoonful of the podi and ghee with some hot rice and eat at the start of the meal.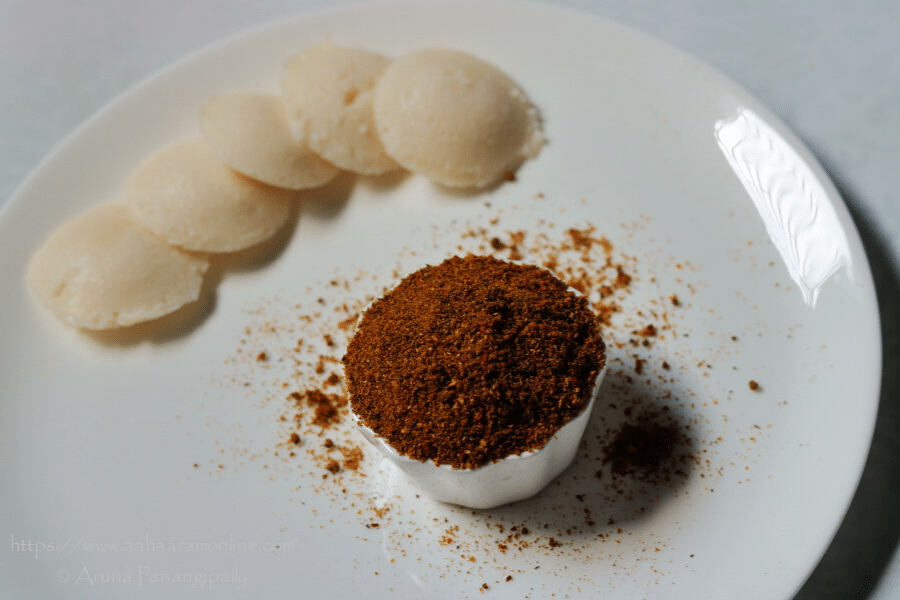 This recipe was first posted in February 2014.