This recipe for Nucchina Unde or Nuchinunde was suggested to me by Roopa Belur, a friend and fellow foodie. So this is yet another reader suggested post. 🙂
Like Usha, who suggested the recipe for Kanda Kairi, Roopa and me have regular food related conversations. She is a treasure trove of traditional Kannada recipes and we often compare notes on similar dishes from Andhra and Karnataka.
Roopa suggested this Nucchina Unde as a healthy breakfast last week and also told me how it is traditionally eaten. She suggested that I use a dollop of ghee (she knows my weakness 🙂 ) and Southekayi Hasi Majjige as an accompaniment. Roopa also generously shared the recipes for both the dishes. 🙂
Given that I had a 4-day weekend, I made these  delicious Nucchina Unde with Southekayi Hasi Majjige as breakfast on Saturday. I absolutely loved the combination as did my family.
Roopa, thank you so much for this suggestion, and rest assured that this will now be a staple breakfast/brunch in my home. As suggested by you, I used this recipe from Raji and Mamta's wonderful blog SwayamPaaka.
Nucchina Unde are essentially steamed dumplings made with lentils such as tuvar dal or chana dal that has been coarsely ground with some ginger and green chillies. To this paste are added coconut, coriander and curry leaves. I also added fresh methi (fenugreek) leaves to the mix. The paste is then shaped into ovals and steamed for a few minutes.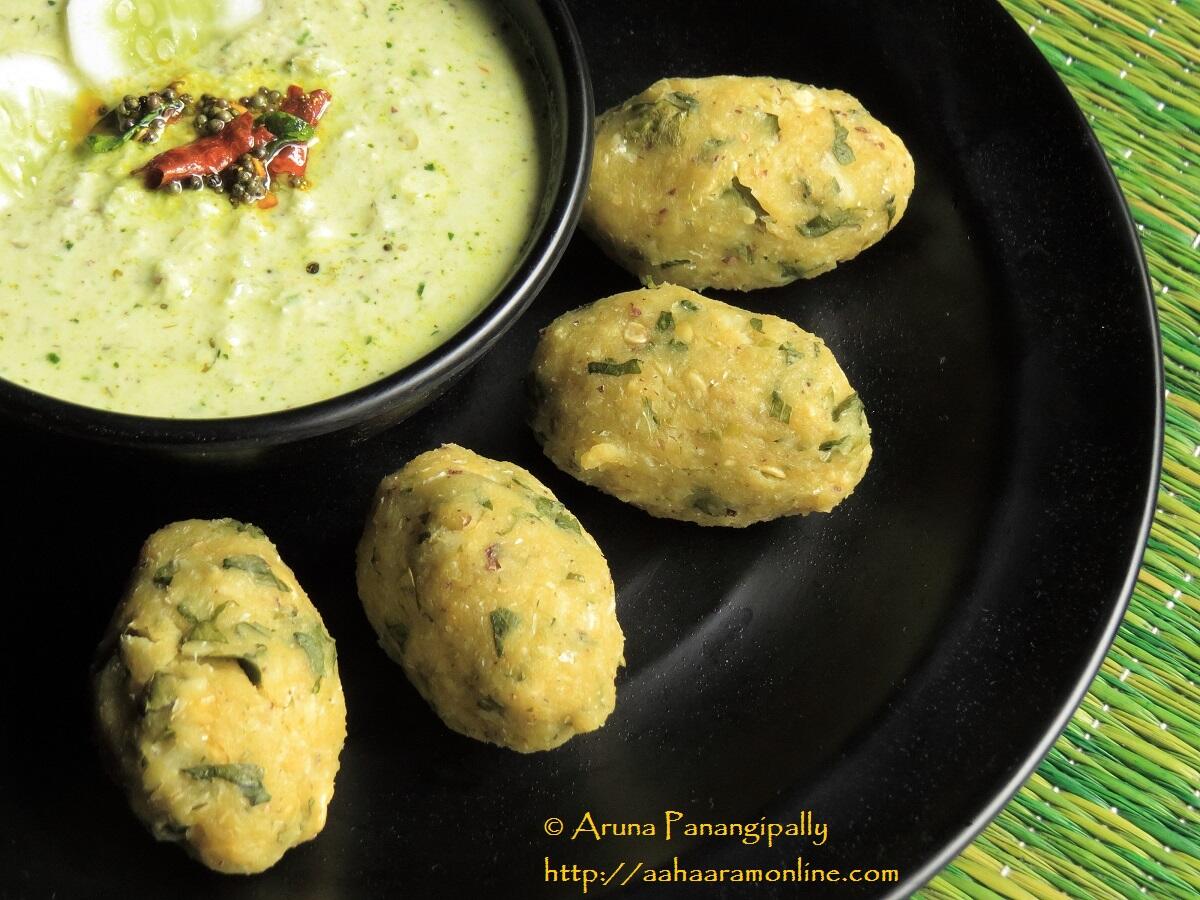 Pin
How to Make  Nucchina Unde or Nuchinunde
Nucchina Unde | Steamed Tuvar Dal Dumplings from Karnataka
Nucchina Unde or Nuchinunde is a steamed lentil dumpling that I made by grinding Tuvar dal with some ginger, green chillies, and coconut. To this mix, I added finely chopped coriander leaves, curry leaves, and methi before shaping into ovals and steaming them. As an accompaniment, I made Southekayi Hasi Majjige.
Ingredients
1

Cup

Tuvar Dal

1

tbsp

Grated Ginger

5

Green Chillies

1/4

Cup

Coarsely Grated Coconut

2 or 3

tbsp

Finely chopped coconut

10 to 12

Curry Leaves

1

Handful

Finely Chopped Coriander

2

Handfuls

Fresh Methi Leaves

Salt to Taste

Oil to Grease the Idli Stand
Instructions
The Preparations
In a large enough vessel, soak 1 Cup Tuvar Dal in 3-4 cups of water for about 1 hour.

Chop the coriander, curry leaves, and methi to fine pieces.
To Make the Nucchina Unde Paste
Drain all the water from the tuvar dal.

Grind the tuvar dal, green chillies, and ginger to a coarse paste. Do not add any water to it while grinding.

Take the ground paste into a bowl.

Add salt, grated coconut, coconut pieces, coriander, curry leaves, and methi leaves.

Mix well.
To Make the Nucchina Unde or Nuchinunde
Divide the paste into 16 equal parts.

Shape each part into an Oval.

Steam the Nucchina Unde or Nuchinunde for about 8 to 10 minutes. I steamed them using an idli stand. Be careful not to over steam the Nucchina Unde or they become hard.

Serve warm topped with some ghee and with Southekayi Hasi Majjige.