The recipe for Pela Vadiyalu is very very close to my heart. My mom was an expert at making this and I have been successful at making them as well. These light-as-air sundried, deep-fried delicacies are a great favourite with my extended family as well. So I decided to make multiple batches of Pela Vadiyalu so that I could share them with my aunts, cousins, and brother. 🙂
I make vadiyalu with a range of ingredients; Saggubiyyam (Sago) Vadiyalu, Biyyam Pindi (Rice Flour), Atukula Vadiyalu, Budida Gummidikaya Vadiyalu (Ash Gourd), Aviri Vadiyalu, and more…
Today I am presenting Pela Vadiyalu which are made with Popped Rice (called Pelalu in Telugu, Aralu in Kannada, Laya in Hindi, and Pori in Tamil).
It is quite easy to make these Vadiyalu; the only effort is essentially in drying them. Fortunately for me I have help in that department so I am blessed. The reason I like Pela Vadiyalu (and its cousin Atukula Vadiyalu) is that it is very light and airy. Also, the taste is quite different from the other Vadiyalu.
Describing what Vadiyalu are in English can be quite a challenge but I shall give it a shot. Known as Vadam/Vadagam in Tamil, Sandige in Kannada, Kurdayi in Marathi) are essentially sundried crisps. They are typically shaped into small discs or like noodles and then sun-dried till there is no trace of any dampness. We store them in air-tight containers and fry them just before eating.

I know I am not making too much sense. Perhaps, if you read this recipe you will understand what I mean.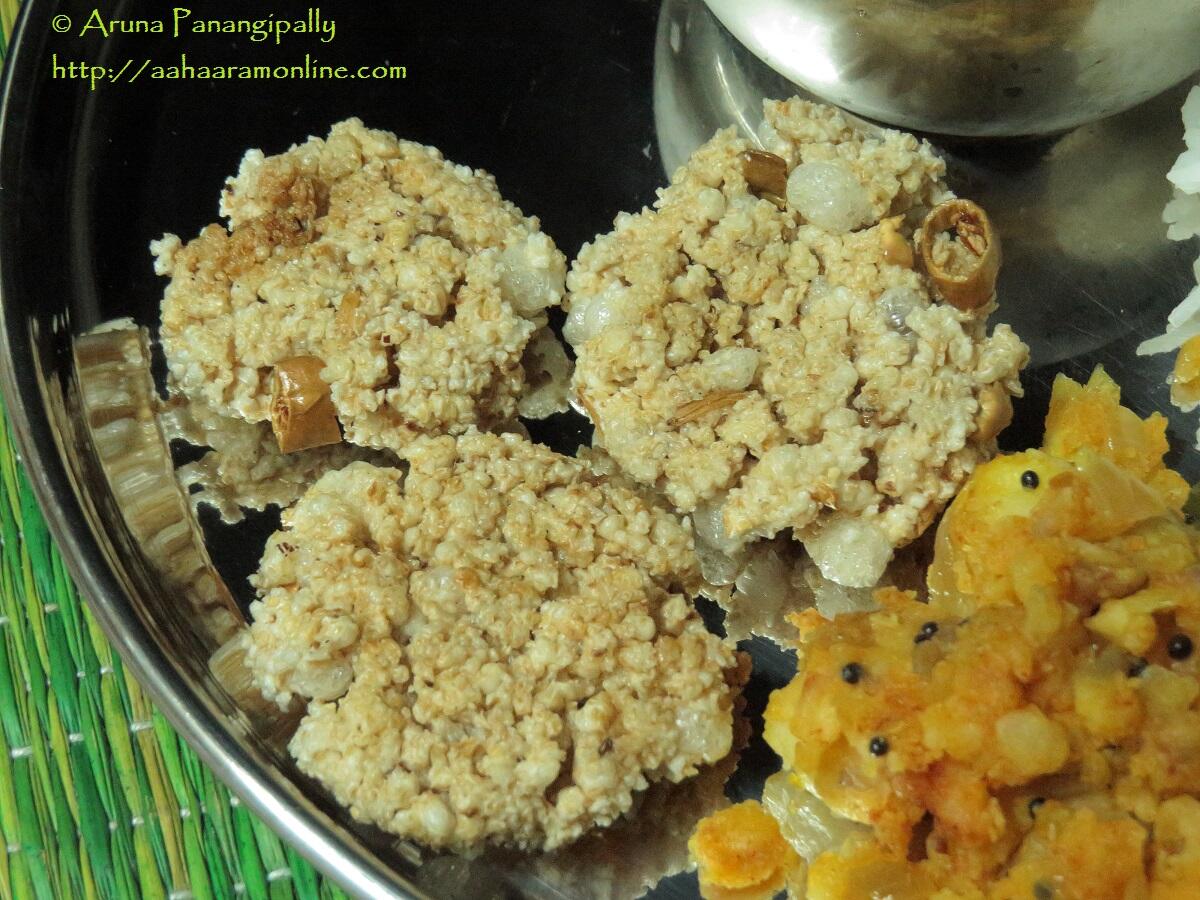 Pin
How to Make Pela Vadiyalu or Aralu Sandige
Pela Vadiyalu - Andhra Special Recipe
Pela Vadiyalu or Aralu Sandige are sun-dried crisps made with Pelalu (Popped Rice, Aralu, Pori or Laya). We make them in summer and store them and fry them up as and when needed.
Ingredients
500

Gms

Pelalu, Laya, Pori, or Aralu

1/4

Cup

Saggubiyyam, Sabudana, or Sagu

30

Gms

Green Chillies

1

tbsp

Vamu, Ajwain, or Carom Seeds

1

tbsp

Salt

(or to taste)
Instructions
Preparing the Saggubiyyam
Soak the saggubiyyam in 1.5 cups water for about 2 hours.

Over medium heat, boil the saggubiyam in the water in which it was soaked till you get a translucent and thick mix. Stir constantly. The consistency should be such that the mix slides of the spoon.





Add the ajwain to it and mix well.





Turn off the heat and set aside.
Preparing the Pelalu
Put the 1/2 the pelalu into a large vessel.





Add 1.5 cups water and mix well. The pelalu will start to absorb water and disintegrate a bit.





Add the rest of the pelalu and another cup of water.

Mix well and let it sit for about 10 minutes.

In the meantime, chop the green chilli to very small pieces.

Add the green chilli pieces and salt to the soaked pelalu.





Mix well.





Add the cooked saggubiyyam to the pelalu.





Mix well.




Making the Pela Vadiyalu
Spread a thick plastic sheet in the sun.

Make about 1.5" balls of the Pelalu mix.





Place on the sheet and press gently to form 1/2" thick disc.





Make the rest of the Pela Vadiyalu.





Sun-dry till completely dry. The vadiyalu are done when you break them and the insides are dry as well.





Store in an air-tight container.
Frying the Pela Vadiyalu
In a kadai or large ladle, heat enough oil till medium hot.

Add the Vadiyalu and fry till they puff up and are a very light brown.

Enjoy with Sambar Rice.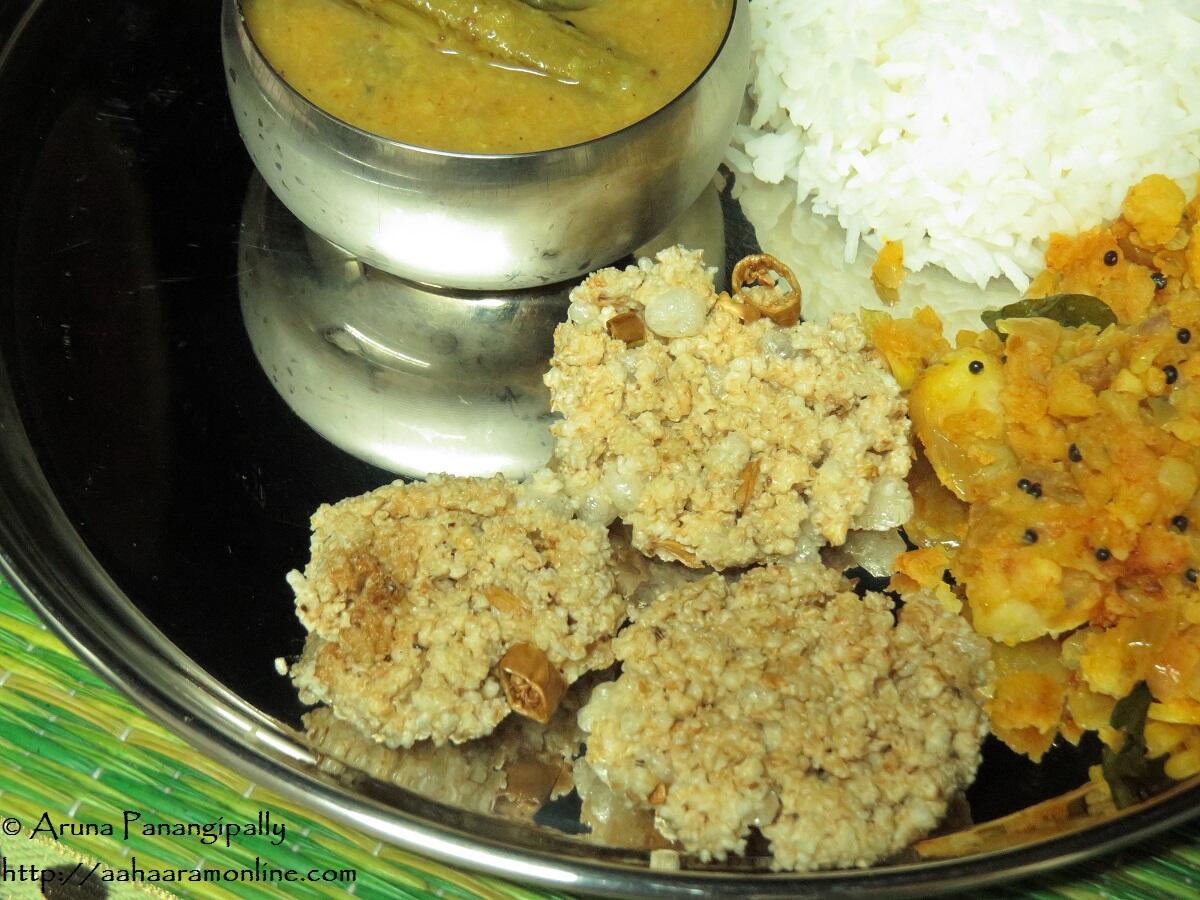 Pin
I am taking this crunchy treat to  the party at Fiesta Friday #113 hosted by Sonal @ simplyvegetarian777 and Laurie @ ten.times.tea.