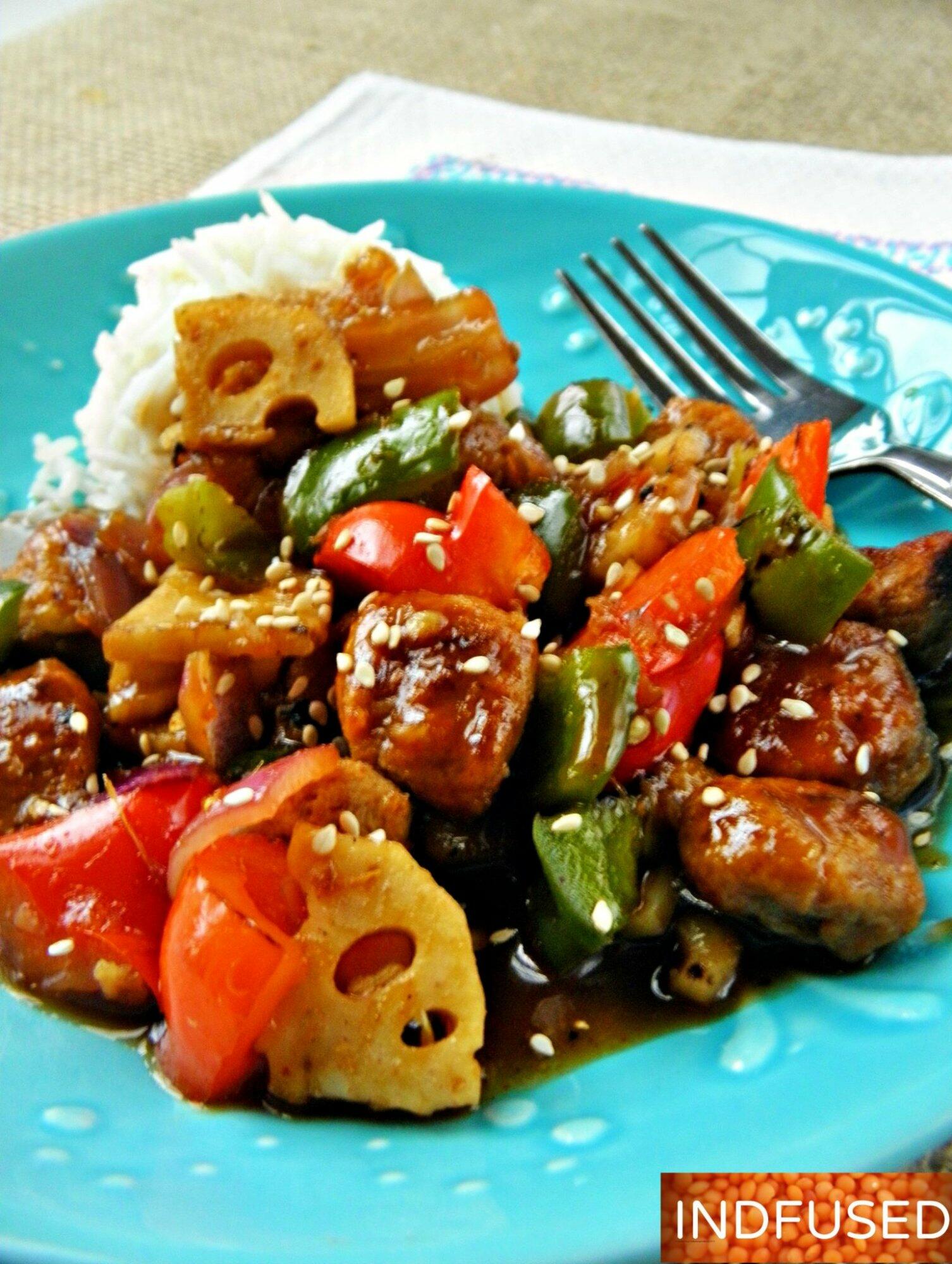 Pin
There are some people who simply inspire you; for me Sandhya Rege Nadkarni of IndFused is one such person. I am in awe of the fusion recipes that she creates and writes about. What I love about Sandhya's work is the span of cuisines she covers in her experiments with fusion cooking. Look at the recipe for Curried Kale Cornbread Sandwich to understand what I waxing so eloquent about. And some of her dishes are oh-so-pretty.  Look at this wonderful Roti Jala or this delicious AND healthy Bite-sized Potli Samosas. How can you but not fall in love with these dishes! 😍
An added bonus is that Sandhya is such a warm person that sometimes it feels that I have known her forever. Sandhya's comments on my posts often make me smile or then brighten up my day with their warmth. As I was looking up her blog to learn more about her, I realised she is an avid reader too; something else we have in common. 🙂
You can follow Sandhya's work on:
Today, I am delighted to have Sandhya over on my blog as Guest Blogger. Look at the colourful delight that awaits us. Thank you, Sandhya, for this wonderful Peppers and Nuggets in Spicy Orange Sauce. I cannot wait to try it. 🙂
Over to Sandhya, now.
---
I jumped out of my seat when I got a message from Aruna of Aaharam asking if I could do a guest post for her!
I am so honored that the amazingly talented and well recognized Aruna Panangipally has asked me to write a guest post!I am a huge fan of Aaharam. When I read Aruna's posts, it is like chatting with a friend, talking about recipes and of course sharing our mutual love of yummy chutneys, pickles and sauces J
Aruna is such a versatile blogger too. I have already bookmarked her Vegetable Manchow Soup and her Andhra special Dosakaya Mukkala Pachadi to make soon.
Aruna, thank you so much for asking me. I hope that everyone likes my streamlined Indo American Chinese fusion recipe for Peppers and Nuggets in Spicy Orange Sauce!
Ingredients
For the Nuggets:
1 cup soy chunks, such as Nutrela
3 cups hot water
¼ cup milk
Salt to taste
½ tablespoon ginger garlic paste
½ teaspoon red chili powder
2 teaspoons cornstarch/cornflour
1 teaspoon canola or olive oil
1 teaspoon Asian toasted sesame oil
For the Sauce:
¼ cup hoisin sauce
¼ cup orange marmalade
1 tablespoon hot sauce (or to taste)
2 tablespoons soy sauce
½ cup water or stock
For the Vegetables:
1/2 tablespoon each of the canola or olive oil and Asian toasted sesame oil
1 small onion diced
1 ½ tablespoons ginger garlic paste
1 cup lotus root, peeled and diced or water chestnuts
1 cup red pepper ,diced
1 cup green pepper, diced
Salt to taste
¼ teaspoon freshly ground black pepper
For the Topping:
¼ cup roasted cashews and/or 1 tablespoon sesame seeds
To make the Peppers and Nuggets in Spicy Orange Sauce:
Boil the soy nuggets in hot water, milk and salt.
When the water comes to a full boil, stir, lower heat and let the nuggets cook for 5 to 6 minutes.
Drain, change the water 2 to 3 times and squeeze the nuggets between your palms to get rid of all the water in it. Spread them out on a paper towel to absorb the remaining moisture. This step is important to make sure the sauce does not turn watery.

Add the ginger garlic paste, the chili powder and the cornstarch and mix well.
In a pan, heat the oil and shallow fry the nuggets in a single layer, on both sides. Remove from pan. Set them aside.

Combine all the ingredients for the sauce and stir.
In the same pan, heat the canola or olive oil and Asian toasted sesame oil over medium heat. Add the onion, the ginger garlic paste and the lotus root and stir for a minute or so. Add the peppers, salt and black pepper and stir for another minute or so.

Add the reserved soy chunks and the sauce. Stir well to coat and let it simmer for about 2 to 3 minutes on medium heat. The soy chunks will absorb the sauce as it cooks and even as it cools.
Top with the cashews and or sesame seeds and serve with white or brown rice.
Note:
For non-vegetarians, soy chunks can be replaced with chicken nuggets. Reduce water to ¼ cup in the sauce and proceed with the recipe!