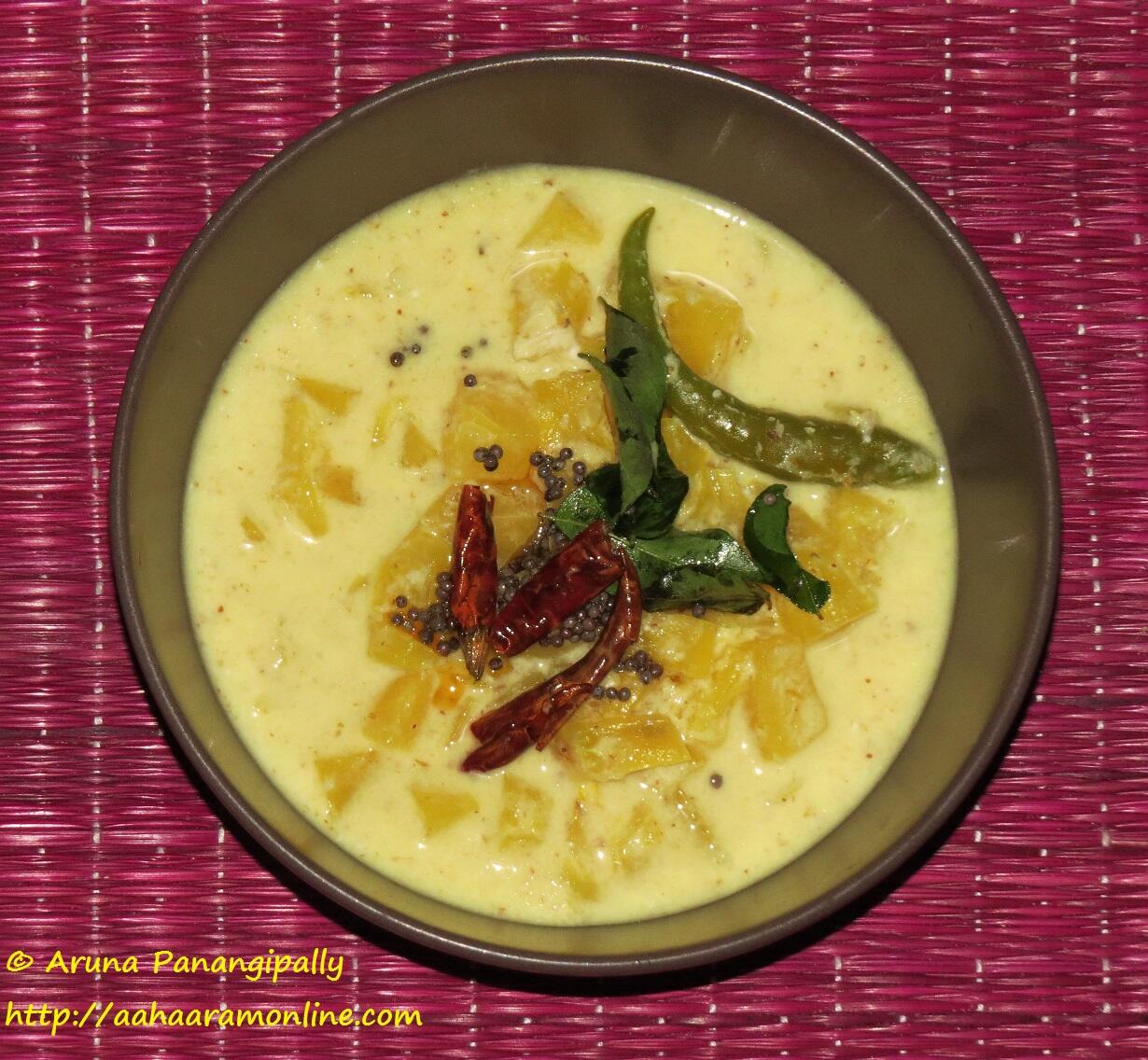 Pin
So far the only cooking I have done with Pineapple was Pineapple Kesari or Pineapple Sheera. When I posted that recipe on one of the many Facebook food groups that I am a part of, one of the moderators mentioned Pineapple Curry and I have been to meaning to try it ever since. This week I had lots of Pineapple at home and so decided to make Pineapple Kichadi (aka Pineapple Pachadi).
Pachadi or Kichadi is a Kerala-style raita which uses yogurt that has been flavoured with a paste of coconut, cumin and green chillies. There a variety of kichadis that you can make and no Onam or Vishu Sadya is complete without some form of Kichadi.
I have already written about Vendakka Kichadi earlier this year. It is spicy and crunchy. Pineapple Kichadi on the other hand is sweet and  quite a delight.
How to Make Pineapple Kichadi | Pineapple Pachadi
Pineapple Kichadi or Pineapple Pachadi
Pineapple Kichadi or Pachadi is made with cooked pieces of pineapple in a yogurt gravy that has been spiced with a paste of coconut, green chillies, and cumin.
Ingredients
1

Cup

Small Pineapple Pieces

1.5

Cups

Yogurt or Dahi

1/3

Cup

Grated Coconut

2 or 3

Green Chillies

2

Large Pinches

Turmeric Powder

1

tsp

Sugar

Optional

1

tsp

Cumin Seeds

1/2

tsp

Mustard Seeds

2

Red Chillies

6 to 8

Curry Leaves

1

tbsp

Coconut Oil

Salt to Taste
Instructions
Cooking the Pineapple Pieces for the Pachadi
Slit the green chillies.

Cook the pineapple pieces along with the green chillies in about 1/2 to 2/3 up water till they are cooked.

While the pineapple pieces are still warm, add the sugar and turmeric.

Mix well. Ensure that the sugar has dissolved.

Set aside.
Making the Yogurt Gravy
Beat the yogurt till it is smooth.

Grind the coconut and cumin into a coarse paste along with a little water.

Add the paste to the yogurt and mix well.

Add salt and mix well.
Method to Make the Pineapple Pachadi
Add the cooked pineapple pieces to the spiced yogurt.

Mix well.

Heat 1/2 tbsp oil.

Add mustard seeds and wait till they splutter.

Add the split red chillies and curry leaves.

Stir-fry for a few seconds.

Add the tempering to the Pineapple Kichadi | Pineapple Pachadi.
Notes
You could also grind the green chillies along with the coconut and cumin instead of adding it whole.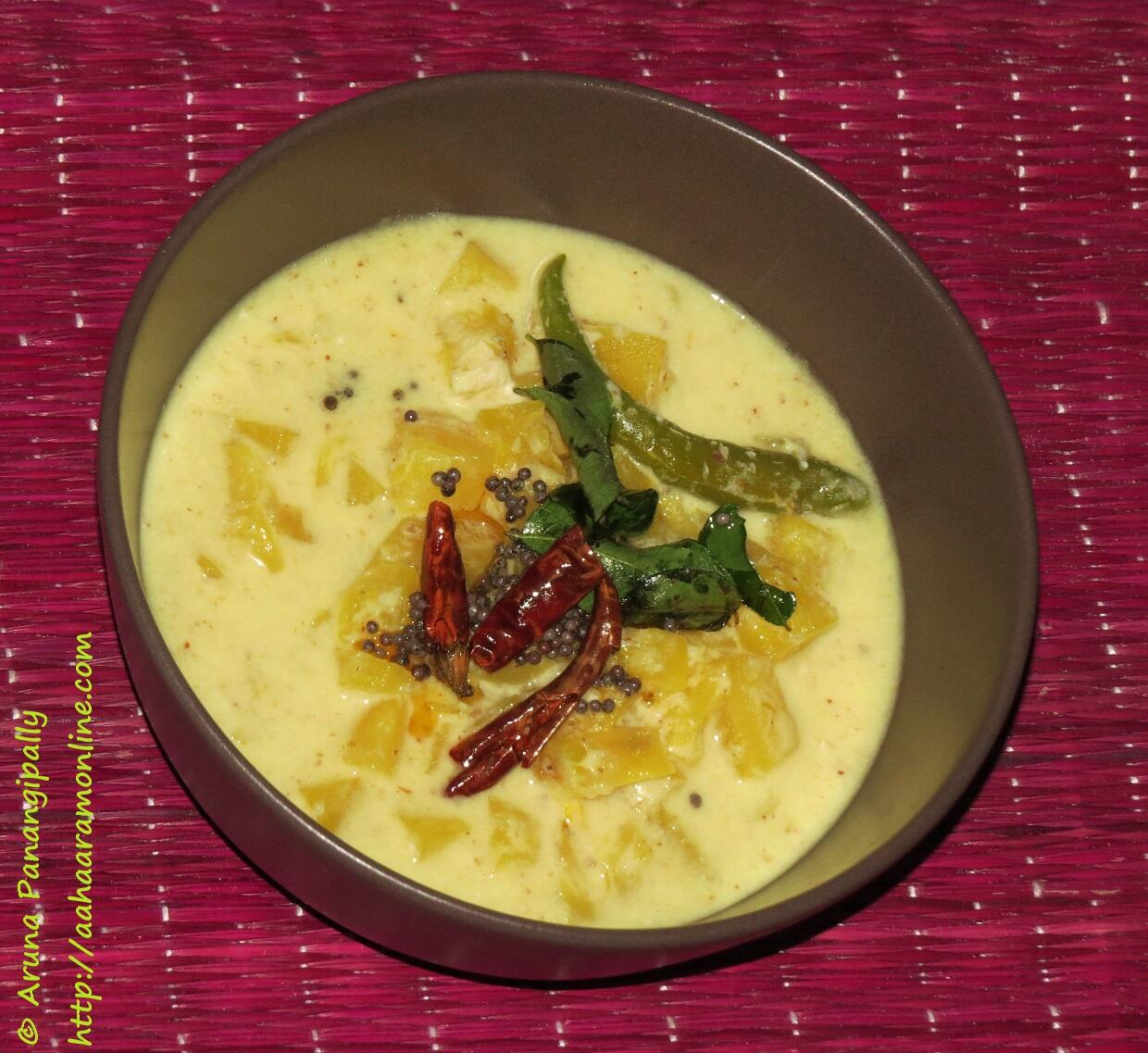 Pin