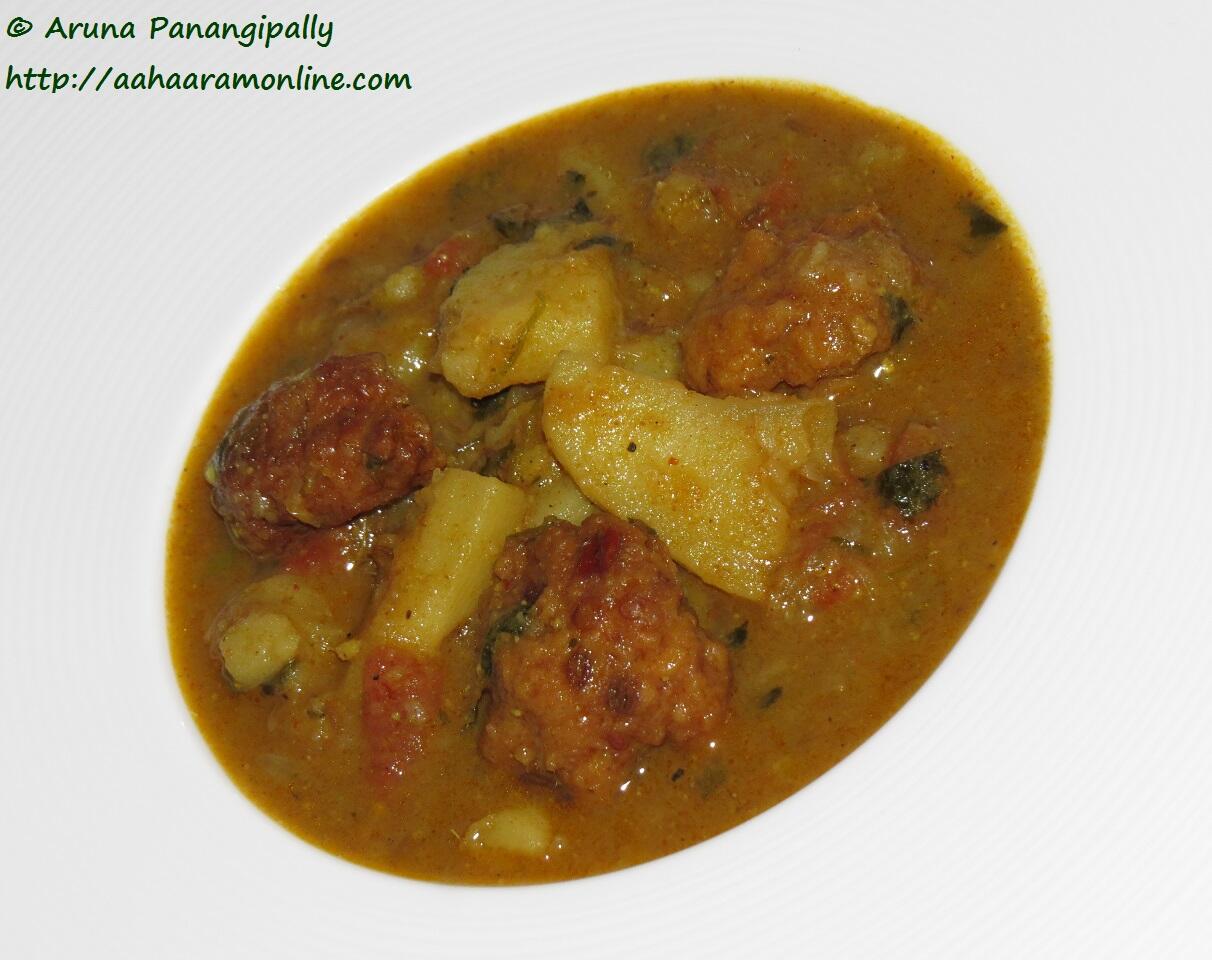 Pin
I love side dishes and accompaniments such as pickles, chutneys, podis, papads, and vadis. In fact, I tend to eat more of them than the main dish. So when I can make a dish that uses one of this as the main ingredient, you can understand that my joy knows no bounds (if you pardon the hyperbole 🙂 ).
A couple of weeks ago Nikita got me Mangodis and Amritsari Wadis. I promptly used the Mangodis in Matar ka Nimona. Nikita gave me the idea of making Bhuga Chawal with it and that is next on the menu. In the meanwhile I chanced upon this recipe for Punjabi Aloo Wadiyan (also called Amritsari Alu Wadi at times) and so made this ASAP. This is a dish where deep-fried Amritsari Wadiyan (sun-dried udad dal wadis) are cooked together with potatoes and spices to make for a wonderful side dish.
In Andhra too, we have a tradition of adding vadiyalu to dishes. One of my favourites is Vanakaya Bangala Dumpa Mudda Kura with Gummidikaya Vadiyalu. This is a curry made with mashed brinjals and potatoes with deep-fried ash-gourd vadis added to it.
Coming back to this wonderful dish of Punjabi Aloo Wadiyan, I loved the contrast in textures of the soft boiled potato with the slight crunch of the deep fried Amritsari Wadiyan. To my surprise, the waidyan retained their crunch despite being pressure cooked along with all other ingredients.
How to Make Punjabi Aloo Wadiyan | Amritsari Alu Wadi
Punjabi or Amritsari Aloo Wadiyan
Amritsari Aloo Wadi or Punjabi Aloo Wadiyan is a wonderful curry made with boiled potatoes and deep-fried Amritsari Wadi, which is a sun-dried fritter made with black gram or udad dal. I loved the contrasting textures and of course, the typical Punjabi taste.
Ingredients
8 to 10

Amritsari Wadi

My wadi were about an 1" size

4

Medium Sized Potatoes

2

Medium Sized Onions

2

Medium Sized Tomatoes

2

Green Chillies

1

tsp

Grated Ginger

1/2

tsp

Cumin Powder

1

tsp

Coriander Powder

1

tsp

Kasuri Methi

1

tsp

Garam Masala or Kitchen King Masala

3/4

tsp

Red Chilli Powder

1/3

tsp

Turmeric Powder

2

tbsp

Oil - 2 + To deep-fry the wadiyan

Salt to Taste
Instructions
The Preparations
Deep fry the Amritsari Wadiyan.

Break into smaller pieces, if required. Set aside.

Peel the potatoes. Cut into thick wedges about 2" long.

Chop the tomatoes to fine pieces.

Peel and chop the onions to fine pieces.

Chop the green chillies to fine pieces.
Method to Make Punjabi or Amritsari Aloo Wadiyan
Heat 2 tbsp of oil.

Add cumin seeds and stir-fry for a few seconds till the cumin seeds start to change colour.

Add grated ginger and green chillies.

Stir-fry for a few seconds.

Add the onion and stir-fry till transparent.

Add the fried Amritsari Wadiyan and kasuri methi.

Stir-fry for a few seconds.

Add the potato pieces and stir-fry for 3 to 5 minutes.

Add the finely chopped tomatoes.

Stir-fry till the tomato pieces are well-stewed.

Add the cumin powder, coriander powder, garam masala/kitchen king masala, salt, and turmeric.

Mix well.

Add enough water to cover the potatoes and wadiyan.

Cook covered, while stirring occasionally, till the potatoes are soft.
OR
Pressure cook for 3 whistles.

Serve hot with rice or rotis.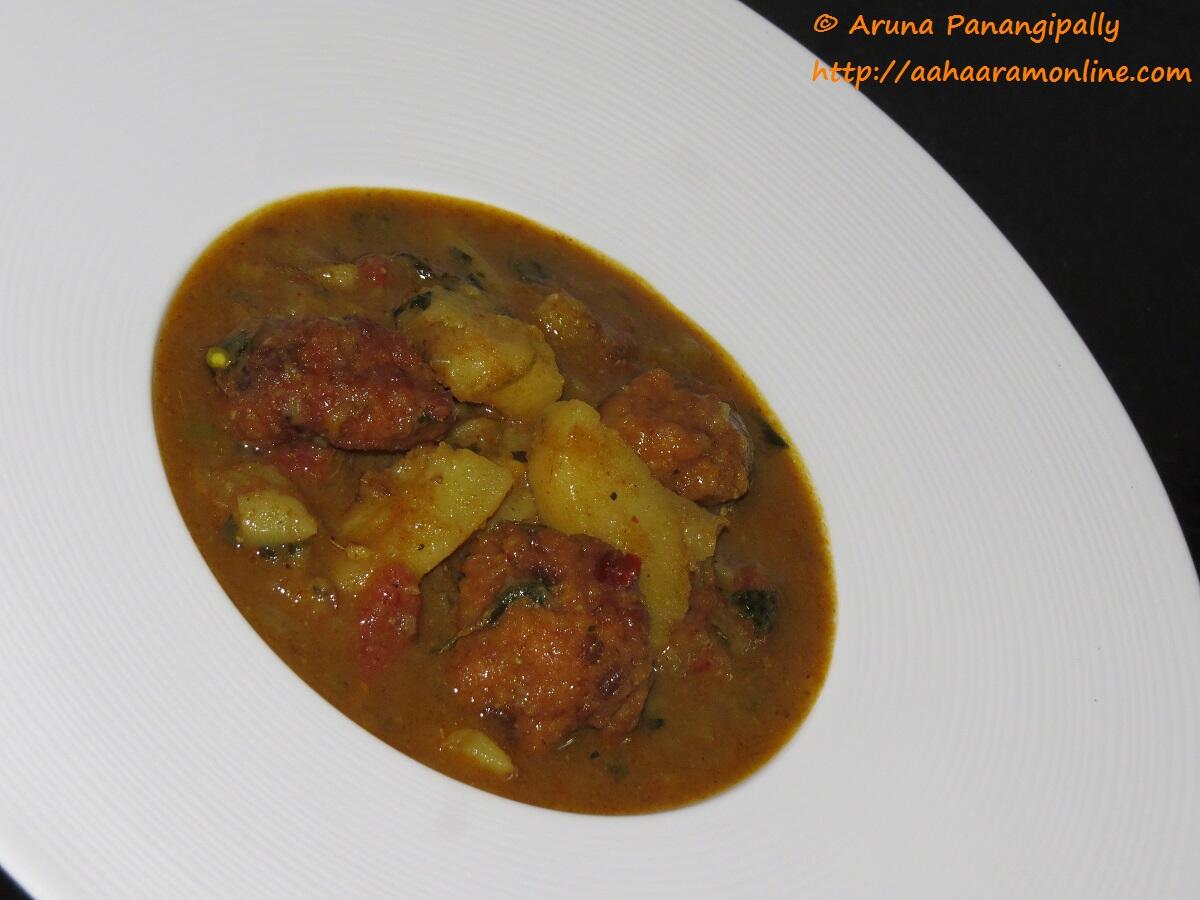 Pin