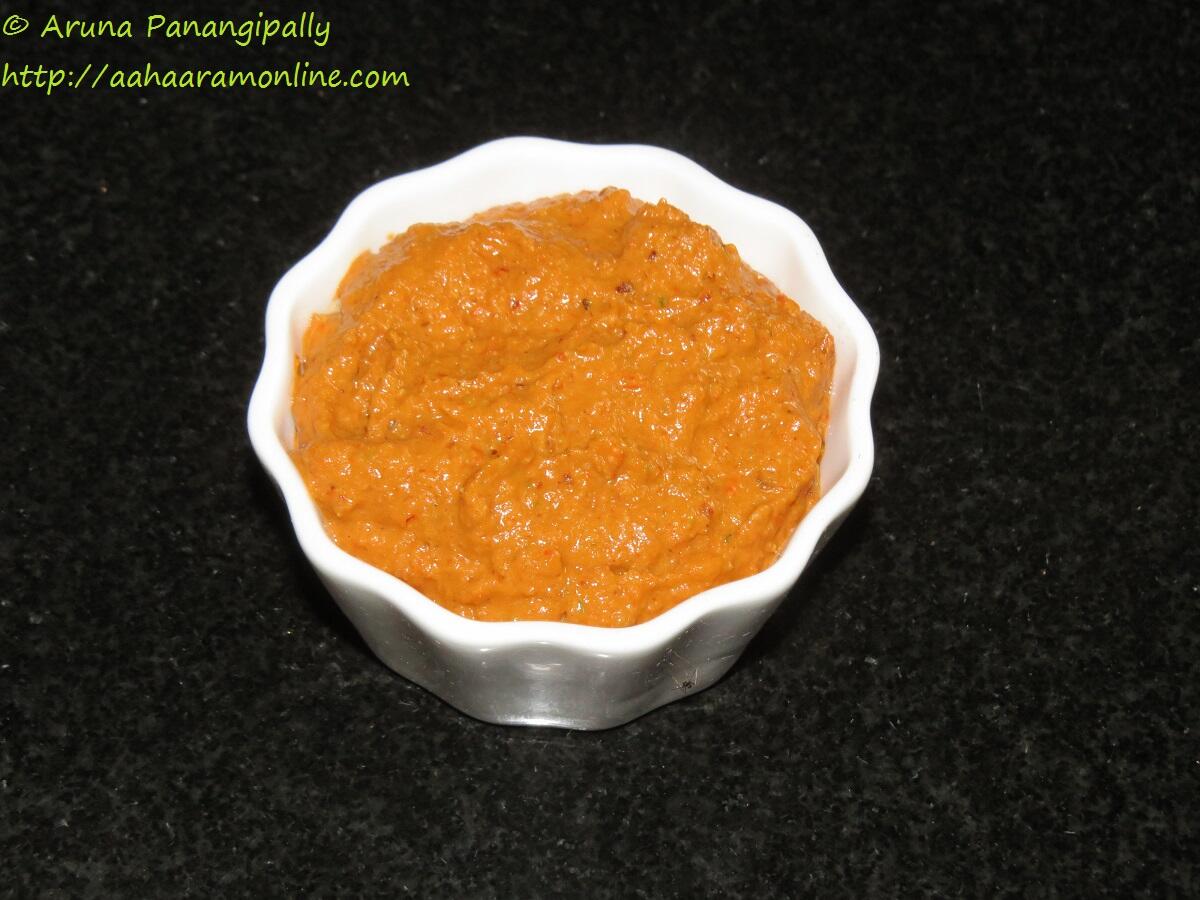 Pin
One of the best things about blogging is the like minded people you meet. Sushmita Buddhisagar is one such person I befriended on one of the food groups on Facebook. When Sushmita posted the pictures and recipes for a Red Bell Pepper Pachadi  on the group wall, I knew I HAD to try it immediately. It was red, it was spicy and oh-so-Andhra in the ingredients it used. I later learned from Sushmita that she learnt it from an Andhra friend. So that absolutely sealed the deal and I HAD TO, HAD TO make it. 😀 😀
Not that I choose recipes from my home state over others but I have so many recipes bookmarked to try that I am spoilt for choice. It also helped that I had Red Capsicum handy at home along with all other ingredients!
Before I go on to the recipe, a little more about Sushmita. For the short while I have known her, I have found Sushmita to be a warm and generous person, ready to share and free with compliments. I hope to learn more about her as our friendship blossoms.
If you like Red Bell Pepper, do try the recipe for Roasted Red Bell Pepper Hummus or Muhamarra.
How to Make Red Bell Pepper Pachadi
Red Bell Pepper Pachadi or Red Capsicum Chutney - Guest Post by Sushmita Buddhisagar
Red Bell Pepper Chutney or Red Capsicum Pachadi has been a revelation to me. I absolutely loved it as did my father, and it has now become a staple in our home. Thank you, Sushmita!
Ingredients
2

Large Red Capsicums, Red Bell Peppers

3

Garlic Cloves

2

Green Chillies

2

Red Chillies

1/2

tsp

Jeera or Cumin

2

tbsp

Til or Sesame Seeds

1

tsp

Thick Tamarind Pulp

1/2 to 1

tsp

Oil

Salt to Taste
Instructions
Preparing the Red Bell Pepper - Stove Top Method
Lightly oil the outside of the red bell pepper.

Over medium flame, roast the bell pepper till the skin begins to shrivel.

Let the red bell pepper cool.

Cut into quarters and discard the seeds inside.
Preparing the Red Bell Pepper - Oven Method
Generously oil the outside of the bell pepper.

Cut the red bell pepper into quarters.

Discard the seeds.

Line a baking sheet with foil.

Place the oiled bell pepper pieces (skin-side down) on the foil.

Bake at 150°C for about 15 to 20 minutes.

Flip over and bake again for 5 minutes.

Let the pieces cool.
Other Preparations
Dry roast the sesame seeds and red chillies till they start to change colour.

Set aside.

Dry roast the cumin till it starts to change colour and set aside.
Method to Make the Red Capsicum Chutney or Pachadi
Grind together the bell pepper pieces, garlic, cumin, sesame, red chillies, green chillies, tamarind, and salt along with a little water to a smooth paste.

Serve as a side for rotis.
OR
Mix with hot steamed rice topped with sesame oil.

Enjoy!