I love Hummus and I loved roasted Red Bell Pepper, so I have combined the two to make Roasted Red Bell Pepper Hummus. I know that this recipe is out there and has been done many times, but it is the first time I have made it. I was inspired to make this because of an animated discussion at my work place. Several of us are on a diet and eat copious amounts of salad. One thing about salads is that we Indians is that we find them to be too bland. So many of us carry Coriander Chutney or Mint and Yogurt Dip as an accompaniment to the salad.
Then last week, Nikita got plain Hummus and shared it with us. So then I thought why not make Hummus with Roasted Red Bell Pepper for a change? And so I made this dip today to take as lunch to work tomorrow.
I am also taking along some roasted Lavash that I found at the corner store. The Lavash, which is spiced with herbs and paprika, is delicious by itself as well and next on my to-do list of recipes. 🙂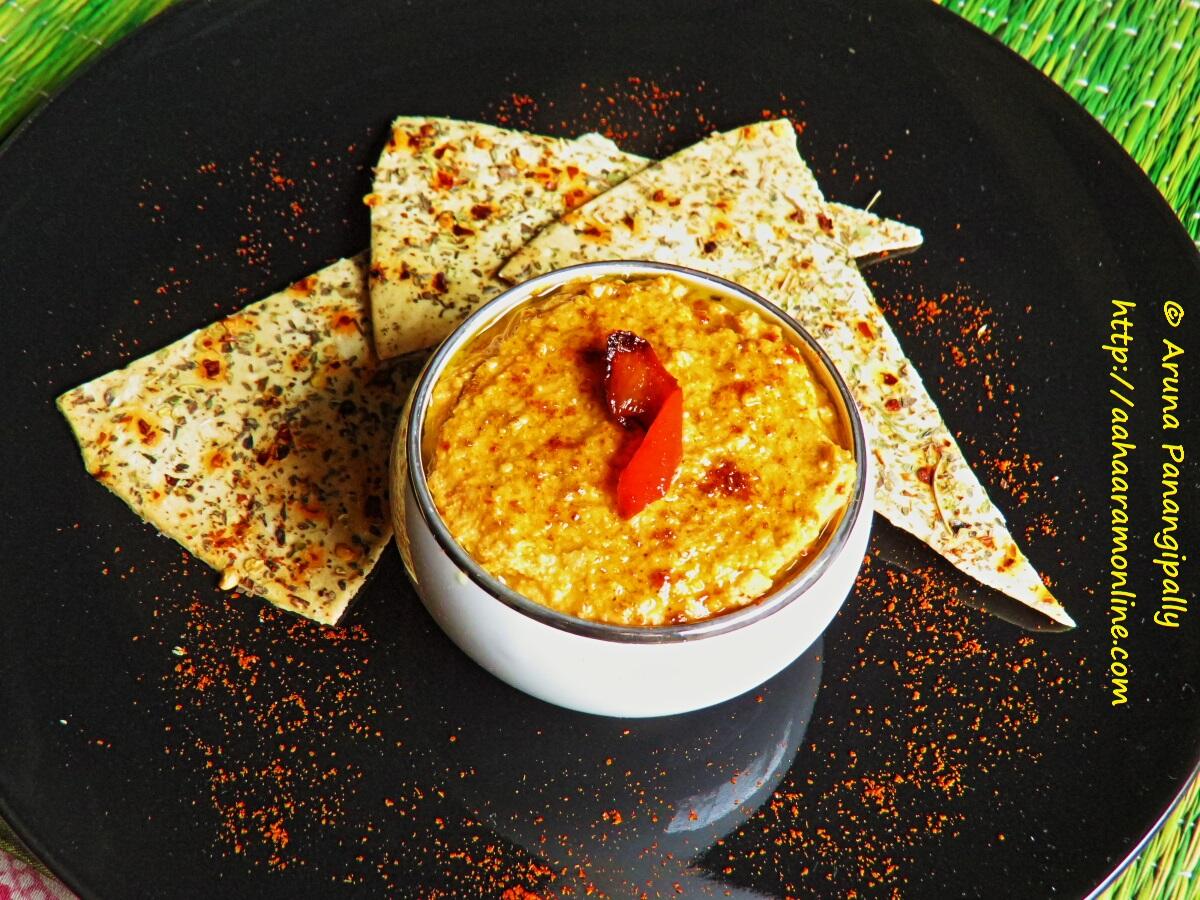 Pin
How to Make Roasted Red Bell Pepper Hummus
Hummus with Roasted Red Bell Pepper
Grind some roasted Red Bell Pepper with Hummus and you get a version of Hummus that has something extra.
Ingredients
1/2

Cup

Dry Chickpeas or Garbanzo Beans

1

Medium Sized Red Bell Pepper

You should get about 1/2 Cup worth when cut into thin strips

2

tbsp

Tahini

2

Large Cloves

Garlic

1

tsp

Roasted Cumin Powder

1/2

tsp

Red Chilli Powder

5 or 6

tbsp

Olive Oil

1

tbsp

Lemon Juice

Salt to Taste
Instructions
Preparing the Garbanzo Beans or Chickpeas

Soak the chickpeas in 2 cups water for 6 to 8 hours.

After the chickpeas are well-soaked, pressure cook for 2-3 whistles till just cooked.

Drain and reserve some of the water in which the chickpeas were cooked.

Ensure all water is drained from the chickpeas.

To Roast the Red Bell Pepper

Cut the bell pepper into 1/4" wide strips.

Over medium flame, heat a pan.

Add 1 tbsp olive oil.

Add the bell pepper strips and let them char a bit. Stir at regular intervals to ensure that the strips are evenly cooked.

Set aside.
To Make the Red Bell Pepper Hummus
Grind the chickpeas, roasted bell pepper, tahini, lemon juice, cumin powder, garlic pods, salt, and 3 tbsp olive oil into a coarse paste. Use the reserved water, as required.

Transfer the Hummus into a bowl.

Drizzle with the remaining Olive Oil and Chilli Powder.

Serve with Lavash.
Notes
Be careful while roasting the red bell pepper as it cooks very fast.
If you do not have Tahini, add 1 tsp sesame seeds and 1 tbsp olive oil while grinding the Hummus.
Always ensure that the surface of the Hummus is coated with Olive Oil to prevent it from drying out. Mix in the oil before serving.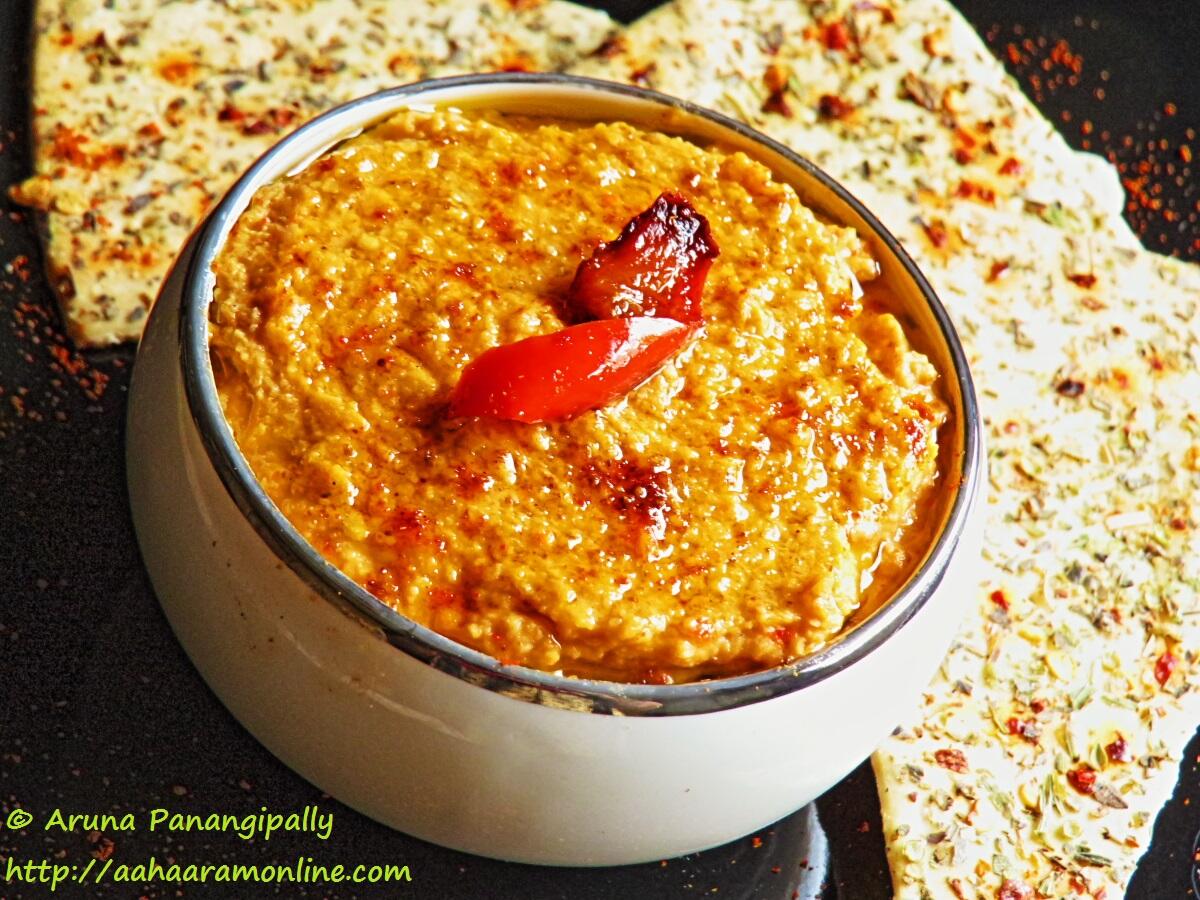 Pin