Singhar ji Barfi or as it is often called Sev Burfi is a very famous Sindhi sweet. I was introduced to it while I was studying for my engineering degree by my friend Bindu Kodwaney. One Diwali she took me to this wonderful place called Tharu Sweets in Bandra, Mumbai and introduced me to this wonderful, wonderful sweet one Diwali and I have been a fan ever since.
Tharu Sweets is a legendary sweet shop which makes some of the most delicious and decadent sweets ever.  What I love about Tharu is their adherence to tradition and their unfailing commitment to quality. While I am writing about their Sev Burfi or Singhar ji Barfi today, I would unhesitatingly recommend  all of their sweets. I espcially love their hot Gulab Jamun, Kaju Katli and Mixed Dry Fruit Barfi. The latter is something to die for (after Sev Burfi, of course :)) and I work through a single loaded piece over the entire day. While they are famous for their sweets, they also serve a delicious Aloo Tikki and Chole cooked in pure ghee. What is life without a little indulgence!
Coming back to the recipe  Singhar ji Barfi or Sev Burfi very very easy to make and gets done in less than 20 minutes. The key to a well-made Sev Burfi is to ensure that the Sev is cooked and yet retains its shape.
Why not try it this Diwali and surprise your guests?
I used the recipe from SindhiRasoi.com. The only change I made was to reduce the sugar a tad bit and use Kewra Essence instead or Rose Water/Essence.
How to Make Sev Barfi or Singhar Ji Burfi
Makes: 12 to 16 Pieces
Time: 20 Minutes
Ingredients
Unsweetened or Feeka Mava – 2o0 gms
Sev – 200 gms
Sugar – 175 gms
Water – 1 Cup
Kewra Essence – 3 to 4 drops
Yellow Food Colour – 4 to 5 drops
Ghee – 1/2 tsp
Pista and Almond Slivers – 2 tbsp
Method to Make Singhar ji Barfi or Sev Burfi
Crumble the Mava till there are no lumps.
Set aside.
Grease a 7″ dish or plate with high sides with the ghee.
Set aside.
In a heavy bottomed pan, over medium flame, heat the water and sugar till the sugar melts.
Turn the heat down to low. The water should be simmering not boiling.
Add the yellow food colour and Kewra essence.
Add the sev and mix with a gentle hand till the sev is completely coated with water.

Do not mash the sev.
Do not cook for long.

Add the crumbled mava.
Mix well with a gentle hand.
Turn up the heat to medium.
Cook till the mava melts.
Immediately transfer to the greased plate/dish.
Spread evenly and let cool.
Garnish with Pista and Almond slivers.
Cut into squares or diamonds and serve.
Tips
Sev Burfi is rather soft in texture and does not solidify like other burfis.
Tradition calls for unsalted or feeka Sev. I used the regular sev.
Do not use Nylon sev or the very thin sev. It will disintegrate.
Do not mash the sev while mixing. It should retain its shape.

You can store the burfi in the refrigerator. In this case, it will solidify. To serve, keep it outside for about 30 to 60 minutes.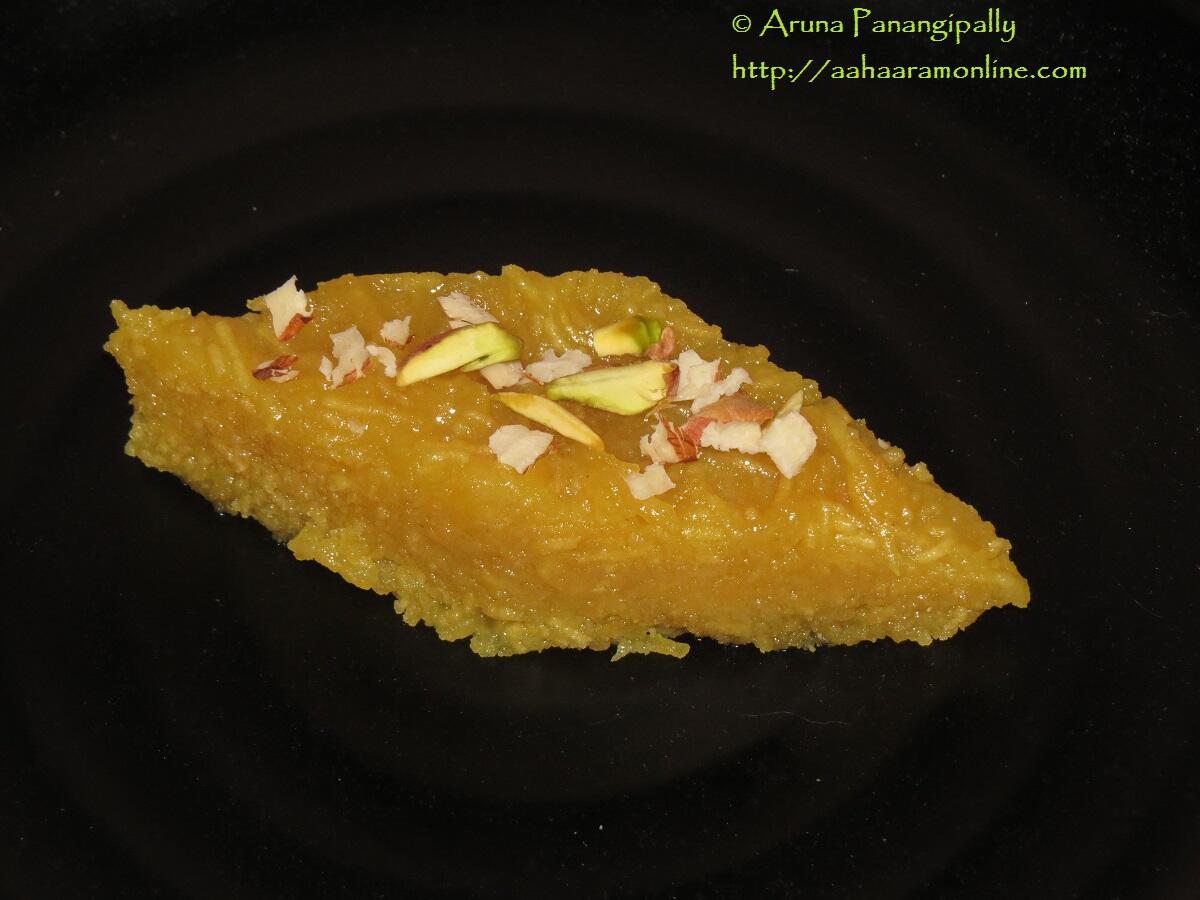 Pin