With Durga Puja festivities in the air, Bengali food is on my mind. Today I present Shukto, which is a whole load of vegetables cooked in a mustard and poppy seed paste and milk. The result is a very different tasting vegetable that tastes phenomenal with hot rice and ghee. My colleagues at work polished it off and asked for the recipe immediately. 🙂
What I loved about Shukto was that it used loads and loads of vegetables, just like Avial from Tamil Nadu or Pindi Miriyam from Andhra Pradesh. Also, it is very lightly spiced with just some ginger and Panch Phoran, yet rich because of the Mustard and Poppy Seed paste and milk that is used in cooking.



Here is a Collection of Recipes for Durga Puja that you may want to try!
How to Make Shukto
Preparation Time: 15 Minutes
Soaking Time: 30 Minutes
Cook Time: 45 Minutes
Ingredients
Radish – 75 gms
Thin Long Purple Brinjals – 75 gms
Bitter Gourd, Karela – 75 gms
Raw Banana – 75 gms
Potato – 75 gms
Sweet Potato – 75 gms
Beans – 75 gms
Drumstick – 75 gms
Mung Dal Vadi, Bori – 10 to 15
Milk – 1 Cup
Panch Phoran – 1 tbsp
Mustard Seeds – 1 tbsp
Poppy Seeds – 2 tbsp
Grated Ginger – 1 tsp
Turmeric – 1/4 tsp
Mustard Oil – 4 to 6 tbsp
Ghee – 1 tbsp
Sugar – 1 tsp
Salt to Taste
Water
Making the Paste
Soak the mustard and poppy seeds together in 1/2 cup warm water for at least 30 minutes.
Grind into a smooth paste along with the turmeric.
Set aside.
Preparing the Vegetables
Peel the radish, sweet potato, banana, and potato.
Cut them into 2″ long wedges about 1/4″ thick.
Cut the karela, beans, drumstick, and brinjals into similar 2″ long pieces.
Cut the drumstick into 2″ long pieces.
Frying the Vegetables and Bori
Heat the mustard oil to smoking point and turn white.
Lower the heat and wait for the oil to cool a bit.
Keep the heat to medium.
Fry the moong dal vadi/bori.
Set aside.
Except drumstick, fry each of vegetables one at a time, till they start browning at the edges. Fry the karela at the very end.
Set aside.
Making the Shukto
Over a low to medium flame, heat the ghee.
Add the Panch Phoran.
Stir-fry till aromatic.
Add the grated ginger and fry for a few seconds.
Add the mustard-poppy seed paste.
Stir-fry till the raw smell disappears.
Ensure that the flame is low-medium.
Add milk and bring to a gentle simmer.
Add all vegetables into drumsticks.
Add about 1/2 cup water.
Cover and cook till the vegetables are cooked and the gravy thickens. Add more milk or water, if required.
Turn off the heat.
Add sugar and salt.
Stir well.
Just before serving add the bori and mix well.
Serve the Shukto warm with steamed rice and ghee.
Tips
I pan-fried the vegetables on a non-stick using as little oil as possible.
Bengalis use Radhuni in the tempering and recommend Panch Phoran as a substitute. Since I did not have Radhuni, I used Panch Phoran.
Use mustard oil if possible as it adds a certain Je Ne Sais Quoi to the Shukto.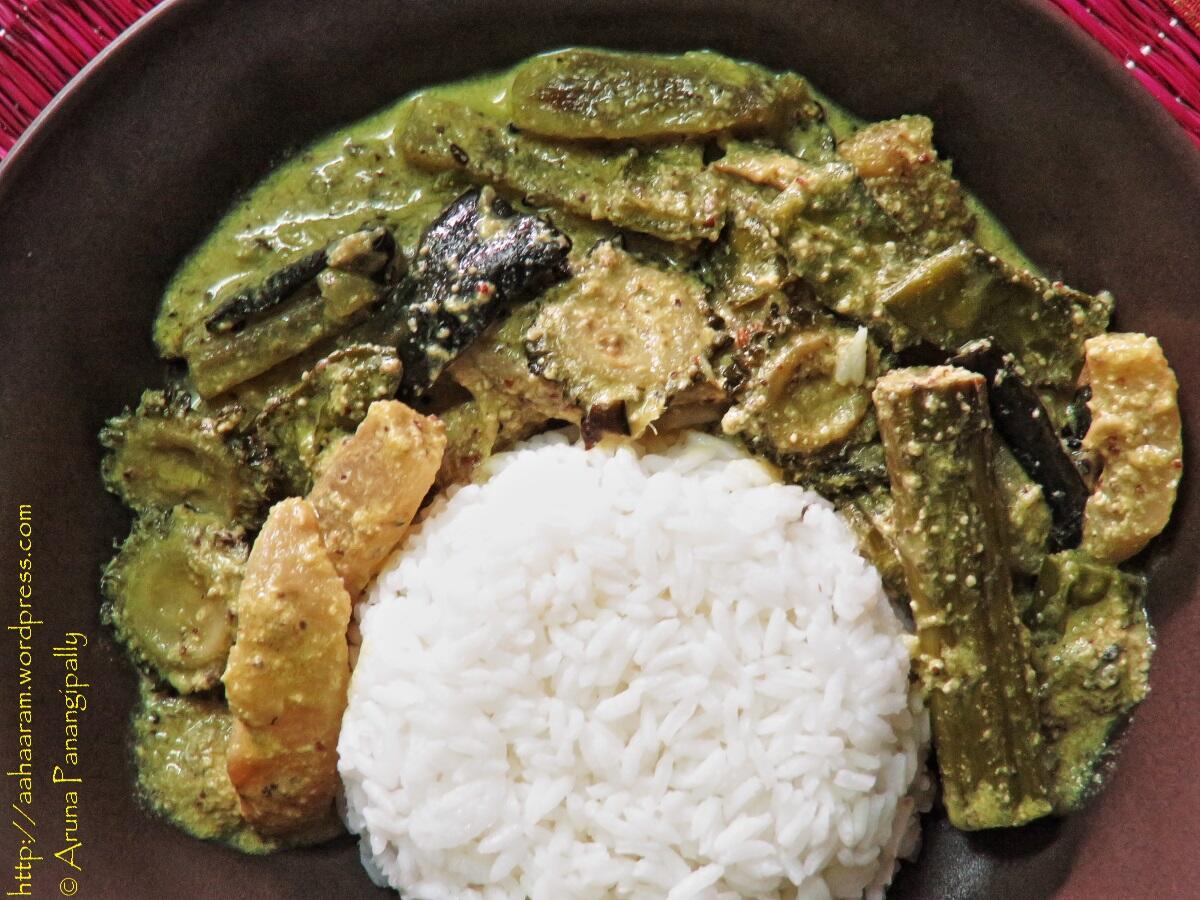 Pin