It is my pleasure today to host
Sonal
of
SimplyVegetarian777
. Ever since I started blogging, I have followed Sonal's work and love her collection of vegetarian and healthy recipes.
Over the past year, I have noticed that Sonal repertoire has expanded and her palate has become even more sophisticated. However, Sonal's focus on health never wavers; if anything this focus has sharpened. The best part is that Sonal never compromises on taste.
Her post today for me today the Tex-Mex Salad with Cilantro Dressing is so representative of this health-with-taste approach of Sonal's. I also love it represents a style of fusion cooking where the recipes and flavours of another culture are blended with those of the local culture to come up with an altogether new flavour. Tex-Mex is to the US what Indo-Chinese is to India. 🙂
Now without much ado, I present Sonal's delicious and healthy Tex-Mex Salad with Cilantro Dressing. Isn't it so colourful and inviting?
---
Aruna asked me for a guest post in January. I can't believe that it has taken me this long to finish this simple, hearty, filling and healthy food post. My apologies dear girl for being soooo late.
There were no doubts in my mind to do a guest post for Aruna. Her recipes are so full of information, well grounded, trendy and reflect her patience in cooking and love as a foodie.
I had so many thoughts in my mind for her post but I wanted to do something colorful and soulful since Holi is coming up :). Just like Indian cuisine, Mexican cuisine is as colorful, flavorful and is very hearty. So I thought of making a Tex-Mex Salad, which is my absolute personal favorite. It's healthy! It's kinda raw and clean eating category. It's full of bursting flavors and it's a complete meal. I promise. Tex-Mex is not authentic but an evolved recipe as the Mexican cuisine spread  in the southern parts of the United States of America.
Here is how I made it !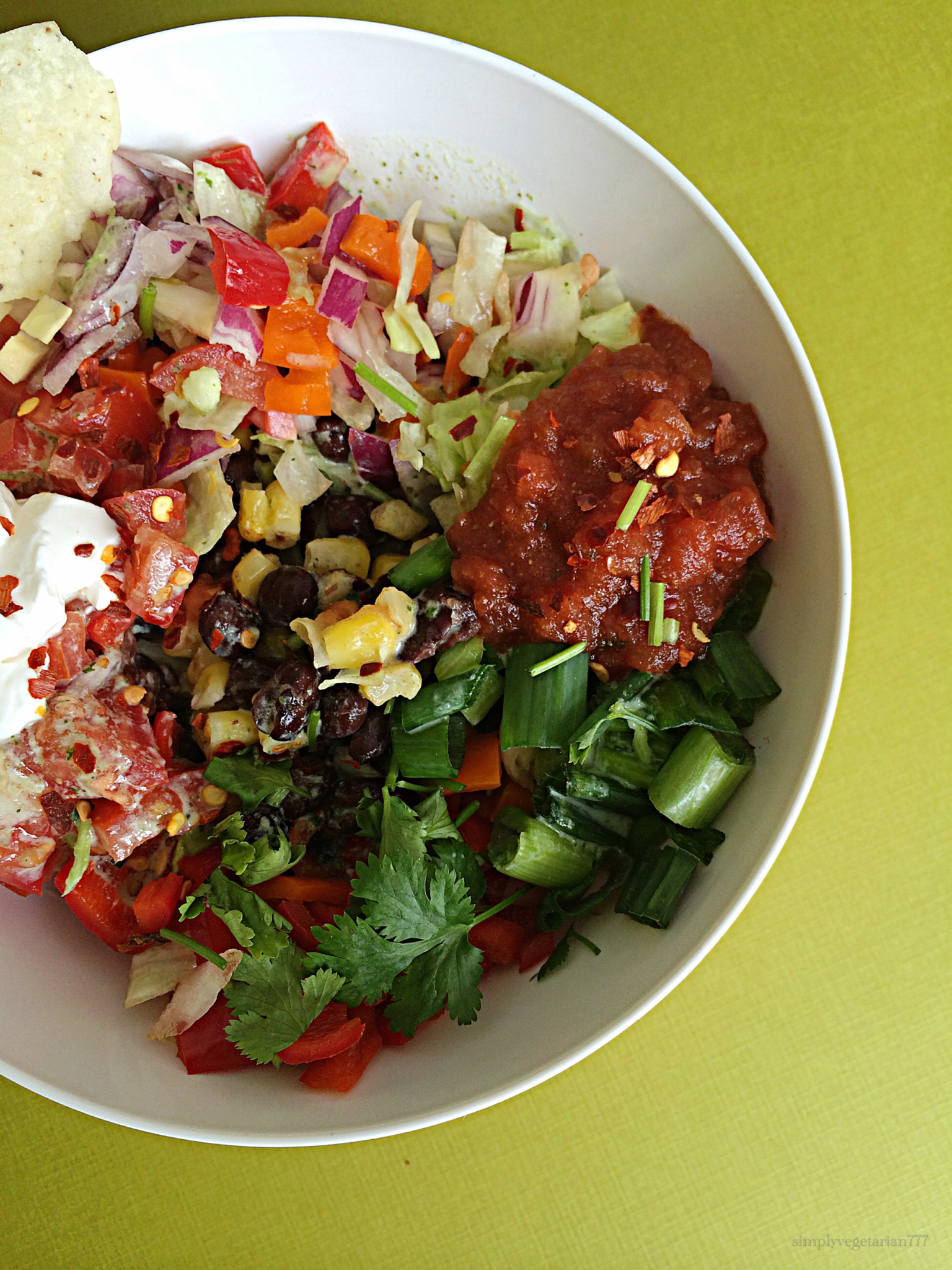 Serves – 2
Kitchen Equipments Required – chopping board, knife, a big bowl, blender, mixing spoon or fork.
Ingredients
Corn kernels – 1/2 cup, boiled
Black beans or Kidney beans (rajma) – 1/2 cup, boiled
Red onions – 2 tbsp
Tomato – 1 small, chopped fine or 8-10 cheery tomatoes
Bell peppers / capsicum  – 1/4 cup, chopped fine. Colorful bell peppers recommended.
Green scallions / Green onions – 2 tbsp
Lettuce – 1 cup chopped or shredded fine
Cilantro / Coriander leaves – 1 tbsp
Cilantro Dressing
Greek or Thick yogurt – 1/4 cup
Lemon / Lime juice – 2 tbsp
Cumin powder – 1 tsp
Garlic cloves – 2
Coriander / Cilantro leaves – 3 tbsp
Vinegar – 2 tsp
Salt to taste
Condiments – You may use all or any one, to your taste
Coriander/Cilantro leaves – 2 tsp
Salsa – 2 tbsp
Sour cream – 2 tbsp
Guacamole – 2 tbsp
Tortilla chips
Assembling the Salad
Take the individual salad bowls. Lay the bed of lettuce at the bottom.
Mix corn and beans together. Sprinkle some salt. Toss well. Divide in 2 and place in the middle of the bowl.
Place onions, tomatoes, bell peppers, scallions around the corn n bean mixture.
Pour the dressing on top. Place 1 tbsp each of salsa and sour cream. Squeeze some more lemon or lime juice. Sprinkle some cumin powder, red chili flakes and coriander leaves.
Stash some tortilla chips on the side. Enjoy a bowl of goodness for lunch.
Notes
1. It can be easily packed for lunch.
2. Fill a tortilla and make a burrito roll with some cheese.
3. You may serve in tortilla salad bowl.
4. A great weight watchers meal. Heart healthy and fit foodie choice!