Today, I present a vegetarian version of the classic Korean dish called Bibimbap that is delicious one-dish meal loaded with vegetables and proteins. The original version of this dish includes meat and egg but in this Vegetarian Bibimbap I have used Paneer (you can also use Tofu) as the protein.
The first time I saw Bibimbap, I was fascinated by the riot of colours on the plate from all the vegetables, the bean sprouts, and the red Gochujang-based sauce. Anything that looked so interesting HAD to be delicious, and indeed so it turned out to be.
As I read more about this iconic Korean dish, I realised that it could very easily be adapted to make a vegetarian version. I requested a friend in the US to get me Gochujang, a kind of sweet-sour Korean Chilli paste, and since I got it late last year, I have been making Vegetarian Bibimbap often at home. My family and friends with whom I have shared this dish think of it as a Korean Fried Rice, and request that I make it often.
I also serve this Bibimbap to guests who like Indo-Chinese food, and at first glance they always mistake it for Schezwan Fried Rice | Sichuan Fried Rice, and then are pleasantly surprised to find a completely different flavour profile.
I used Chinese Sesame oil which has a significantly stronger flavour profile and is very smoky in making this vegetarian Bibimbap, and it imparts a very distinct flavour. Please do use regular unfiltered sesame oil in making this dish.
The more I read about Korean food the more I realised how healthy it was with a good balance of carbohydrates, proteins, and vegetables. A complete Korean meal seems to follow the six taste principle of Ayurveda. Anyway, all this apart, as a foodie, any new cuisine was always worth exploring. 🙂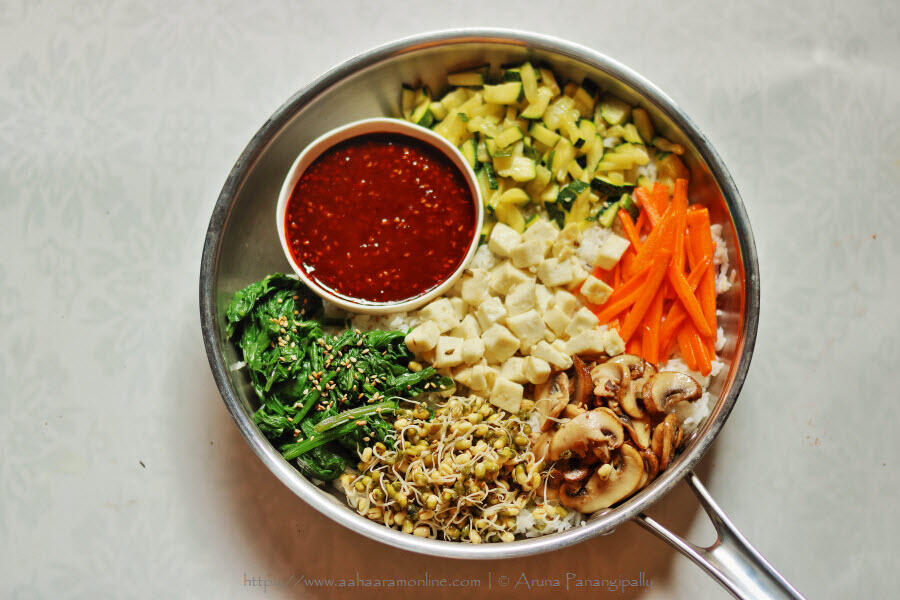 Recipe for a Vegetarian Bibimbap, a Korean Rice Flavoured with Gochujang
Vegetarian Bibimbap: Korean Rice with Protein and Vegetables
Bibimbap is a traditional Korean dish in which rice is mixed with a whole lot of lightly sauteed vegetables, sprouts and meat, and flavoured with Gochujang, the Korean Chilli Paste. I have substituted meat with paneer (you can also use Tofu) in this Vegetarian Bibimbap.
Equipment
Pressure Cooker

Sautee Pan

Large Shallow Dish for Serving
Ingredients
For The Sauce
2

tbsp

Gochujang Paste

1

tbsp

Sesame Oil

(I used Chinese Sesame Oil)

1

tsp

Sugar

(I used brown sugar)

1

tbsp

Roasted Sesame Seeds

1

tsp

Vinegar

1

tbsp

Soy Sauce

(See Notes)

1

tsp

Minced Garlic

1

tbsp

Water
Vegetables
1

Medium-Sized Carrot

(~75 gms)

1

Small Zucchini

(~100 gms)

5 to 6

Large Button Mushrooms

(~100 gms)

1/2

Cup

Moong Sprouts

(~50 gms, See Notes)

100

gms

Paneer or Tofu

1

Large Bunch Spinach

(~150 gms)

3

Cups

Water

1/2

tsp

Roasted Sesame Seeds

1/2

tsp

Salt
Others
1

Cup

Rice

1

tbsp

Sesame Oil

Salt to Taste
Instructions
Making the Sauce for Bibimbap
Mix all ingredients listed under the sauce and set aside.
Cooking the Rice
Wash the rice well and pressure cook in 3.5 cups water till done.

Let the rice cool completely.
Getting the Vegetables and Paneer
Peel and cut the carrot into 2" think sticks.

Cut the zucchini into small 1/4" pieces

Cut the mushrooms into thin slices.

Cut the paneer into 1/2" cubes.
Cooking the Vegetables and Paneer
In a pan, heat a few drops of oil, and add carrot sticks and a pinch of salt. .

Saute for 2 to 3 minutes. Remove and set aside.

In a pan, heat a few drops of oil, and add mushrooms and a pinch of salt. .

Saute for 2 to 3 minutes. Remove and set aside.

In a pan, heat a few drops of oil, and add sprouts and a pinch of salt. .

Saute for 2 to 3 minutes. Remove and set aside.

In a pan, heat a few drops of oil, and add Zucchini and a pinch of salt.

Saute for 2 to 3 minutes. Remove and set aside.

Boil 3 cups of water with 1/2 tsp salt.

Turn off the heat and add the spinach. Let the spinach blanch in the hot water for 30 seconds.

Using a colander, drain all the hot water and rinse in cold water.

Drizzle 1/2 tsp sesame oil and 1/2 tsp roasted sesame seeds. Set aside.
Serving the Vegetarian Bibimbap
Transfer the sauce into a bowl.

Spread the rice on a larger platter.

Place individual vegetables and paneer on top of the rice.

Place the bowl of sauce in the platter.
Eating the Bibimbap
Just before serving, mix all ingredients well.

Serve individual portions.
Notes
I had some Chinese Sesame Oil and I used that for cooking. This oil has a distinct smoky flavour that is lacking in our sesame oil, and adds a new level of flavour to the Bibimbap, and indeed all South East Asian cooking.
The Koreans use bean sprouts which I substituted with moon sprouts. Let the moong sprout for at least 2 days.
I used soy sauce in the Bibimbap sauce because the meat (when used) is marinated in soy sauce (among other ingredients), and I did not want to miss out on the flavour of the soy sauce. 
You can use other vegetables like Cabbage, Bell Peppers, etc.
I plan to use Soy Granules/Chunks the next time in place of the meat.