This recipe for Ava Baddalu, an instant Andhra Mango Mustard Pickle, is something I learnt from my cousin Padma Desaraju this past weekend, when I visited her to see her newborn granddaughter (by extension my granddaughter too :)).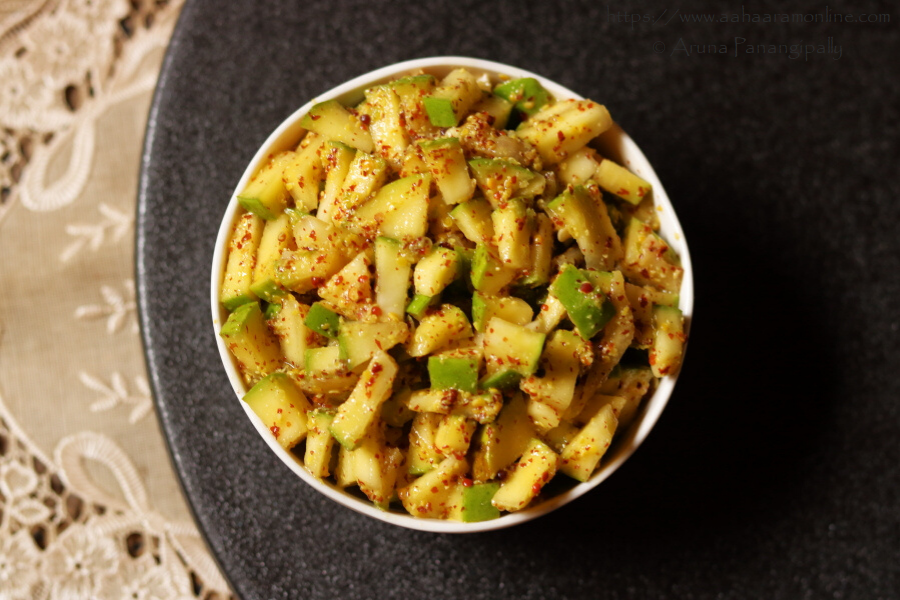 Padma is a treasure trove of traditional Andhra cooking and a wonderful cook; someone who can take the simplest of ingredients and transform it into a magical dish from it. This recipe for Ava Baddalu is a testament to this fact and one of the many recipes I hope she contributes to this blog.
Ava Baddalu literally means "mustard-y pieces" (as you can see I am making up words as I go along) and if you love raw mango (mammidikaya/kairi) and mustard then this is THE recipe for you. All you have to do is grind together some mustard seeds, green chillies and add the paste to raw mango pieces along with some salt and asafoetida. Voila! your instant pickle is ready.
Some Tips to Help You Make Tangy Ava Baddalu
As with all mango pickles, the mangoes you choose must be medium-sized, dark green and hard. These tend to be the very sour and so are the best kind to make any kind of mango pickle.
Ensure that all vessels and utensils you are using are bone dry.
If your mustard seed is small is size, I would recommend you powder it first by itself, and then add the rest of the ingredients for the mustard paste.
Store in an air-tight bottle, and refrigerate.
Other Instant Mango Pickles and Relishes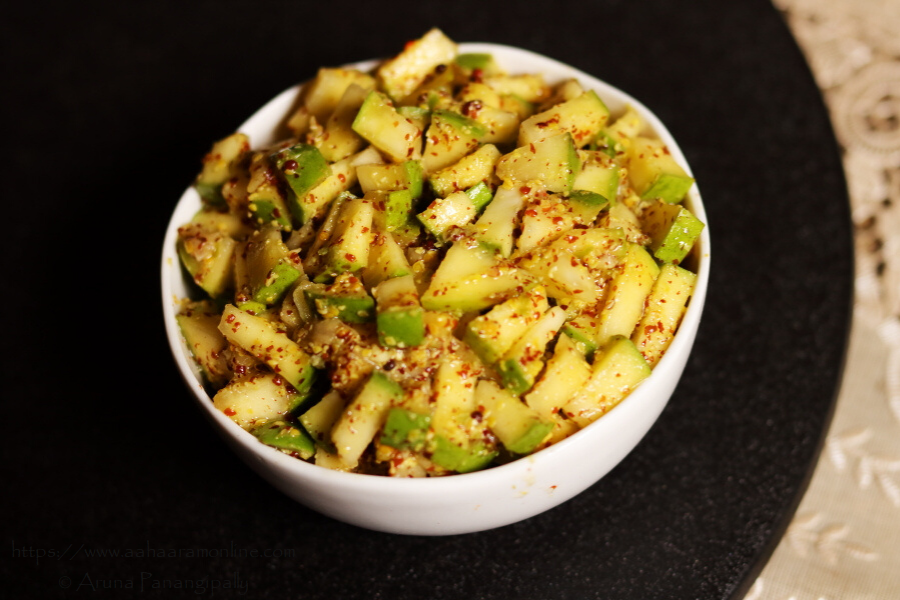 How to Make Ava Baddalu, The Instant Mango and Mustard Pickle from Andhra Pradesh
Choose a large mango that is dark green and firm. You will need a mango that is about 250 gms in weight.
Wash the mango and dry it thoroughly as moisture will spoil any pickle. I typically wipe it dry and then set it aside to air-dry for 10-15 minutes.
Chop to the mango to small pieces (along with the peel) and set aside. I got 1.5 cups of pieces.

Using the dry grinder and grind the 1 tsp mustard seeds, 5 green chillies, 1/2 tsp salt, and 3 tbsp oil together to a fine paste. Alternatively, you can just dry grind the mustard seeds with the chillies into a powder and add it along with the salt and oil to mango pieces.

Now add the finely ground mustard paste to the mango pieces. Also add the asafoetida.

Using a dry spoon, mix well till all mango pieces are well-coated with the mustard paste. Add more sesame oil, if required and if the mango pieces seem dry.

Cover and set aside the Ava baddalu to rest for about an hour. In this time, the mango pieces will release some sour flavour and absorb the mustard flavour.
Serving Suggestions

The best way to enjoy Ava baddalu is to simply mix it with some hot rice!
You can also serve it as a side to Curd Rice.

How to Store Ava Baddalu

If you want to store Ava baddalu, refrigerate it. It stays fresh for about 2 weeks.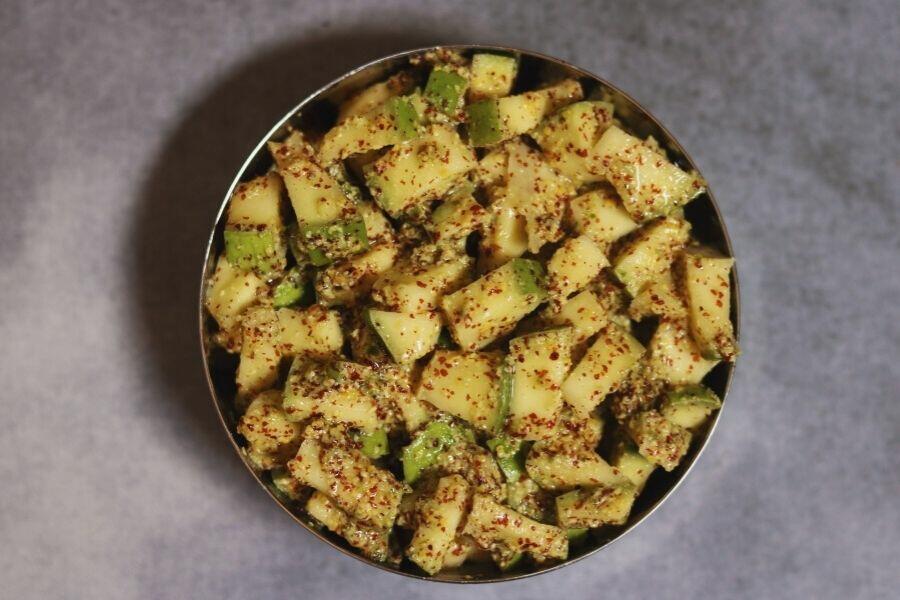 This recipe was first posted in May 2017 and is now updated.
Recipe for Ava Baddalu | Instant Andhra Mango and Mustard Pickle
Ava Baddalu | Instant Andhra Mango and Mustard Pickle
Avabaddalu is a traditional recipe for a Mango and Mustard Pickle that can be savoured almost as soon as it is made. I love it because it is a blend of sour mango, bitter mustard, and spicy chilli.
Ingredients
1

Cup

Finely Chopped Mango Pieces, Mammidikaya Mukkalu

About 200 gms

1.5

tbsp

Mustard Seeds, Avalu

3-5

Spicy Green Chillies. Pacchi Mirapakaya

Adjust to your level of spiciness

1/3

tsp

Asafoetida, Inguva

3-4

tbsp

Sesame Oil, Nuvvula Nune, Gingelly Oil

Salt to Taste, Uppu
Instructions
Wash and dry the mango thoroughly.

Chop to small pieces and set aside.

Grind the mustard seeds, green chillies, salt, and 3 tbsp oil together to a fine paste.

Add the mustard paste and asafoetida to the mango pieces.

Add a sesame oil, if required, and mix well.

Let the Ava Baddalu rest and pickle for about an hour.

To store Ava Baddalu, refrigerate it.
Notes
I use sea salt/rock salt and so ground it along with the Mustard seeds. If you are using table salt, you can add it later as well.
Nutrition
Calories:
74
kcal
Carbohydrates:
5
g
Protein:
1
g
Fat:
6
g
Saturated Fat:
1
g
Polyunsaturated Fat:
2
g
Monounsaturated Fat:
3
g
Sodium:
202
mg
Potassium:
50
mg
Fiber:
1
g
Sugar:
4
g
Vitamin A:
224
IU
Vitamin C:
10
mg
Calcium:
8
mg
Iron:
1
mg