I have been meaning to post recipes for Iftar at Ramzan or Ramadan. However, I have been neck deep in work and have some wonderful travel coming up. However, last year's Ramadan recipe journey was wonderful and I still wanted to make the effort this year. So here I come with a simple recipe; Chaman Qaliyan, a delicious, fragrant Paneer dish where milk is the main cooking medium.
I love Paneer but lately find myself at a bit of a loose end when I think of making a new with it. There are only so many variations of the onion-tomato gravy that one can experiment with. :p So when I chanced upon this recipe for Chaman Qaliyan, I was quite intrigued. First because it is cooked in milk and second because of the fact that it needed very few ingredients, two of which were unusual; fennel powder and dry ginger powder. And all the  pictures I found on the net showed a creamy, creamy dish so here I am with this wonderful dish from Kashmir.



Tasting this creamy Chaman Qaliyan reminded me of Amir Kusro's famous couplet:

Agar firdous baroye zameen ast,
Hami asto, hami asto hami ast

(If there is paradise on earth, It is here, it is here, it is here)

If the rest of Kashmiri vegetarian food is anything like this dish, I would be in raptures.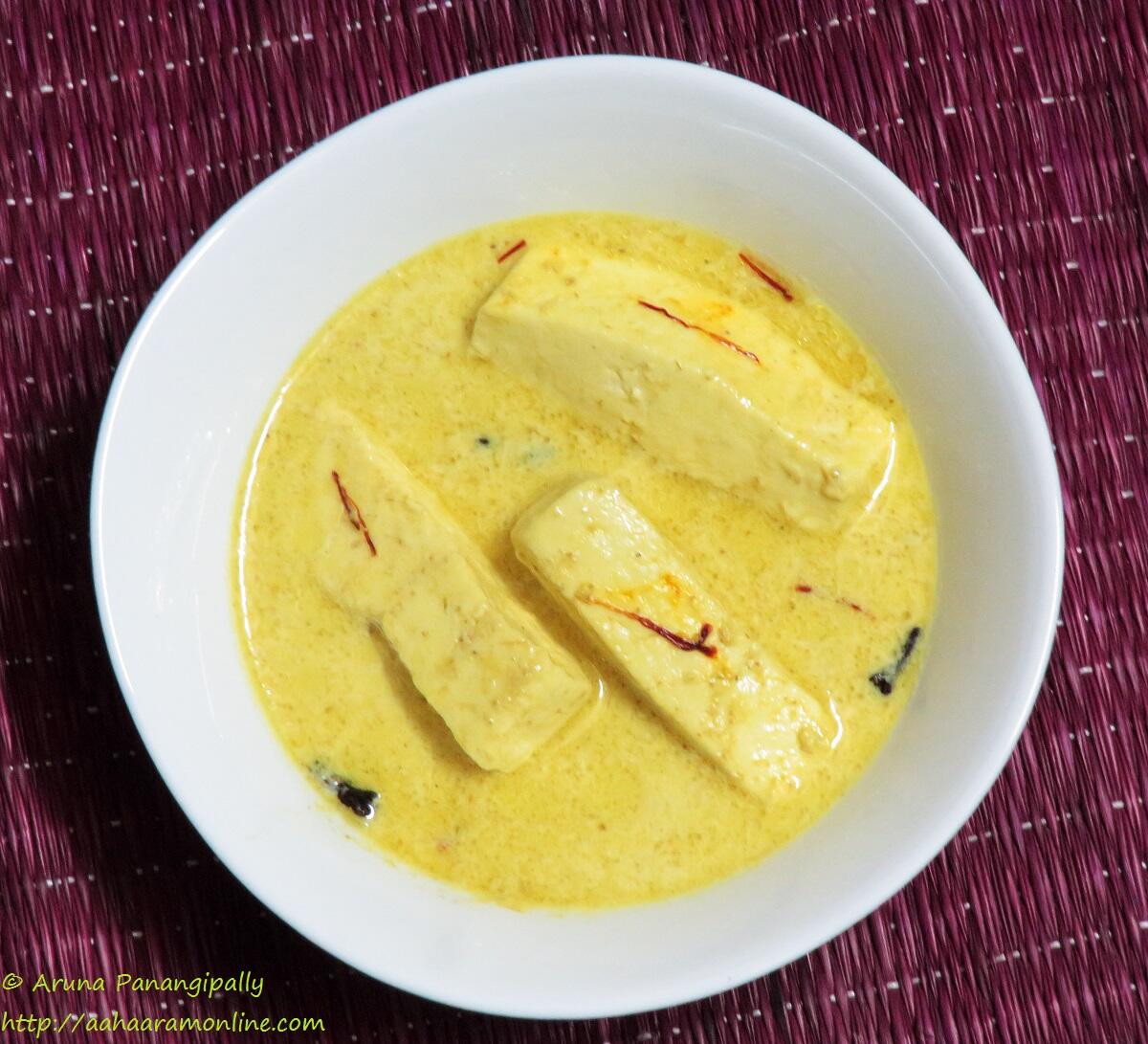 Recipe for Chaman Qaliyan or Kashmiri Paneer in Milk
Chaman Qaliyan - A Kashmiri Paneer Recipe for Ramadan
Chaman Qaliyan (also spelt as Chaman Kaliyan) is a wonderfully fragrant and mild paneer dish from that paradise on earth; Kashmir! The fennel, dry ginger and saffron give it a flavour that is quite remarkable.
Ingredients
Paneer - 400 gms

Cups

Milk - 2

Cloves

- 8

tsp

Fennel Powder - 1

tsp

Dry Ginger Powder - 1/3

piece

Cinnamon - 2"

Green Cardamom - 4

Leaves

Bay - 2

Pinches

Saffron - 2 Generous

Pinches

Turmeric - 2 Generous

tsp

Mustard Oil - 2

Salt to Taste
Instructions
Preparing the Paneer
Cut the Paneer into 3" X 1" long pieces.

Boil 1 cup milk with a pinch of saffron.

Turn off the heat.

Soak the paneer pieces in the milk.
Other Preparations
to 1/4 cup water, add the turmeric, fennel powder and dry ginger powder.

Mix well.

Set aside.
Making the Chaman Qaliyan
In a wok or kadai, heat the mustard oil to smoking point. The mustard oil should become colourless.

Turn down the heat and let the oil cool a bit. If the oil does not cool the whole spices will burn.

Add the cumin, cloves, cinnamon, green cardamom, and bay leaves.

Stir-fry for a few seconds.

Add the water with the spice powders.

Bring to a gentle simmer.

Turn the heat to low.

Add 1 cup milk and the milk that the paneer is soaked in. Do not add the paneer at this stage.

Over low heat, simmer the milk for about 5 to 7 minutes.

Now add the paneer pieces.

Over low heat, let the paneer cook in simmering milk till the milk thickens a bit.

Turn off the heat.

Cover and let the Chaman Qaliyan rest for about 10 minutes.

Serve warm with rotis or even rice.
Notes
If you do not have mustard oil, use ghee.
If your paneer is very fresh or homemade, do not soak it too much in milk or then cook it too much. It may disintegrate.
I have made this with fennel instead of fennel powder and it tastes just as good. If you are using whole fennel, add it to the oil/ghee.