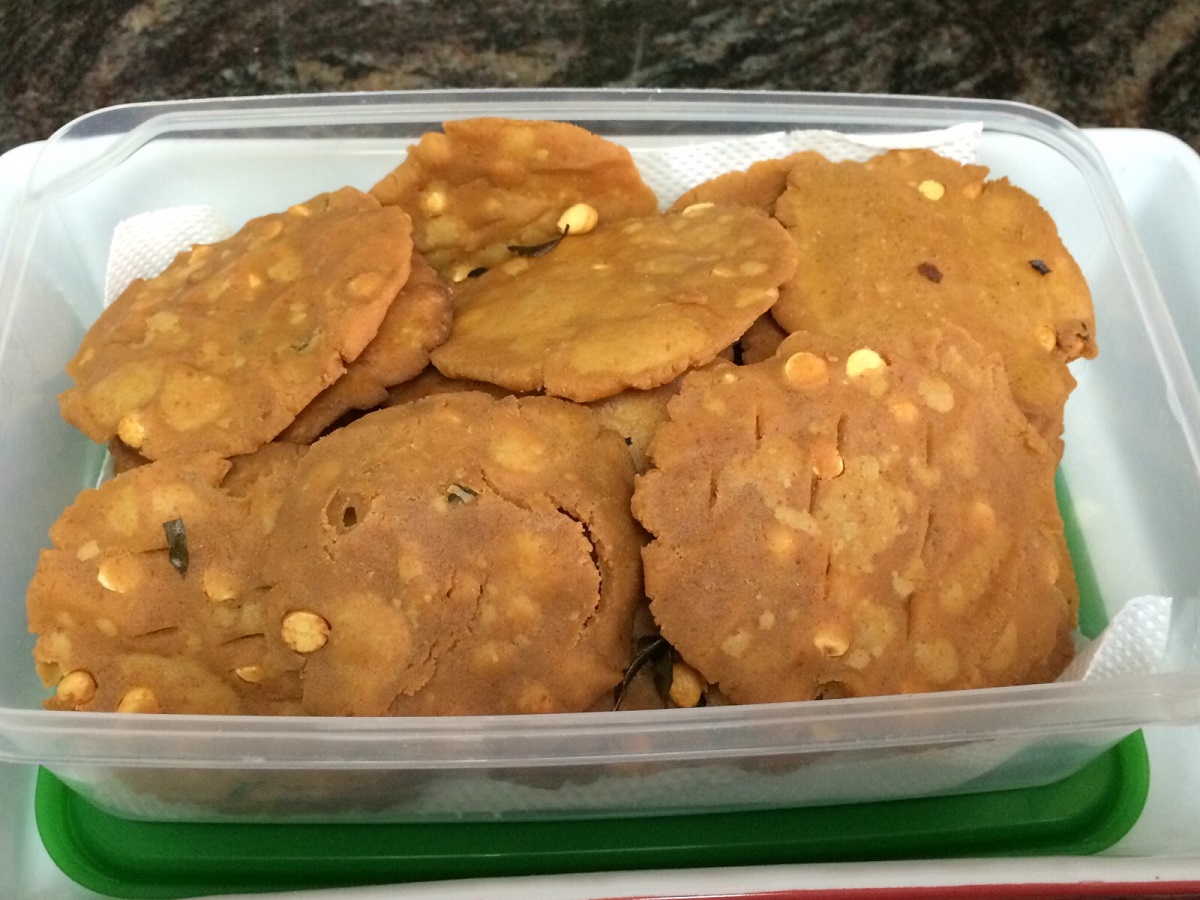 Pin
Diwali is a time for friends and family. Many a time families come together to make the Diwali Faral (the array of sweets and snacks that are made for Diwali). This Diwali Aparna and me worked in tandem to make a whole lot of goodies. This way between us we had an array of Diwali Sweets and Savouries to enjoy. Our collection this year included Mysore Pak, Seven Cup Cake, Kodubale, Gud Papdi or Sukhdi, Maa Laddu, and Sev Burfi or Singhar ji Burfi.
Thattai (as it is called in Tamil) or Chekkalu (as it is called in Telugu) is a very popular snack for Diwali and even weddings. It is very easy to make and can be stored for a while which makes it a boon during the festive season. Aparna made it this year and generously shared her recipe as well as pics for the blog.
Thank you, Aparna!
How to Make Chekkalu or Thattai
Time: 30 Minutes
Ingredients
Rice Flour – 1 Cup
Roasted Udad Dal Flour – 1 tsp
Roasted Chana Dal or Putnala Pappu – 2 tsp
Butter or Ghee – 2 tspn
Chilli Powder – 1 tsp
Asafoetida or Hing – A Large Pinch
Salt to Taste
Curry Leaves – A Few
Oil for Frying
Water as required
Method to Make the Chekkalu or Thattai
To Make the Dough:

Tear the curry leaves to fine pieces.
Sieve together the rice flour, salt, asafoetida, red chilli powder, and curry leaf pieces.
Heat the ghee or butter till hot.
Pour over the dry mix and mix well.
Add the putnala pappu and roasted udad dal.
Now using a little water, knead into a firm dough.
Cover with a damp cloth.

To Make the Thattai or Chekkalu:

Grease the palms with a little oil.
Divide the dough into 2″ balls.
Flatten each ball into a disc.
With a sharp knife, make small cuts on the surface.
Or
Use a fork and make some holes.
While you are still shaping the Chekkalu or Thattai, ensure that you keep the ones you made and the dough covered with a damp cloth.

To fry the Thattai or Chekkalu:

In a wok or kadhai, heat enough oil till it is medium hot.
Add a few Thattai or Chekkalu to the oil.
Over a medium flame, fry till golden brown.
Using a slotted spoon, remove from the oil.
Place on paper towels so that the extra oil is absorbed.

Wait till the Chekkalu or Thattai cool to room temperature.
Store in an air-tight container.