Every winter, I wait for Avarekalu to appear in the market so that I can make this Hitikida Avarekalu Saaru.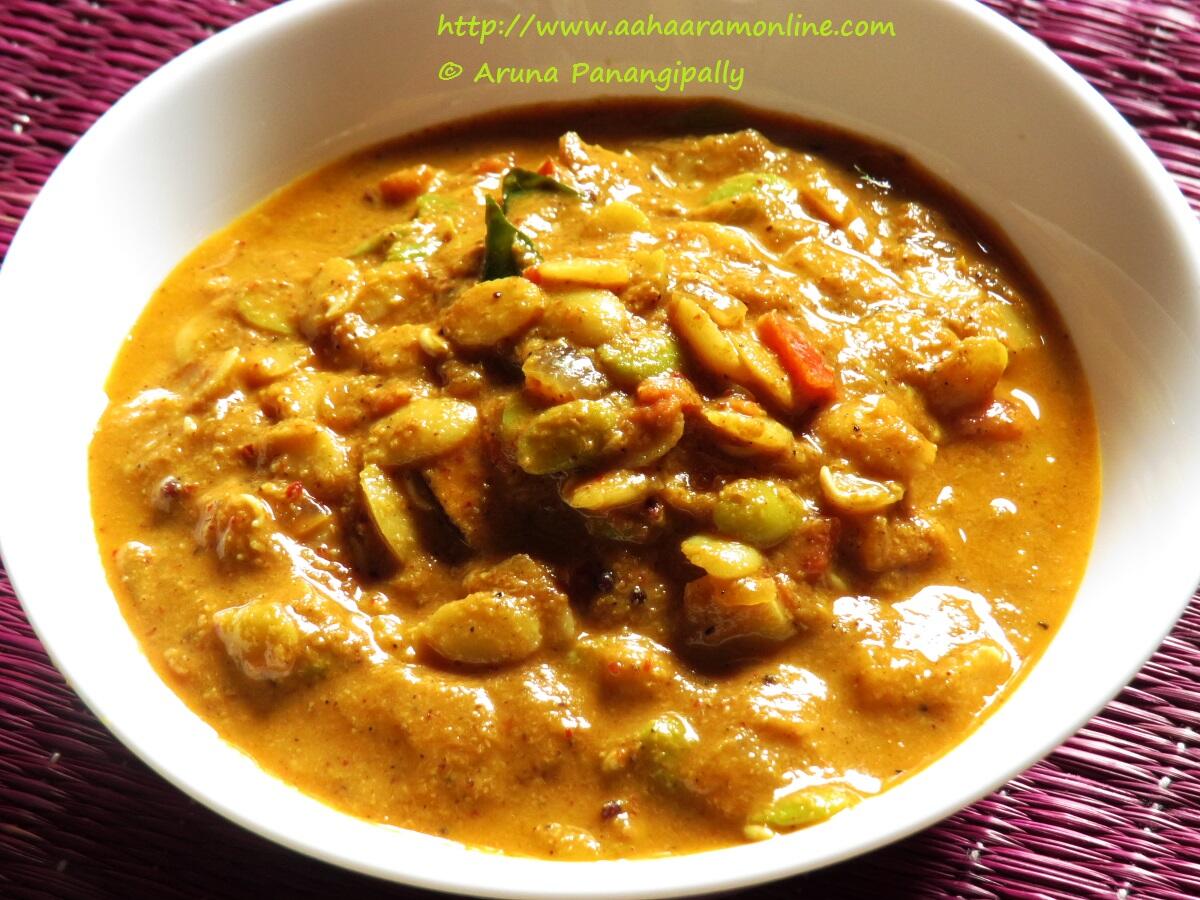 One of the many blessings of blogging is that I get to deep dive into the cuisines of our beautiful country. Karnataka is one of those Indian states whose cuisine is not widely known (apart from what is available in those ubiquitous Udupi eateries). Today, I am presenting the recipe for Hitikida Avarekalu Saaru, a traditional winter favourite in Karnataka.
Avarekalu or Surti Papdi (Lilva Beans) are available in plenty in winter and are a treasured ingredient in Karnataka Cuisine. In fact, since the past few years, there are Avarekalu festivals held in many parts of Karnataka. Kannadigas use these beans in very many ways including in Avarekalu Bisi Bele Bath and Akki Roti.
Coming back to the recipe, using some creative license, I can describe Hitikida Avarekalu Saaru as Sambar with Surti Papdi. It has a very rich flavour from the spices in which the Avarekalu are cooked and tastes absolutely great with rice or Ragi Mudde. I eat this wonderful dish with rotis as well.
While peeling the Avarekalu does take some time, but the rest of the recipe is quite easy. Do give it a try.
We are using only the seeds (Avarekai) and not the outer pod to make this curry.
Do also try some other recipes from Karnataka including:
Recipe for Hitikida Avarekalu Saaru
Hitikida Avarekalu Saaru
Hitikida Avarekalu Saaru is a delicious winter recipe from Karnataka. It is essentially Surti Papdi (Avarekalu or Lilva Beans) cooked in a spicy gravy. This is an excellent accompaniment to Ragi Mudde.
Ingredients
1

Cup

Avarekalu

1/3

Cup

Finely Chopped Tomato

1/2

Cup

Finely Chopped Onion

2

tbsp

Thick Tamarind Pulp

1

tsp

Grated Jaggery

1/4

tsp

Turmeric Powder

1

tbsp

Ghee or Oil

To Taste

Salt
For the Masala
1/3

Cup

Finely Chopped Onion

1.5

tbsp

Poppy Seeds

1

tbsp

Coriander Seeds

1/2

tsp

Cumin Seeds

1.5 inch

piece

Cinnamon

3

Cloves

3

Cloves

Garlic, Finely Chopped

(Optional)

3

Marathi Moggu

(Optional, substitute with 1 or 2 additional cloves)

3-4

Red Chillies

3

tbsp

Grated Coconut

1

tbsp

Oil
Instructions
Preparing the Poppy Seeds
Over medium flame, dry roast the poppy seeds till they start to change colour.

For 30 minutes, soak the roasted poppy seeds in just enough water to cover them.

Set aside.
Preparing the Avarekalu
Soak the Avarekalu in lukewarm water for 30 to 45 minutes.

Press each Avarekai gently to take off the outer skin.

Set aside.
Making the Masala
In a kadai, heat 1 tbsp oil.

Add the onions and sautee till they become translucent.

Add the garlic.

Stir-fry for 1 minute.

Add the cinnamon, cloves, marathi moggu, and red chillies.

Stir-fry for 1 minute.

Add the cumin and coriander seeds.

Stir-fry for 1 minute.

Add the grated coconut and mix well.

Turn off the heat.

Set aside and let the ingredients cool a bit.

Grind the fried ingredients along with the soaked poppy seeds and the water the seeds are soaked in.

Ensure you have a smooth paste.

Set aside.
Making the Hitikida Avarekalu Saaru
In a heavy bottomed vessel, heat the ghee or oil.

Add the mustard seeds and let them splutter.

Add the finely chopped onions and sti-fry till translucent.

Add the finely chopped tomatoes and stir-fry till the tomato pieces are stewed.

Add turmeric and salt.

Add the ground masala and tamarind paste.

Stir-fry for 2 to 3 minutes.

Add 1/2 cup water and mix well.

Add the Avarekalu and mix well.

Bring the gravy to a gentle simmer.

Let the Avarekalu cook in the gravy for 7 to 10 minutes. Add more water, if required.

When the Avarekalu are just cooked (take some avarekalu and press between your index finger and thumb. The Avarekai should just be soft and break. It should not be mushy.)

Turn off the heat.

Serve hot with steamed rice, Ragi Mudde, or even Phulka.