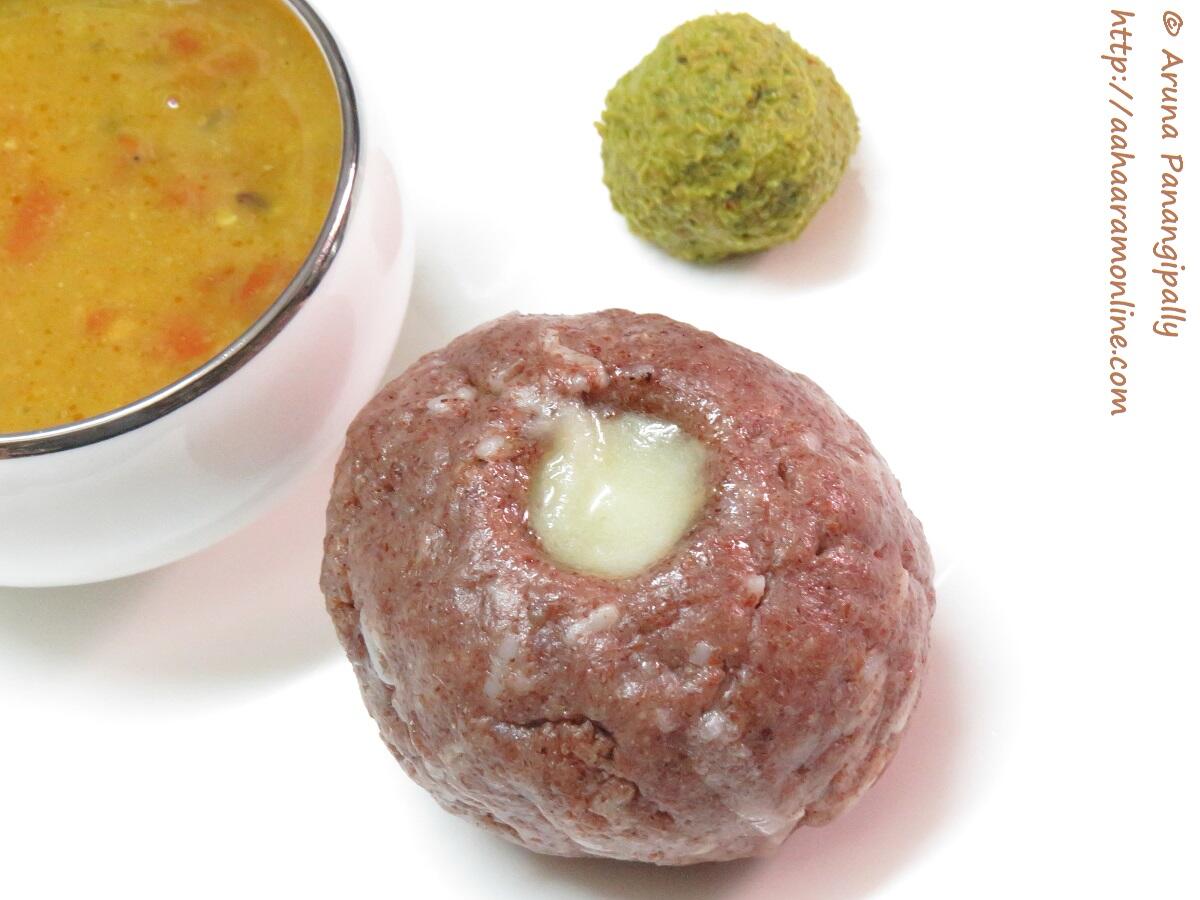 Pin
I am making a concentrated effort to include Ragi into my diet and so have started making Ragi Sangati regularly. Ragi is a miracle food. It is loaded with calcium, fibre, iron, and Vitamin D. As a result, it helps in weight-loss, treating anemia, strengthening the bones, reducing cholestrol, and much much more. It also helps cool the body. In fact, it is very easy to incorporate Ragi into any meal that you wish. You could make Ragi Dosa or Ragi Malt/Ambli for breakfast, or then Ragi Roti, which can be used as an alternative to rotis or chapatis.
If you are a rice eater, try making Ragi Sangati, which can be used in place of rice. Ragi Sangati is very popular in Andhra Pradesh, especially in rural households where it is used as a substitute for rice. It is made by boiling Ragi flour with a touch of salt and a little rice till the mix starts to form a ball (mudda). It is then quickly rolled into a ball with a wet hand and then doused with a dollop of ghee. It can be served with any pappu (dal), pachadi (chutney), or pulusu (sambar) as a side dish.
Ragi Sangati tends to be dense in texture and is best eaten as soon as it is made. It is also an acquired taste, so I would recommend that you start eating it in small steps. Because of its cooling properties, many avoid eating Ragi in cooler weather.
Sangati is very similar to Ragi Mudde made in Karnataka or Ragi Kali made in Tamil Nadu. The only difference is that while Sangati uses some rice, neither Ragi Mudde nor Ragi Kali has any rice.
 Try Pulihora Pulusu or Hitikida Avarekalu Huli as an accompaniment to Ragi Mudde.
How to Make Ragi Sangati, Ragi Kali, or Ragi Mudde
Ragi Sangati | Ragi Mudde | Ragi Kali
Ragi Sangati is essentially Ragi flour and rice boiled in water till it is thick enough to form a ball. It is served with dals, chutneys, or sambar as accompaniment. It is one of the easiest ways of incorporating Ragi into your diet.
Ingredients
2/3

Cup

Ragi Flour

1

tbsp

Rice

1.75

Cups

Water

Salt to Taste
Instructions
One a medium flame, boil the water with the rice till the rice is cooked.

Add salt and mix well.

Lower the flame.

Add ragi flour and mix well.

Continue to cook on low heat while stirring till the dough comes together as a ball.

Turn off the heat and let it cool for 2-3 minutes.

Wet your hand using cold water.

Quickly divide the Ragi Sangati dough into 4 parts.

Roll each part of Ragi Sangati into a ball.
To Serve the Ragi Sangati
Make a small indent in the Ragi Sangati mudda.

Add some ghee into the indent.
Notes
I used a short-cut. I used steamed rice that I had and used just 1.25 cups of water. This worked beautifully.
To make Ragi Mudde or Ragi Kali, omit the rice and use just 1.25 cups of water.