I love anything absolutely anything to do with mangoes. As a result, the onset of summer is nirvana to me. It is just the first month of summer here in India and I have already made Mammidikaya Mukkalu or Manga Kari, Kairi Panha, Kobbari Mammidikaya Pachadi and Mammidikaya Pappu. I have even experimented with Ambe Daali.
Yesterday, I was on my way back from Siddhi Vinayak Temple early in the morning when I spotted some fresh Rajapuri mangoes being offloaded in the vegetable market and I instantly thought of making Murabba (Sweet and Tangy Mango Jam) and Chunda (Sweet and Spicy Mango Jam).
The essentially process for making both is the same. It is just the last step that is different and so I always make them together.
Kairi Murabba (Keri no Murabbo as it is called in Gujarat) is a Raw Mango Jam that is sweet and sour with the flavour of cardamom and saffron. It is absolutely delicious as an accompaniment for rotis or parathas or even bread.
Keri no Chundo is a sweet, sour, AND spicy version made in Guajarat! If you like such tangy sides, try the famous Methamba from Maharashtra.
How to Make Kairi Murabba | Keri No Murabbo (Sweet Sour Raw Mango Jam)
Makes: 1 Cups
Time: 60 Minutes
Ingredients
Grated Mango – 1 Cup
Sugar – 1 Cup
Green Cardamom – 4
Saffron Strands – 8 to 10 (A Pinch)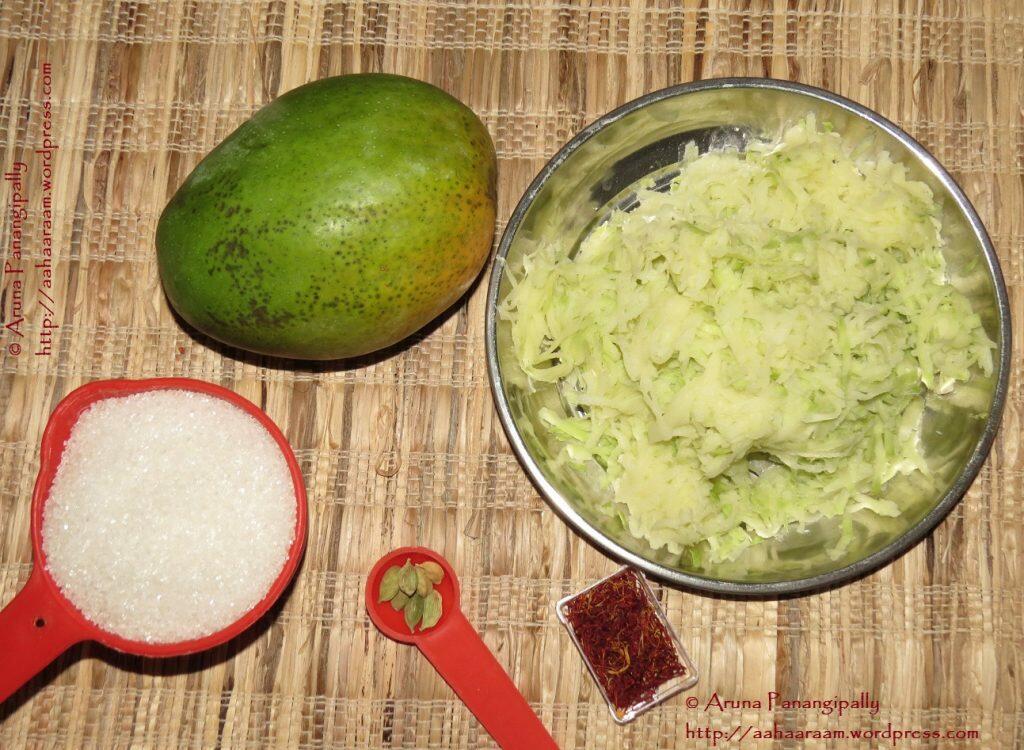 Pin
Method
Peel the green cardamom.
Grind the cardamom seeds to a fine powder with 1 tsp of sugar.
In a heavy bottomed kadai, mix the sugar and grated mango.

On a medium flame, heat the mango-sugar mix.
The sugar will melt and the mix will start to bubble.

Over medium heat, continue to cook the mix till it becomes thick.

Turn off the heat.
Add the powdered cardamom and saffron.

Mix well.
Cover and let the Kairi Murabba cool.
Store in an airtight glass bottle.
Tips
Rajapuri mangoes are the best for making Keri no Murabbo. This is because they are not jaw-gripping tart but are tart/sour enough. They also do not have too much fibre.
Ensure that the mangoes are raw and not ripening.
You need not but could refrigerate the Murabba.