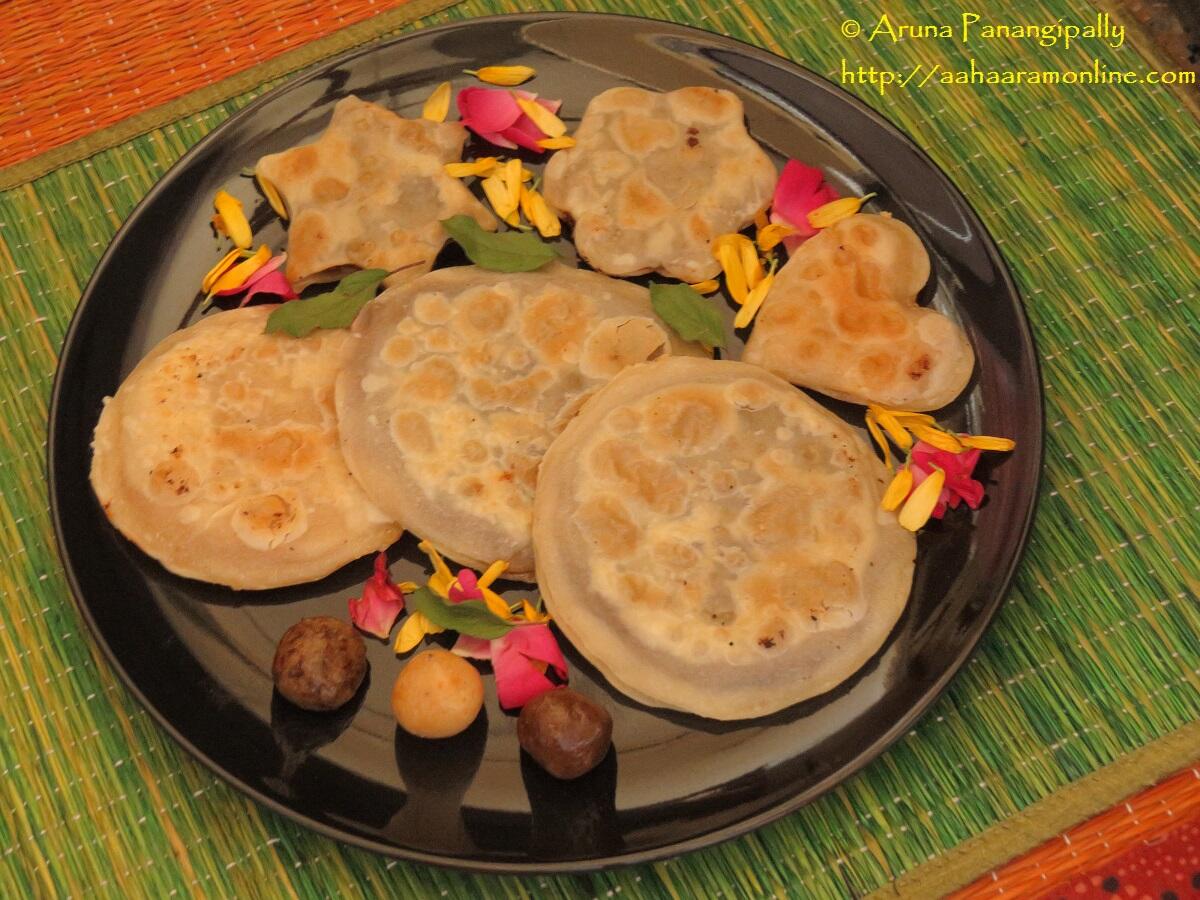 Pin
Making Satori last week was rather an adventure for me. It started with me looking for a Mawa-based sweet for Holi. I did not want to make Mawa Gujjiya as it was very common. So as I searched for other Mawa- or Khoya-based sweets, I chanced upon Amarendra Mulye's Gulkand Satori. I loved the recipe but still kept looking for other recipes. For some reason, I was drawn to this Mawa Stuffed Roti/Puri repeatedly and so decided to make it.
Next, in a burst of enthusiasm, I decided to make mawa at home with milk powder. Not to stop at making one batch, I made two batches of mawa or khoya using two different methods. Do one can accuse me of being an underachiever!🙂
Inspired by Amarendra, I decided to make this sweet (also known as Khava Poli) in 3 different ways: plain, with palm jaggery, and with gulkand. Then, in a further burst of enthusiam, I decided to make mini versions using cookie cutters to shape them. The result was that I spent an entire day on this recipe. 😀 😀 😀
I also made Shahi Tukda at the same time because I had decided to participate in a recipe exchange last week. I really need to curb my enthusiasm.

Note to Self: You hold a full-time job. Stop participating in recipe exchanges. 😀

Thank you, Amarendra, for inspiring me and for the wonderful recipe!
Coming back to the recipe, it is a Mawa-stuffed roti or puri from Maharashtra that keeps well. So you can make it in advance for any of the festivals or when you have company. The reason I thought of mini-Satori is that these tend to be rather heavy because of the Mawa stuffing and so making small bite sized pieces would make eating easy. As you can see from the pics, after a while I lost my patience with making mini-satoris and migrated to making full-sized ones.
Anyway, without further ado, here is the recipe for you to try this Holi or Gudi Padva.
How to Make Satori or Mawa Stuffed Rotis
Khavyachi Satori | Khava Poli | Mawa Roti
Khavyachi Satori is a Mawa- or Khoya-stuffed roti or puri that is very easy to make.
Ingredients
For the Stuffing
1

Cup

Mawa or Khoya

3

tbsp

Powdered Sugar

1

tbsp

Ghee
Flavourings I Used
2

tbsp

Gulkand or Rose Petal Jam

1

tbsp

Powdered Palm Jaggery

2

Large Pinches

Cardamom Powder

This is all you will need for Traditional Satori
For the Covering
1

Cup

Maida

1

tsp

Ghee

Water
Other Ingredients
2 or 3

tbsp

Maida

For Rolling

Ghee for Pan Frying
Instructions
Method to Make the Cover
Sieve maida and salt together.

Make a small well in the middle of the dry flour.

Heat 1 tsp of ghee till completely melted.

Add to the well.





Using a spoon, mix the melted ghee into the dough.

Using your hand, mix well.

Now add a little water at a time and knead into a pliable dough.

Coat the dough in about 1/2 tsp ghee.





Cover and set aside. Always keep the dough covered when not using as it dries out very fast.




Method to Make the Filling
Ensure that the mawa is crumbled.

In a pan, heat the 1 tbsp ghee.





Add the crumbled mawa to the ghee.





Stir-fry till the ghee starts to leave the sides and the mawa starts to change colour.





Turn off the heat.

Spread the mawa in a plate and let cool.

Add the powdered sugar to the mawa and mix well.

Divide the mawa into 3 equal parts.
To Make Traditional Filling
To 1/3 cup of sweetened mawa, add the cardamom powder.

Mix well.
To Make Gulkand Filling
To 1/3 cup of sweetened mawa, add the Gulkand.

Mix well.
To Make Palm Jaggery Filling
To 1/3 cup of sweetened mawa, add the powdered Palm Jaggery.

Mix well.




To Make the Satori
Divide the dough into six equal portions.

Roll each portion into a ball.

Divide each type of filling into 2 equal portions.

Roll each portion of filling into a ball.

Using as little maida as possible for dusting, roll each ball of dough into a 3" circle.

Place one portion of filling in the centre.

Fold the edges of the dough to cover the filling.

Roll into a thick puri about 4" in diameter.
To Make Mini-Satoris
Take about enough dough to form a ball about 2" in diameter.

Using as little dough as possible, roll out into a thin puri about 6" in diameter.





Using a sharp-edged cup or cookie cutter, cut 2 or 4 pieces from the puri. We need two pieces of covering per mini-satori.





Place a spoonful of the filling in the centre of one of the pieces.

Spread evenly leaving about 1/4" to 1/2" of the edge empty.





Using a little water, wet the edges of the puri left empty.

Place another cut piece of covering over the filling.

Press the edges well to seal the mini-Satori.




Panfrying the Satoris
Over medium heat, melt some ghee in a pan.

Place the Satori in the pan and let cook till the side touching the pan has brown spots.

Flip over.

Drizzle some ghee along the edges.

Let the flip side cook till brown sides appear.

Take the Satori out of the pan.

Make the remaining Satoris the same way.
Storing the Satoris
Let the Satoris cool completely.

Store in an air-tight container.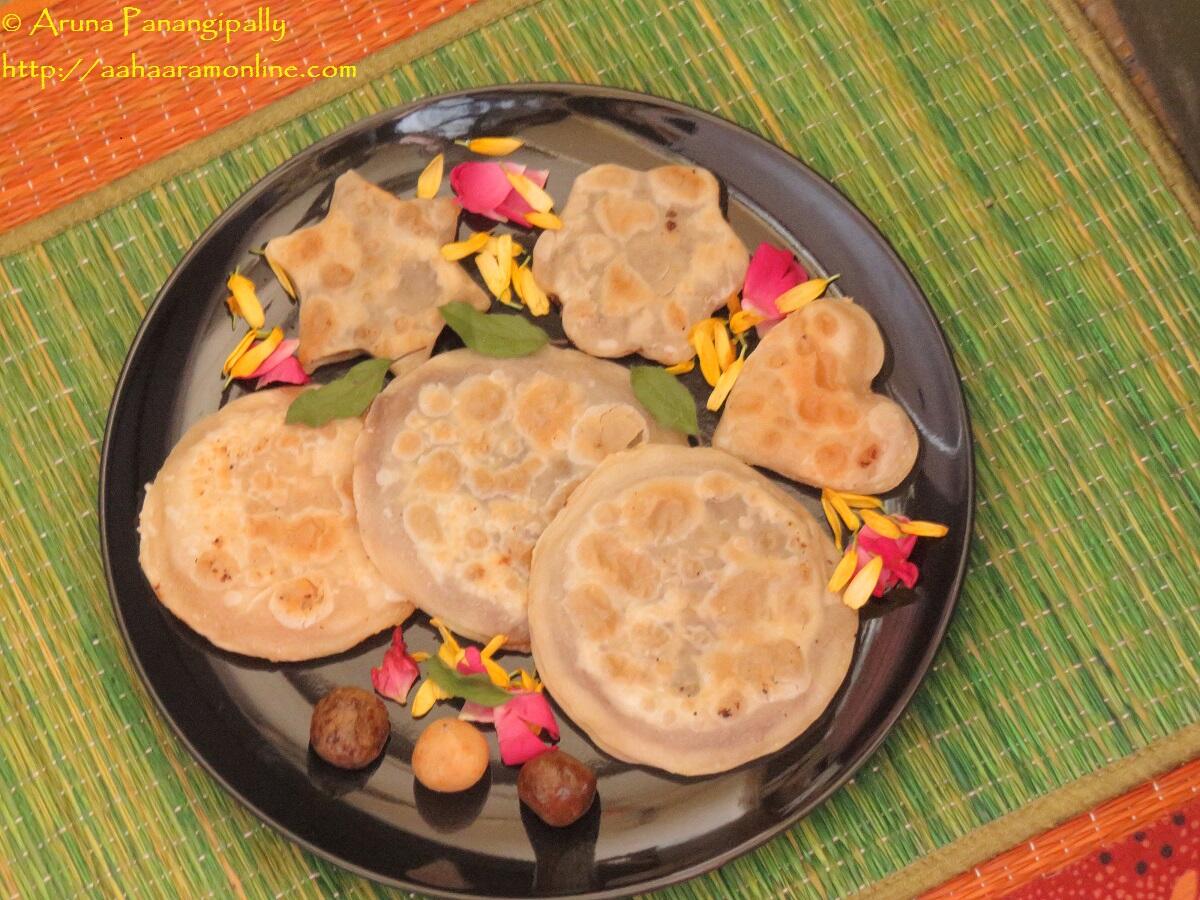 Pin
I am taking this festive dish to Fiesta Friday #111 hosted by two super talented foodies: Naina @ Spice in the City and Julianna @ Foodie On Board.