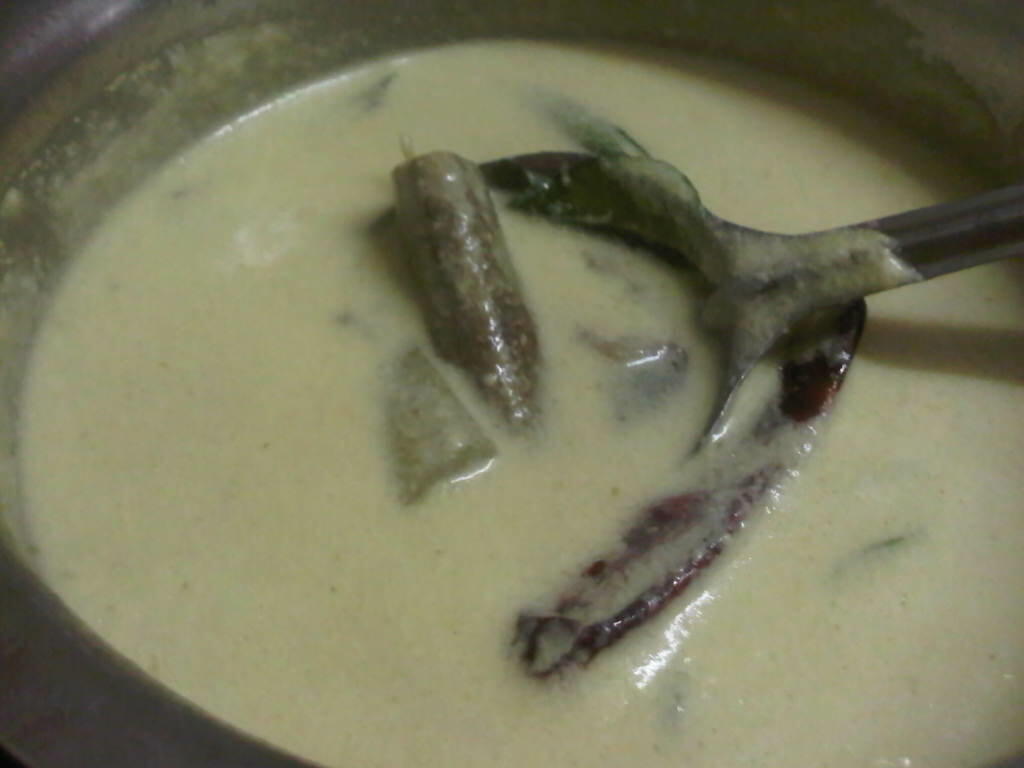 PinI have two variations of the basic Majjiga Pulusu that I make; one with coconut and one without. This is the variation without the coconut.
You can make it with a mix of vegetables (bendakaya/bhindi/okra, vankaya/baingain/aubergines, mullakaada/shenga/drumstick, anapakaya/lauki/bottle gourd) or then with greens.
Ingredients
Curd – 1.5 Cups
Water – 1.5 Cups
Mixed Vegetables – 1 Cup (okra, bottle gourd, aubergine, drumstick and similar vegetables. They should be cut into 1″ cubes)
Chaaru Podi – 1 tsp (Alternatively 1 tsp coriander seeds, 1/2 tsp cumin seeds)
Besan/Green Gram Flour – 2 tsp
Red Chillies – 3
Turmeric – A Big Pinch
Mustard Seeds – 1/2 tsp
Cumin Seeds – 1/4 tsp
Curry Leaves – A Few
Salt to Taste
Oil
Method
Blend the curd and water together to get a smooth buttermilk.
Blend the besan with 3 tbsp water into a smooth paste.
Ensure there are no lumps.
Add the besan paste to the buttermilk and blend well.
In a heavy bottomed vessel, heat the oil.
Add the mustard seeds and wait till they splutter.
Add the cumin seeds and fry for about 10 seconds.
Add the split red chillies and curry leaves.
Fry for about 5 seconds.
Add the vegetables.
Fry for 5-7 minutes.
Add enough water to cover the vegetables.
Cook covered till the vegetables are done.
Stir occasionally and add more water, if required.
When the vegetables are cooked, slowly pour in the buttermilk mix while stirring constantly.
Add the salt and turmeric. Mix well.
Bring to a boil.
Serve hot with rice.
Tips
If the pulusu looks a bit pale in the beginning, do not add more turmeric. The colour of the turmeric kicks in only after the majjiga pulusu comes to a boil.
The reason I do not add the turmeric to any paste while grinding it is because cleaning the blender/mixer is a pain. 🙂
You could also pressure cook the vegetables and add it to the kadi. In this case, omit steps 10 to 14. Just add the vegetables to the buttermilk mix.
Have this pulusu as a side-dish to have with patholi and rice or then to kandi pappu pachadi-annam  or kandi podi-annam or nuvvulu podi-annam.
Related articles