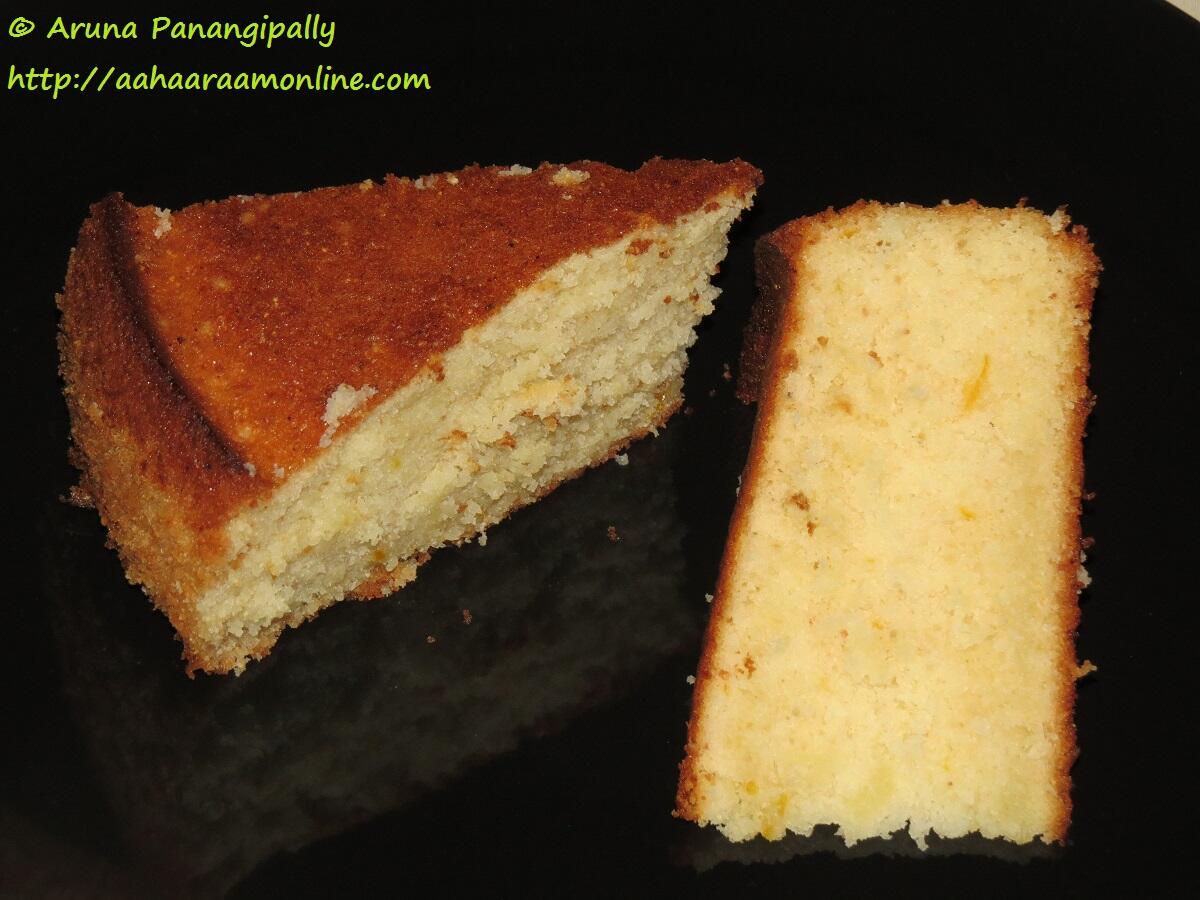 Pin
I have been meaning to bake a cake for quite a while now but somehow never seemed to have the time for it. I have just three cake recipes on this blog; The Perfect Butter Cake, The Chocolate Cake with Chocolate Butter Cream Frosting and Revani. Then of course, my friend Sandra stepped in to contribute the Goan Baath Cake.
This week I had a lot of oranges at home and I was wondering if I could cook with them. I had already bookmarked a lemon and poppy seed cake to try and on a whim decided to see if there was a similar recipe that uses Orange. Lo and behold, I found Donna Hay's Orange and Poppy Seed Cake and set about to try it immediately.
I modified the recipe a bit because I wanted it more "orange-y" and did not want to use the glaze.
The result was a super-moist and crumbly cake that was great by itself.
If you want to raise it to another level and want it sweeter, you could also add the sugar glaze that was mentioned in Donna Hay's original recipe.
Makes: 1 x 9″ round cake
Soaking Time: 20 Minutes
Preparation Time: 20 Minutes
Baking Time: 45 Minutes
Ingredients
All Purpose Flour or Maida – 2 Cups
Fresh Orange Juice – 3/4 Cup
Milk – 1/2 Cup
Poppy Seeds or Khus Khus – 1/3 Cup
Butter – 200 Gms
Eggs – 3
Sugar – 1 Cup
Baking Powder – 1.5 tsp
Finely Grated Orange Rind – 1.5 tbsp
Method to Make the Orange and Poppy Seed Cake
General Preparations:

Ensure that the butter and eggs are at room temperature.
Preheat the oven to 160°C.
Sift together the baking powder and flour. Set aside.

Soak the Poppy Seeds:

Soak the poppy seeds in milk
Set aside for 30 minutes.

Prepare the Baking Tray:

Grease a 9″ round baking tray with some butter.
Dust lightly with flour.
Shake off the excess flour.
Set aside.

Prepare the Cake Batter:

Cream together the butter, sugar, and orange rind till smooth and creamy.
Add one egg at a time and beat well.
Add the poppy seeds and milk.
Mix well.
Add the flour + baking powder.
Mix well.
Add the orange juice and mix well.

Pour the mix into the greased baking pan.
Bake in a pre-heated oven for 45 to 50 minutes.
Test with a skewer.
Let the cake cool before slicing.
Tips
Do ensure that the eggs and butter are at room temperature.
The batter seems to be runny but the cake bakes perfectly. I was apprehensive too when I first saw the batter.
Let the cake cool completely before taking it our of the tray as it is super moist and will otherwise break apart.