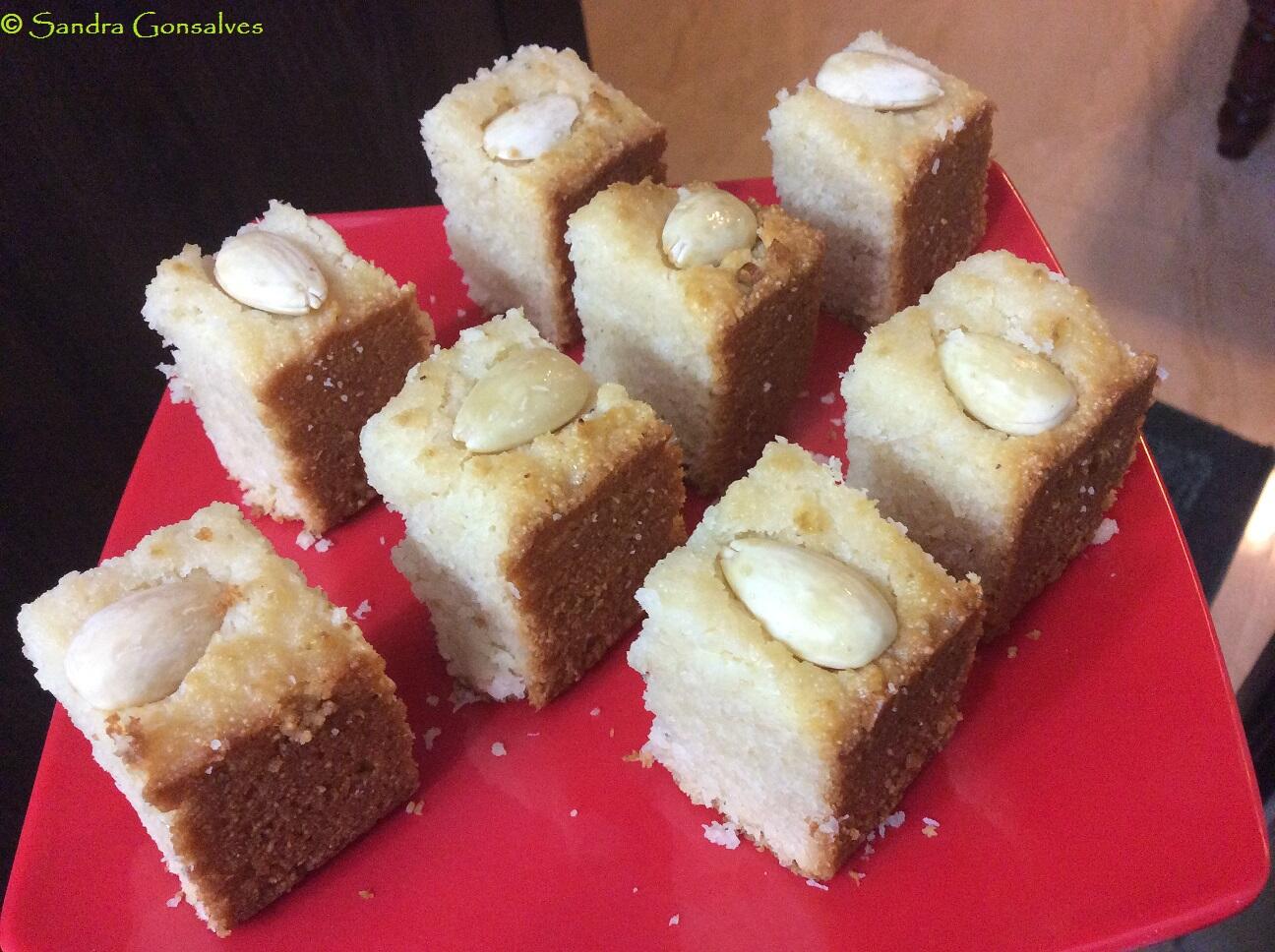 Pin
Today, I am pleased to present a wonderful Christmas cake called the Goan Baath Cake by Sandra Gonsalves. As the name suggests, this Semolina and Coconut cake recipe is from Goa. Sandra has also made this vegetarian Eggless Goan Baath Cake and baked it without an oven.
This post also comes at the perfect time as it is my father's 80th birthday today. 🙂
I first tasted Sandra's wonderful food when she made delicious Bisi Bele Baath and Thair Sadam for an office potluck. When I requested Sandra for a Guest Post she agreed immediately and even tried a couple of recipes before sending me she loves from her childhood. This care is so typical of Sandra, who is one of the most generous people that I have met. Also typical of Sandra is her attention to detail, which is very evident in the recipe she has shared. 🙂
Also try the recipes for my Traditional Christmas Fruit Cake, Perfect Butter Cake, Chocolate Cake, Revani, Orange and Poppy Seed Cake, and Smorgastorta.
So without much ado, here is Sandra's recipe for an Eggless Goan Baath Cake.
Thank you, Sandra!
---
I'm sending you a traditional Goan Christmas speciality called the Baath Cake or the Semolina Coconut Cake, with a few changes of my own. I have tried the eggless version. It's a cake with simple ingredients and turns out quite moist, yummy and too good to stop with just a single piece. It's a must try!
How to Make an Eggless Goan Baath Cake Without an Oven
Serves: 16
Prep Time: 8 hours
Cooking Time: 50 mins
Total Time: 8 hours 50 mins
Ingredients:
Semolina (rava) – 1 cup (dry roasted)
Desiccated coconut – 1 cup
Powdered Cashew nuts(coarsely) – 1/2 cup
Baking Powder – 1 tsp
Corn flour – 1 tsp
Butter (melted)- 2 tbsps
Condensed Milk-3/4 tin (Those who do not wish to use this can use milk and sugar instead)
Milk – 1/2 cup
Cardamom – 4
Almonds slivered ( Optional) – For the topping
Powdered Sugar (Optional, as condensed milk already has sugar) – For extra sweetness, depending on how sweet you want it.
Baking without oven – Prep instructions:
I have used a heavy bottom casserole to bake this cake. You can bake it in a pressure cooker as well, without the rubber gasket and the weight valve/whistle.  I suggest using an old pressure cooker.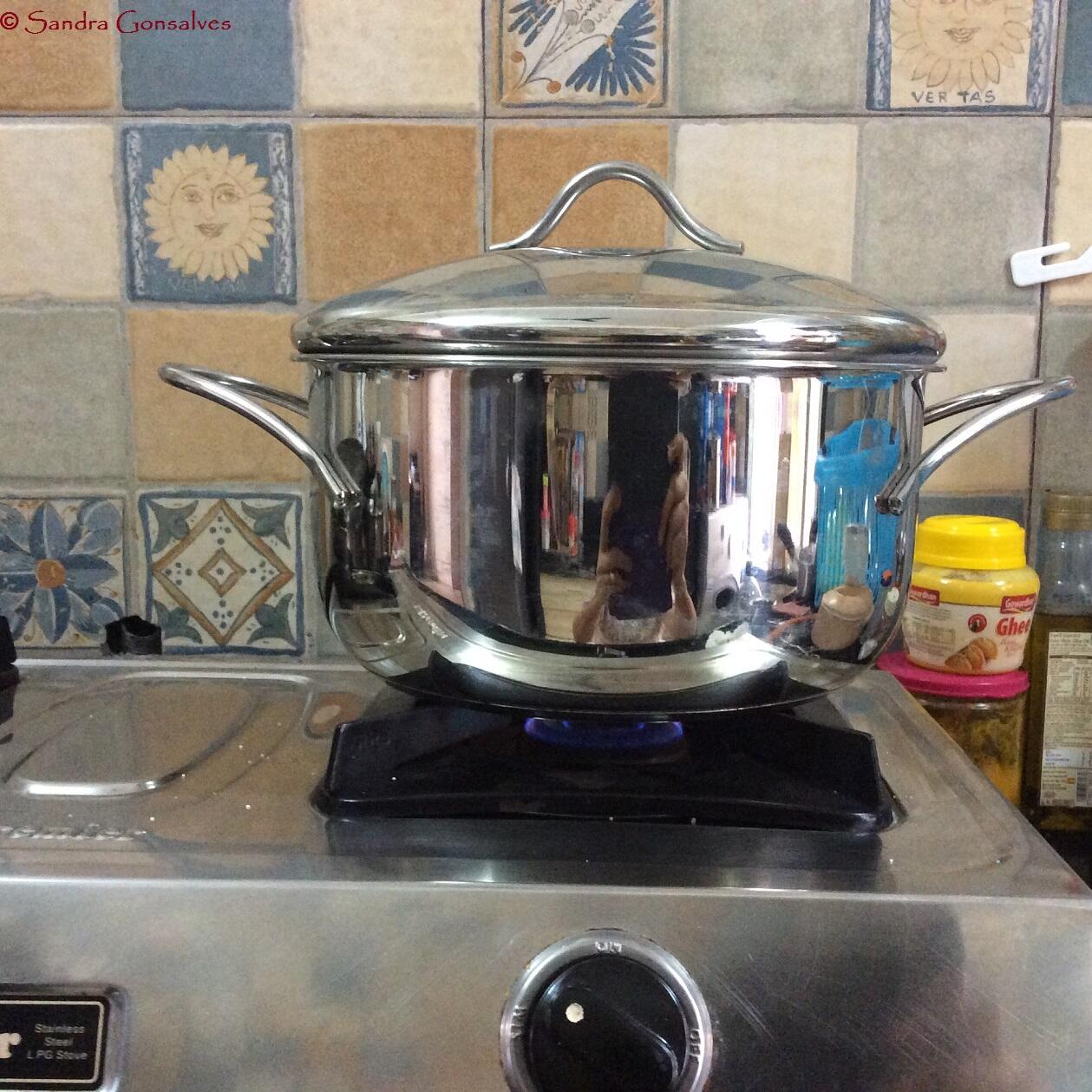 Pin
Use a cake tin that fits easily into the baking dish.
Pre-heat the baking dish with the lid for 6 mins on medium high and only then place the cake tin inside. Keep the flame on low and cook until done and the toothpick comes out clean.
Method to make the cake batter:
Combine by mixing well, all the dry ingredients – Semolina, desiccated coconut, baking powder, cornflour, sugar and powdered cashewnuts.
Add melted butter, condensed milk and milk to the dry ingredients and mix gently. The mixture should be semi solid. If too dry, add more milk until you get the right consistency.

Cover the bowl with a lid and allow to ferment for 7 hours or overnight in the fridge.
After 7 hours take the batter out of the fridge and give it an hour to come to room temperature. If too dry, add some milk and mix gently until you get a semi solid consistency. Finally add ground cardamom seeds or vanilla essence for flavour.
Pour in the mixture and level it with a spatula.
Top with dry fruits of your choice or bake as is.
Those using an oven , pre heat it to 170 C and bake for 45 mins or until the skewer comes out clean.
Those not using an oven, follow the 'Baking without oven prep instructions' above and bake for 50 mins or until the skewer comes out clean. Do not bake for longer as the cake will turn out very dry.

The cake will appear golden in colour once done.
Allow to cool and then unmold. Slice it and serve hot or cold. Store them in an air tight container for 4 to 5 days.