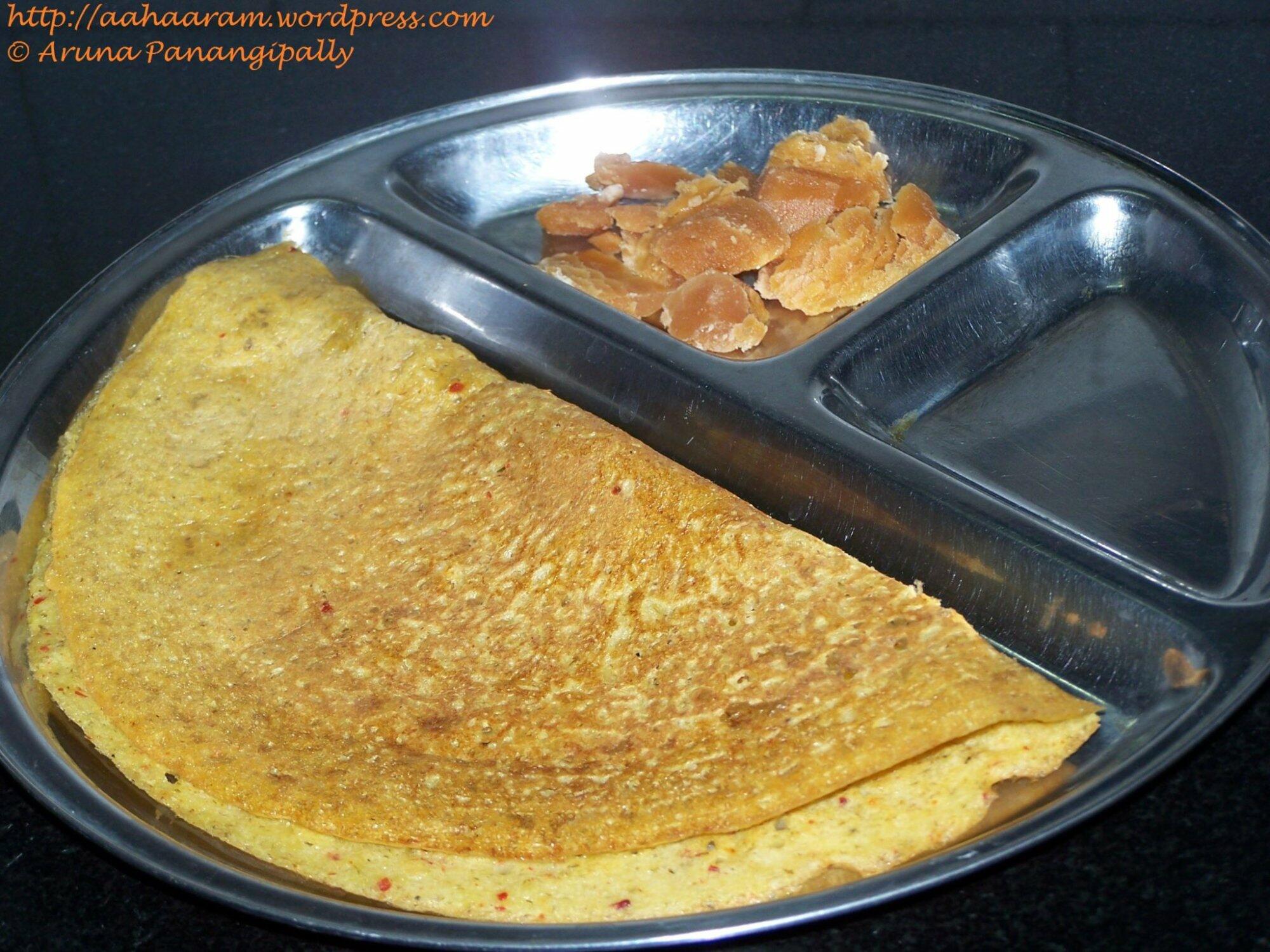 On weekends, I like to have a "different" breakfast. By different, I mean not idli, upma, poha… etc. which are my staple for weekdays. So I have a wide variety of dosas (and variations thereof) that I like to make. Two  of my favorites are Pesarattu and Paruppu Adai.
I have already posted the recipe for Pesarattu, so here is the recipe for Paruppu Adai.
To all my health and diet conscious friends: Want a yummy protein-packed, fibre-rich breakfast? Try this dosa. 🙂
How to Make Paruppu Adai
Ingredients
Rice – 1/2 Cup
Kandi Pappu/Tuvar Dal/Pigeon Pea – 1/4 Cup
Senaga Pappu/Chana Dal/Bengal Gram – 1/4 Cup
Pesalu/Moong/Green Gram – 1/8 Cup
Asafoetida – 1/4 tsp
Red Chilli Powder – 1 tsp
Turmeric – 1/4 tsp
Salt to Taste
Oil 
Method
Drain the water, and wash the soaked rice and dal well.
With a little water, grind the soaked rice-dal mix into a coarse thick paste.
Heat a tava till its hot.
Turn the heat to medium-low.
Using a heavy ladle, pour a ladle-full of batter into the centre of the tava.
Turn up the heat and drizzle a little oil along the edges.
Wait till the surface dries out. Rotate the pan if required.
Using a spatula, loosen the edges of the dosa and work towards the middle.
Flip the dosa over.
If required, drizzle a little oil along the edges.
Let the flip side of the dosa cook.
Serve hot with jaggery and fresh white butter or then with Avial/Aviyal.
Tips
Some people make a hole at the centre of the dosa or small cuts on the surface of the dosa, and drizzle a few drops of oil in these holes to ensure that the dosa is well cooked and crisp.
The batter should be thicker than a regular dosa but thinner than that of idli. 🙂