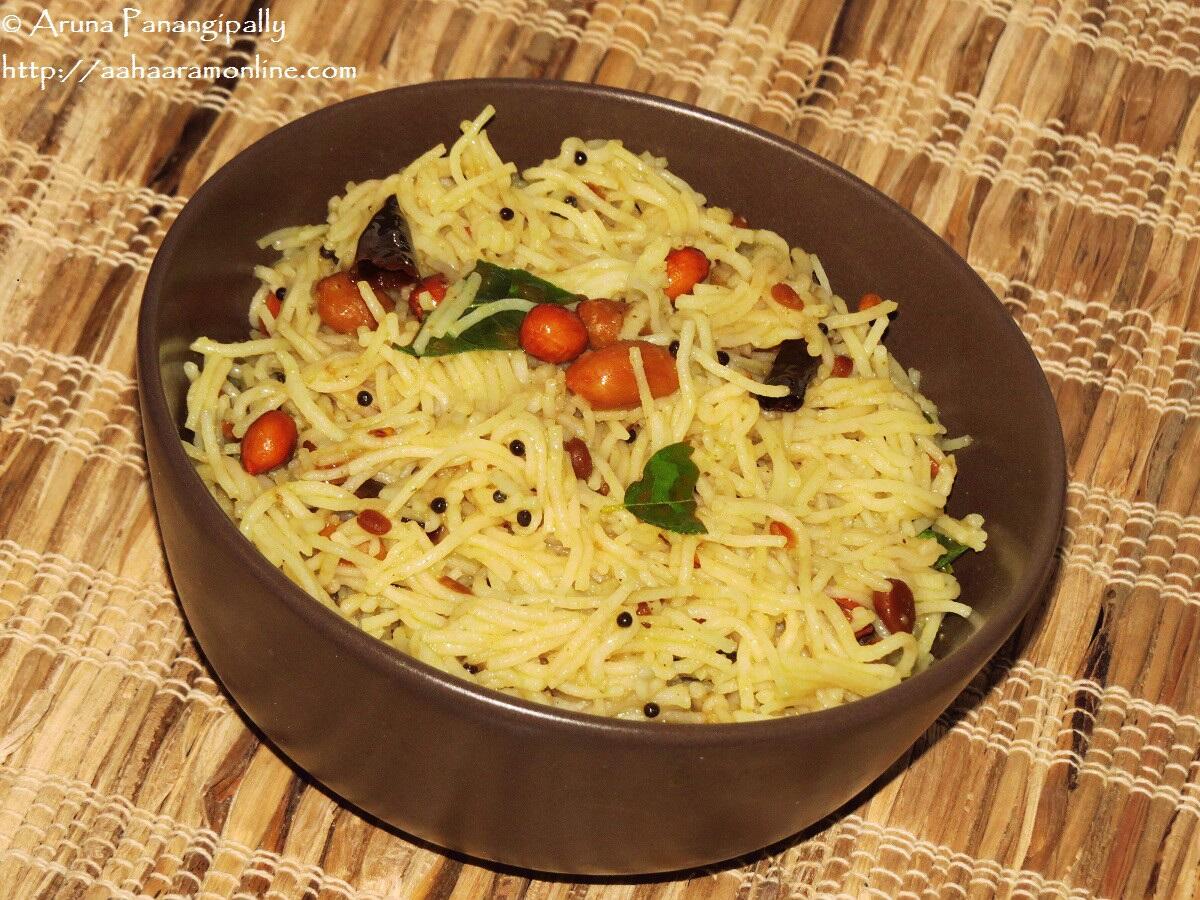 Pin
Sevai is one of my favourite breakfast items; it is light, it is filling and can be made in a variety of ways. 🙂 You can make it simply as Lemon Sevai, Coconut Sevai or then as Puli Sevai or Tamarind Sevai, which is what I did today morning.
Given that Chintapandu Pulihora or Tamarind Rice is the top of my list of favorite foods, you can imagine that Puli Sevai is not far behind. 🙂
I made this dish with readymade sevai as time on a working day morning is limited.
How to Make Puli Sevai | Tamarind Sevai
Puli Sevai or Tamarind Sevai
Puli Sevai or Tamarind Sevai makes for a great breakfast or snack. This version is made with readymade sevai.
Ingredients
150

Gms

Rice Sevai

1.5

tbsp

Thick Tamarind Pulp

1

tsp

Mustard Seeds

1

tsp

Udad Dal

1

tsp

Chana Dal

2

tbsp

Peanuts

3 or 4

Red Chillies

1/4

tsp

Grated Jaggery

1/4

tsp

Turmeric

6 to 8

Fresh Curry Leaves

2

tbsp

Oil

Salt to Taste
Instructions
Boil 1 litre of water with 1/2 tsp of salt.

When the water boils, turn off the heat and add the dried sevai to it.

Cover and set aside for 5 to 7 minutes.

Ensure that the sevai is cooked and drain all the water using a colander.

Let the sevai drain in the colander for at least 10 minutes.

In a wok or kadai, heat the oil.

Add mustard seeds and wait till they splutter.

Add udad dal and chana dal.

Fry till the dals turn light brown.

Add the peanuts and stir-fry for a minute.

Add turmeric, split red chillies and curry leaves.

Stir fry for 10 seconds.

Turn the heat to low.

Add the tamarind pulp and 2 tbsp water.

Mix well.

Cook till the tamarind loses the raw smell and the water evaporates.

Add the grated jaggery and mix well till it dissolves.

Turn off the heat.

Let cool for a couple of minutes.

Add the drained sevai and mix with a gentle hand till all stands are coated with tamarind.

Add salt and mix well.

Serve warm.