Today I am delighted to present the recipe for Sojjappalu, a traditional recipe from Andhra Pradesh, as a guest post for Sapana Behl of Cooking with Sapana. A couple of months ago, Sapana did this wonderful guest post on Baklava Rolls for my blog. It is now my turn to do a guest post for her, though it is delayed. I hope this wonderful Halwa Stuffed Puri from Andhra Pradesh makes up for the delay. 🙂
I have seen Sapana grow a blogger over the past 2 years. Her culinary repertoire has expanded to cover multiple cuisines. She is also blossoming into a wonderful food photographer. I am quite inspired by her.



You can view Sapana's work at:

You can also follow her on FacebookTwitter Pinterest  and Instagram.
There are many reasons that I chose Sojjappalu (aka Suji Halwa, Sheera or Rava Kesari Stuffed Puris) for Sapana.
Halwa Puri is one of my favourite combinations
It will be Ugadi soon and this would a great way to user in the New Year
Sojjappalu are a great hit with children and I hope Sapana's daughter will love this as well.
Most importantly, I am not given to deep frying, so this guest post is also an indulgence for me 🙂
Sojjappalu needs a load of patience and a decent amount of time to make. The result, though, is absolutely worth the effort. Also known as Sajjappa in Karnataka, this dessert can be stored for 2-3 days. That is, if they last that long. 🙂
I urge you to visit Sapana's wonderful blog for the recipe for Sojjappalu aka Sajjappa and other delicious recipes.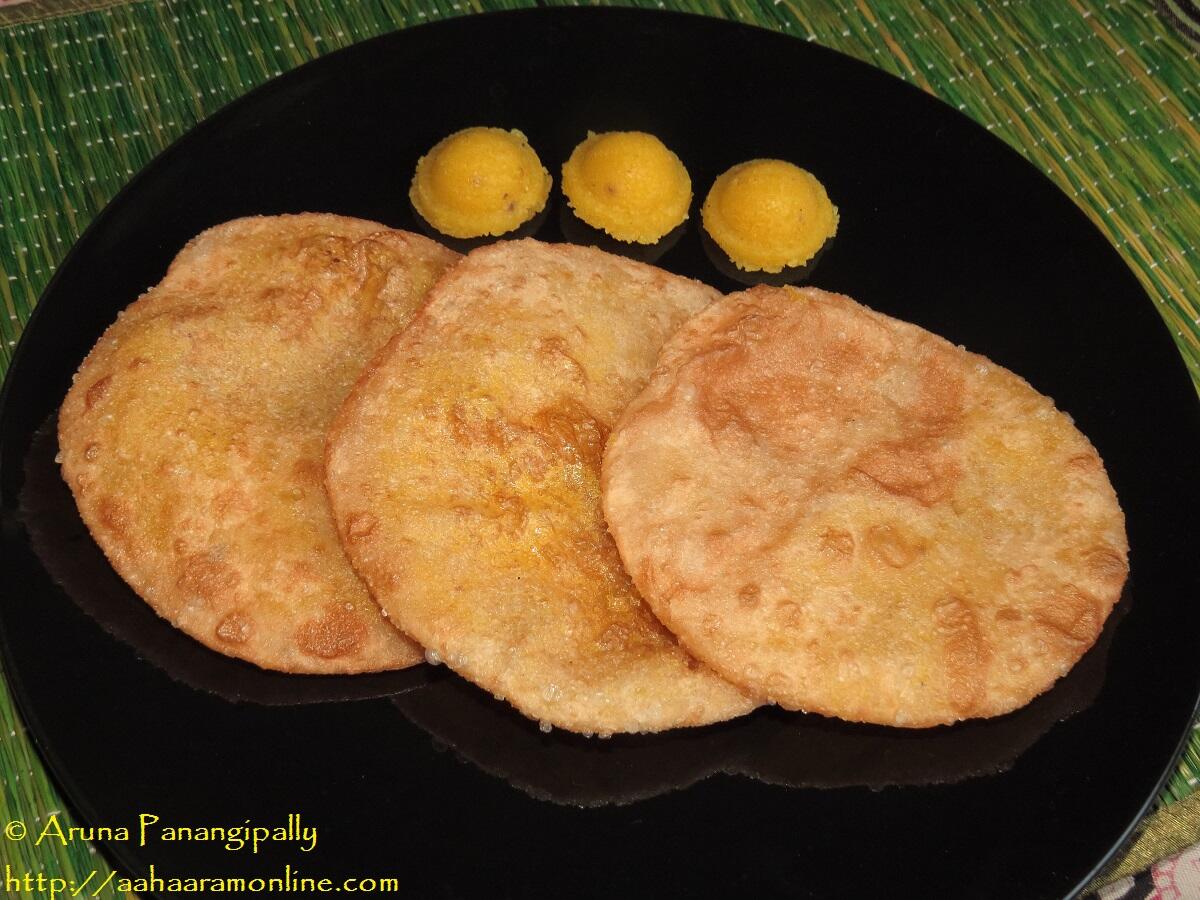 Pin
How to Make Sojjappalu or Sajjappa
Ingredients for the Sojjappalu Dough
Maida – 1 Cup
Rice Flour – 1 tsp
Salt – 2 Healthy Pinches
Water – To Knead the Dough
Oil – 1 tbsp
Ingredients for Rava Kesari
Rava, Suji or Semolina – 1/3 Cup
Sugar – 1/3 Cup
Ghee – 2 tbsp
Cardamom Powder – ¼ tsp
Water – 2/3 Cups
Yellow or Orange Food Colour – 4 to 6 drops
Other Ingredients
Oil for Deep Frying
Method to Make Sojjappalu or Sajjappa Dough

Pin
Sieve together the rice flour, maida, and salt.
Make a well in the middle of the flour.
Add about ¼ cup water.
Knead into a pliable dough. Add more water a little at a time, as and when required.
Roll the dough into a ball.
Pour 1 tbsp oil onto the surface of the dough.
Knead a bit so that the dough absorbs some of the oil but remains oily on the surface.
Close and set aside for 10 minutes.
Method to Make the Rava Kesari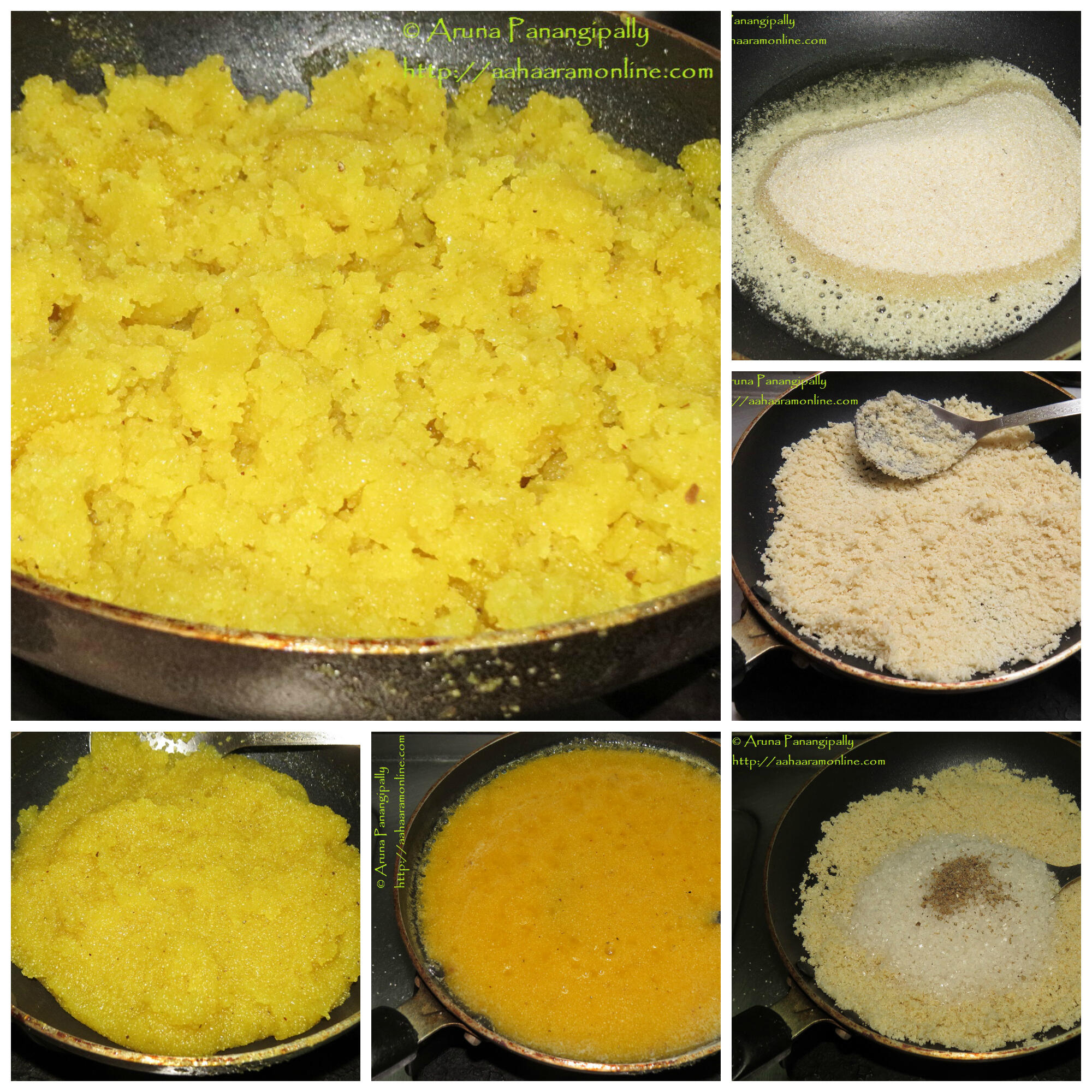 Pin
In a pan, heat the ghee.
Add the rava and sauté for about 5 minutes. The rava should not change colour.
When the rava gives off a gentle aroma, add the sugar ad cardamom powder.
Mix well.
Now add the water and food colour and mix well.
Over medium flame, cook till the water is absorbed and the Rava Kesari is slightly translucent.
Turn off the heat and let the Kesari cool to room temperature.
Using a spoon or a fork, mix the Rava Kesari well so that it becomes a bit crumbly.
Method to Make Sojjappalu or Sajjappa
Heat the oil.

In a large kadai or wok, over medium flame, heat enough oil to fry the Sojjappalu. You should have oil to about 3" inches depth.
Let the oil remain on medium flame while you shape the puri.

Divide the Kesari into 8 equal portions.
Roll into balls.
Cover and set aside.
Pinch about a small marble sized piece of dough and set aside. We use this to test the temperature of the oil.
Using a well-oiled hand, divide the dough into 8 equal sized balls. The oily hands will prevent the dough balls from drying out.
Roll into balls.
Cover and set aside.
Cover and set aside. Be sure to cover, because the dough with dry out rather quickly.
Place one ball of dough on the sheet.
Using a well-oiled hand, press the dough into a 3.5" round puri. The puri should thick at the centre and thin at the edges.
Place one ball of the Kesari at the centre of the puri.
Fold the edges of the puri to cover the Kesari.
Roll into a ball so that the edges are sealed. Ensure there are no breaks from where the Kesari can leak.
Using a well-oiled hand, press this ball into a 5" puri. Ensure that the Kesari never breaks out of the dough cover.



Test the heat of the oil.

Pinch a small piece of dough from the marble-sized piece you set aside.
Drop it into the oil.
The ball should rise to the surface.
If it does not, heat the oil some more.
Repeat the test.

Gently slide the Sojjappam into the hot oil.
Fry till golden brown.
Flip over and fry the other side.
Using a slotted spoon, lift the Sojjappam out of the oil.
Hold it over the wok for a minute or so to ensure the excess oil drips off.
Place on a kitchen tissue.
Repeat steps 11 to 24 to make the other Sojjappalu.
Store in an air-tight container.
Savour by themselves. If you are feeling decadent, dip pieces in slightly sweetened milk and then savour. 🙂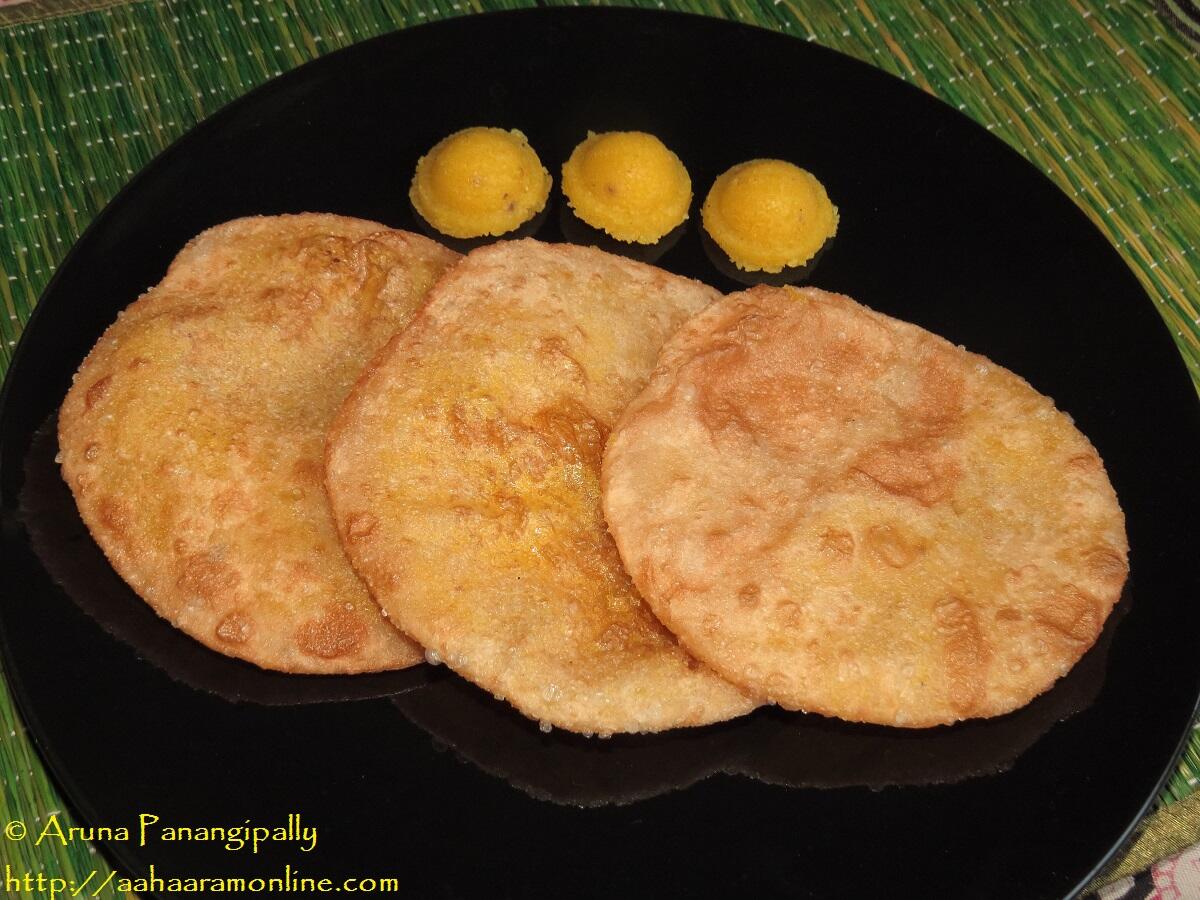 Pin