One the bloggers I follow regularly is Sapana Behl who writes at Cooking with Sapana. A pure vegetarian, Sapana has the most delightful range of recipes on her blog. Right now I am eyeing her Sweet Potato Brownie.
When I requested Sapana for a guest post she agreed immediately! More importantly she came up with Baklava, a recipe that I have been meaning to try for quite a while. In fact just yesterday I was browsing an online Gourmet shop for Filo sheets. What is it that Paul Coelho wrote in The Alchemist? Ah yes, "And, when you want something, all the universe conspires in helping you to achieve it." So true in this case!
You can view Sapana's work at:

You can also follow her on Facebook  Twitter  Pinterest  and Instagram.
Thank you, Sapana for this wonderful recipe for Baklava Rolls. Over to you!
---
First of all, I would like to thank Aruna from the bottom of my heart. When she asked me to do a guest post for her, I was so excited and literally jumping with joy. It's been almost two years since I did guest post for someone. Stay happy, keep blogging and eating. God bless you.
Aruna is a versatile blogger and
Aaharam
is her beautiful space where she blogs regularly. I like the simplicity and authenticity of her posts and especially love the way she composes her posts. Recently I was
going through her recipes and found so many traditional and delicious recipe like
Matar Nimona
, 
Pineapple Kesari
, 
Dimer Jhol
,
Traditional Christmas Cake
and many more recipes that you would want to try. She has the same habit of collecting recipes like I have and that is truly a nostalgic coincidence. I wish you all the success in your life. May you reach many more milestones in the blogging world and achieve whatever you want.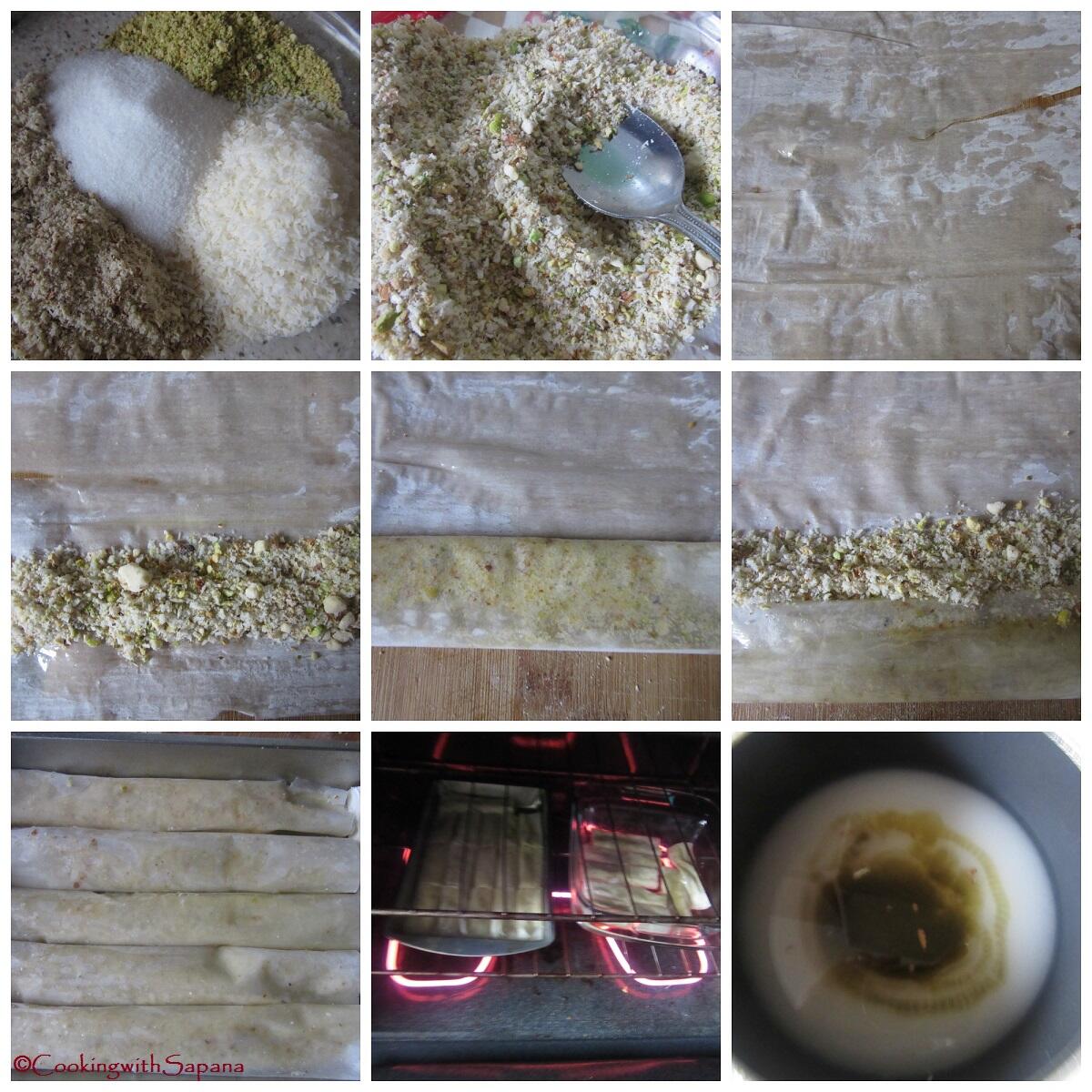 How to Make Baklava Rolls
Baklava Rolls - Guest Post by Sapana Behl
Baklava, the traditional Turkish and Greek layered dessert, needs little introduction. It is made of layers of Phyllo dough interspersed with pistachio or walnut filling. Delicate and aromatic, it is the perfect dessert!
Ingredients
For the Baklava Filling
1/2

cup

pistachios

coarsely ground

1/2

cup

almonds

coarsely ground

1/2

cup

unsweetened coconut

1/3

cup

powdered sugar

1/2

teaspoon

cardamom powder
For the Syrup
1

cup

sugar

3/4

cup

water

1

teaspoon

lemon juice
Other Ingredients:
8

Phyllo sheets

1/2

cup

clarified butter/ghee
Instructions
Method to Make the Baklava Rolls
Method:

Thaw the phyllo sheets as per package instructions.Keep the remaining sheets

in refrigerator to be used with in 4 days.

In a mixing bowl add all the ingredients for filling and mix well until combined.

Preheat oven to 350 F and grease a baking tray with butter.

Start working with one sheet of phyllo keeping the other covered with a damp cloth.

Brush the phyllo sheet with ghee.On the short side arrange a tablespoon of filling from one edge towards other.

Gently roll the sheet inwards and brush the rolled part with ghee.Add one more tablespoon of filling and brush the rolled part each time with ghee.

Repeat the same procedure with all phyllo sheets.

Arrange the sheets in baking sheet .Cut the sheets as per desired size.

Bake in preheated oven for 25 to 30 minutes.

Meanwhile make sugar syrup by boiling sugar and water for 10-12 minutes.Add lemon juice to prevent crystallization.

Remove the roll from oven and pour the sugar syrup over warm rolls.

Serve and enjoy!!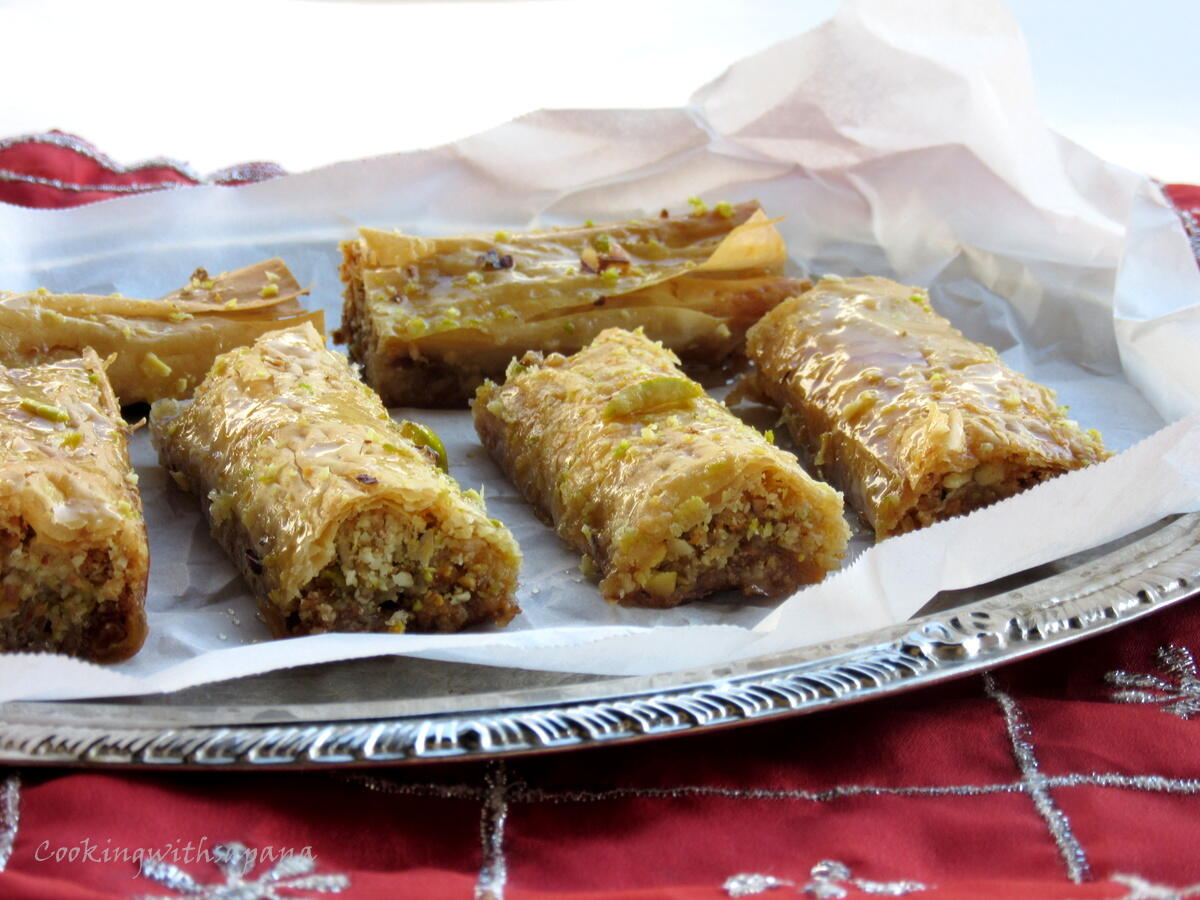 Pin