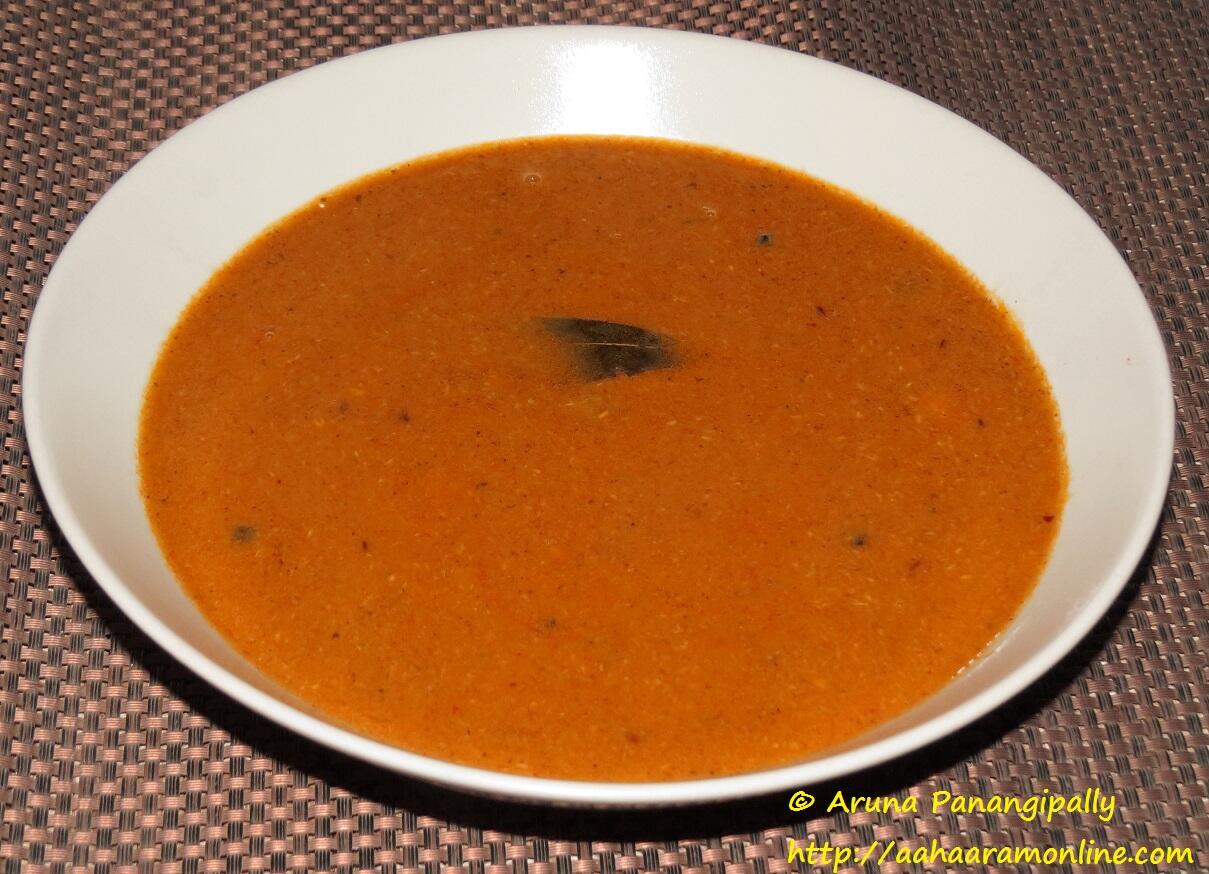 Pin
Veg Sherva (also known as Veg Shorba) is a spicy onion and tomato based gravy that is served as an accompaniment to Biryani and Pulao. I like to make it with Vegetarian Pulav, which  is very mildly spiced  and needs an accompaniment to liven it up. Of course, you could use Papad or Raita. However, sometimes you might crave something spicy to accompany the Veg Pulao and this where the the Veg Sherva helps.
It is very easy to make Veg Sherva and the ingredients are commonly found at home. You can make it plain as shown in this recipe or then add potatoes or chicken to it. I usually like Sherva with Pulao as I feel Biryani is already spicy and anyway, it is just too many tastes. This week, I made Sherva to accompany Ragi Sangati which I am eating regularly.
How to Make Veg Sherva or Shorba
Veg Sherva or Shorba - A Side Dish for Vegetarian Pulao
Veg Sherva is a spicy tomato and onion-based gravy that is an excellent accompaniment or side dish to mild Veg Pulao or Qabooli.
Ingredients
To Grind Together
1.5

Cups

Finely Sliced Onions

3/4

Cup

Finely Chopped Tomatoes

3

tbsp

Desiccated Coconut

1

tsp

Finely Chopped Green Chillies

3/4

tsp

Grated Ginger

3/4

tsp

Grated Garlic

10 to 12

Mint Leaves

2

tbsp

Oil
Other Spices
2

Bay Leaf

1

Black Cardamon

3

Green Cardamom

1

tsp

Shah Jeera

4

Cloves

1.5"

Cinnamon Piece

2

Small Mace Pieces

1/2

tsp

Roasted Cumin Powder

1

tsp

Coriander Powder

1

tsp

Red Chilli Powder

1/4

tsp

Turmeric

2

tbsp

Oil

Salt to Taste
Instructions
Method to Make the Sherva Paste
Over a medium flame. heat a broad-bottomed pan.

Add the oil to it. Let the oil heat a bit.

Add the sliced onions and fry till the onions start to change colour.

Add the ginger, garlic, and green chillies.

Stir-fry for 10-15 seconds.

Add the mint leaves and stir-fry for a few seconds.

Add the chopped tomatoes.

Stir-fry till the tomato pieces are stewed and soft.

Turn off the heat.

Add the desiccated coconut.

Mix well and set aside.

After the mix cools, grind to a smooth paste. Add a little water, if required. I normally do not without any water because the onions and tomatoes have enough moisture.
Method to Make the Vegetarian Sherva
In the same pan, in which you cooked the Sherva paste, heat 2 tbsp oil.

Add the bay leaves.

Stir-fry for 3 to 5 seconds.

Add the cloves, cinnamon, shah jeera, and mace.

Stir-fry till the aroma of the spices is released.

Add the ground Sherva paste.

Stir-fry till it changes to a darker colour and the oil starts to leave the sides.

Add the red chilli, turmeric, cumin, and coriander powders.

Mix well.

Add 2 Cups water and salt.

Let the Sherva simmer till it thickens a bit.
Notes
If you have Biryani Masala with you, you can use it in place of the dry spices.
I have seen some Sherva recipes that use Dahi or Yogurt. If you want to add Dahi, then add about 2 tbsp after the paste has been sauteed.Saute well till the dahi is mixed with the paste. Then add the water and simmer.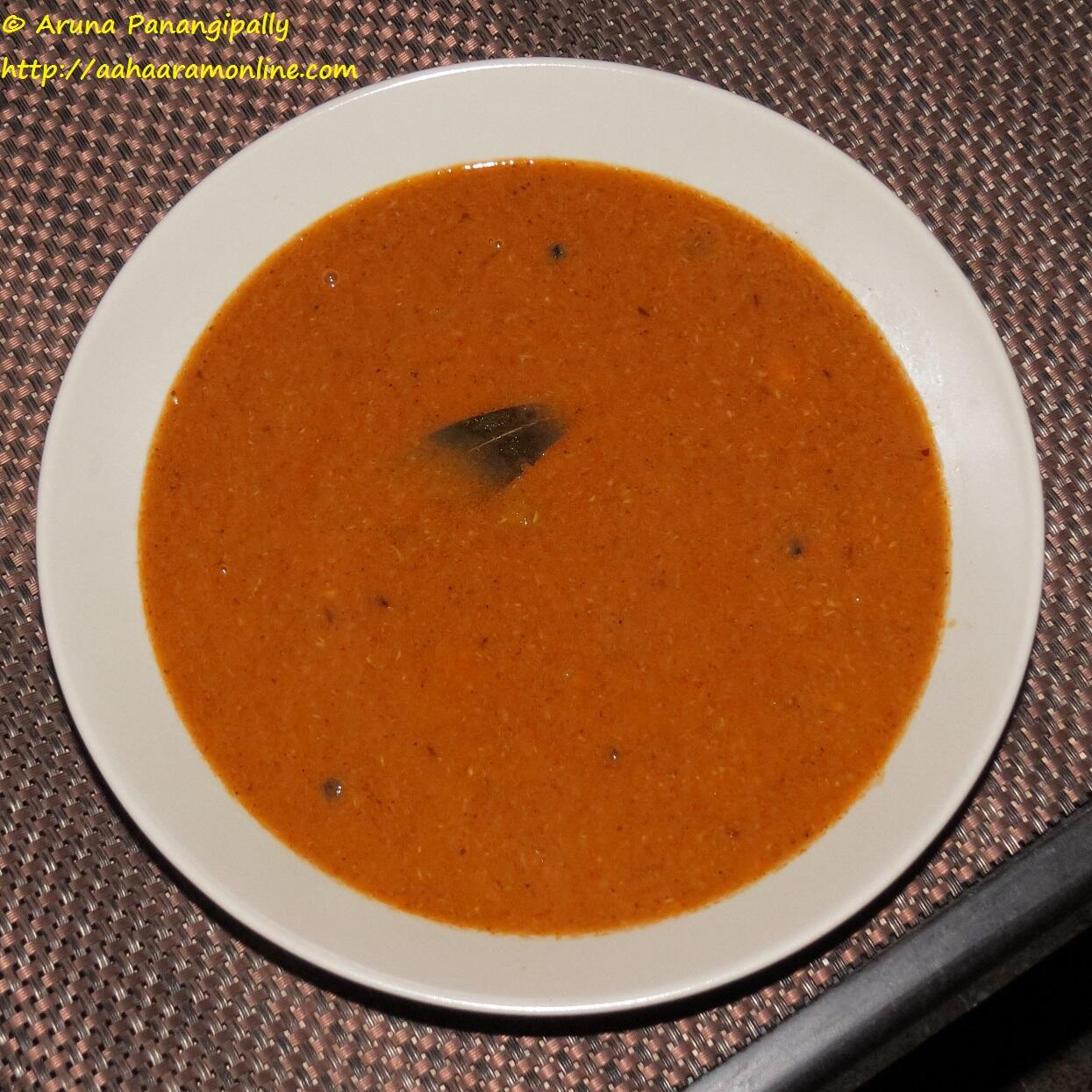 Pin