Ada Pradhaman is an essential part of Onasadya (also known as Onam Sadya). It is essentially a rich payasam/kheer where ada (steamed rice flour flakes) are cooked in a wonderful mix of jaggery and coconut milk. It is super simple to make and just as delicious. You could also try its cousin Palada Pradhaman which is cooked in milk and sugar.
I made this for Onam this year. However, with Varalakshmi Vratam coinciding with Onam this year, I was pressed for time and am posting it now, when I have time to catch a breath!
I also made it with store-bought coconut milk and so this recipe reflects those measures.
You will find more delicious dishes in this Collection of Onam Sadya Recipes!
How to Make Ada Pradhaman for Onam Sadya
Serves: 4
Time: 30 Minutes
Ingredients
Ada – 1/2 Cup
Thick Coconut Milk – 1.5 Cups
Grated Jaggery – 1.5 Cups
Coconut Pieces (1/4″ thin pieces) – 2-3 tbsp
Cashews – 10 to 12
Chukku or Dry Ginger Powder – 1/4 tsp
Roasted Cumin Powder – 1/4 tsp
Green Cardamom – 4 or 5
Ghee – 1 tbsp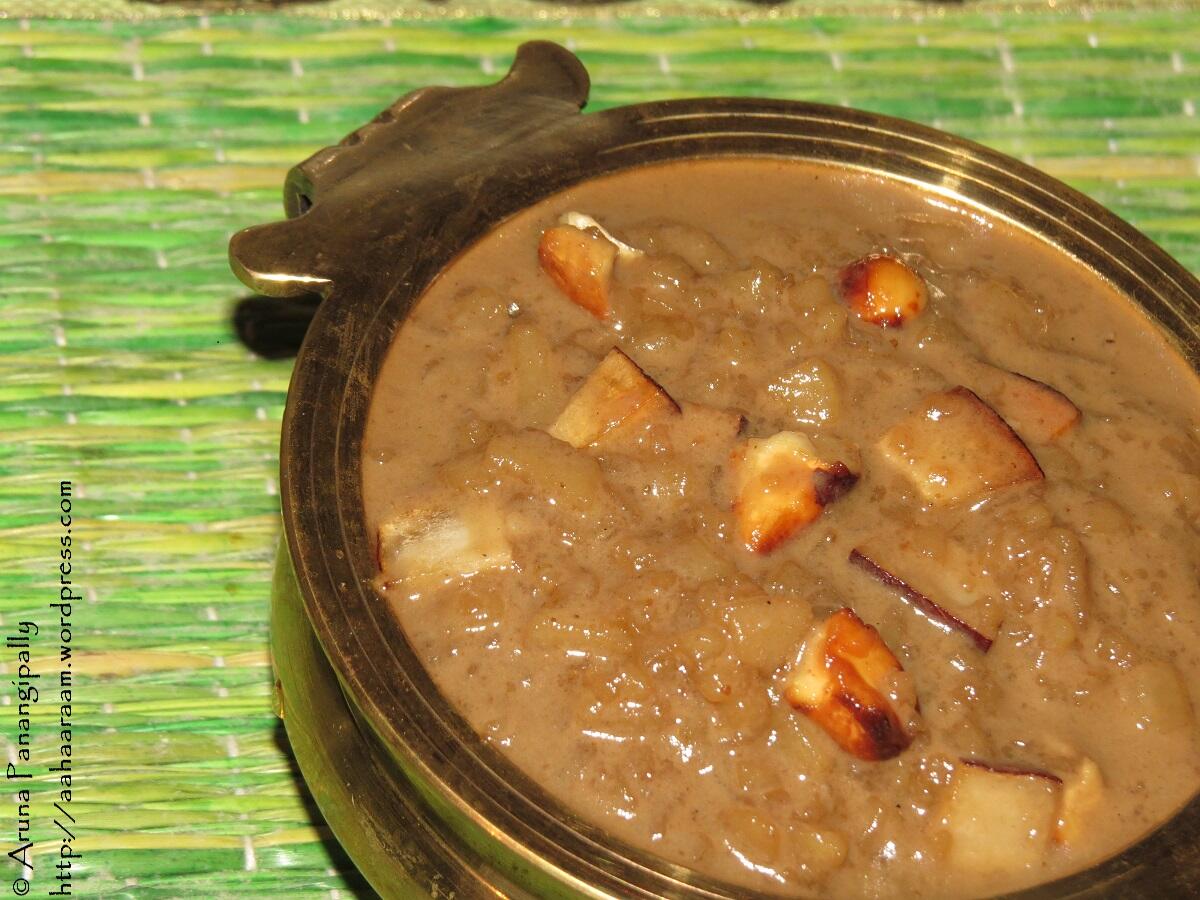 Pin
Method to Make Ada Pradhaman
The Basic Preparations

Peel and powder the green cardamom.
Split the cashews.
Heat 1 tbsp ghee.
Stir-fry the coconut pieces in ghee till they start to brown.
Remove and set aside,
Stir-fry the cashews in ghee till they start to brown.
Remove and set aside.

Preparing the Ada

Dilute 1/2 cup coconut milk with 2/3 cup water.
Bring the diluted coconut milk to a boil.
Add the ada to the boiling coconut milk.
Over low flame, cook till the ada is cooked.
Set aside.

Making the Jaggery Syrup

In a heavy bottomed vessel, add the grated jaggery and 1/2 cup water.
Heat till the jaggery is melted.
Turn off the heat.
Add the chukku podi, cardamom powder, and cumin powder.

Making the Ada Pradhaman

In a heavy bottomed vessel, add the melted jaggery and cooked ada (along with all the liquid).
Add the rest of the coconut milk.
If the Ada Pradhaman is very thick, add a little water.
Simmer over a medium flame for 5 to 7 minutes.

Add the fried cashews and coconut.
Serve warm or at room temperature.