Till very recently Sheera for me was always to be enjoyed in its pure form or as Rava Kesari. Then I made Pineapple Sheera. This was followed by Mango Sheera and I was hooked. I am exploring classic flavours that can be incorporated into Sheera and made this Apple Cinnamon Sheera because I love Apple Pie.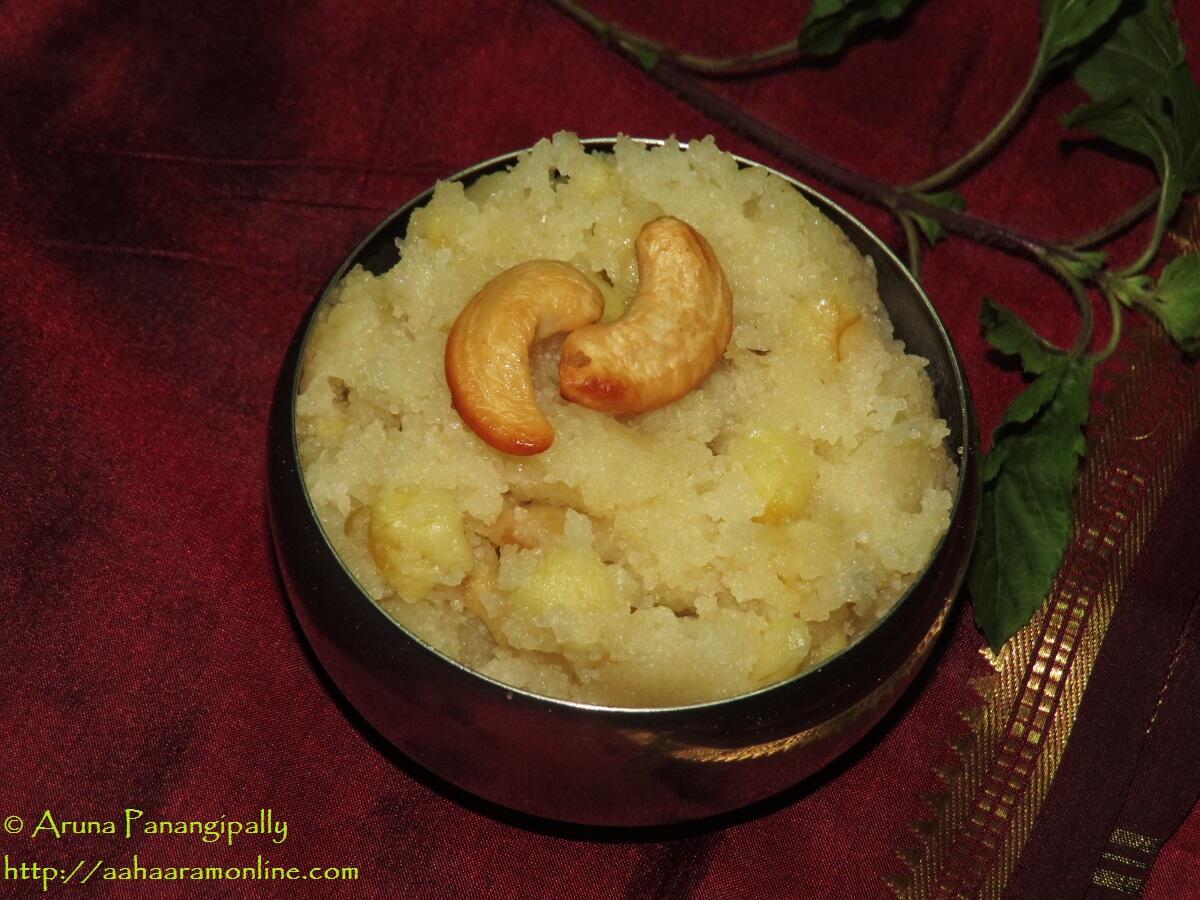 Pin
I made this Sheera by first steeping the Cinnamon in warm water for about 1 hour and then using this flavoured water. This helped me get the subtle flavour of the spice without it being overpowering. Also, I cut the Apple into small pieces instead of pureeing it. The result was small bits of stewed apple spread through the Apple Cinnamon Sheera.
The result was an aromatic Sheera that was quite a hit with my family. 🙂
Also try my Coconut Sheera with Candied Lemon Peel.
How to Make Apple Cinnamon Sheera
Apple Cinnamon Sheera
I made this aromatic Apple Cinnamon Sheera (Halwa) for Shravan Shukravar and it was quite a hit with family and friends. Familiar yet new.
Ingredients
2/3

Cup

Rava

Suji, or Semolina

1/2

Cup

Finely Chopped Apple

2/3

Cup

Sugar

2"

Cinnamon

6

Cashews

3

tbsp

Ghee

2.5

Cups

Water
Instructions
To Steep the Cinnamon
Bring 2 cups of water to a boil.

Drop the 2" piece of cinnamon into the water.

Simmer for 2 minutes.

Cover and set aside for 1 hour.

Remove the cinnamon pieces.

Set aside.
To Make the Apple Cinnamon Sheera
In a heavy bottomed vessel, over medium flame, heat 2 tbsp of ghee.

Split the cashews and add to the ghee.

Fry till they start to change colour.

Add the rava and stir-fry till it starts to change colour.

Now add the apple pieces and stir-fry for 5 to 7 minutes till the pieces start to soften.

Add the sugar and mix well.

Turn the heat to low.

Slowly add the cinnamon water while stirring continuously to avoid lumps.

Mix well.

Turn up the heat to a medium flame.

Let the Apple Cinnamon Sheera cook till the water is absorbed. Mix at regular intervals..

Add 1 tbsp ghee and mix well.

Serve warm!