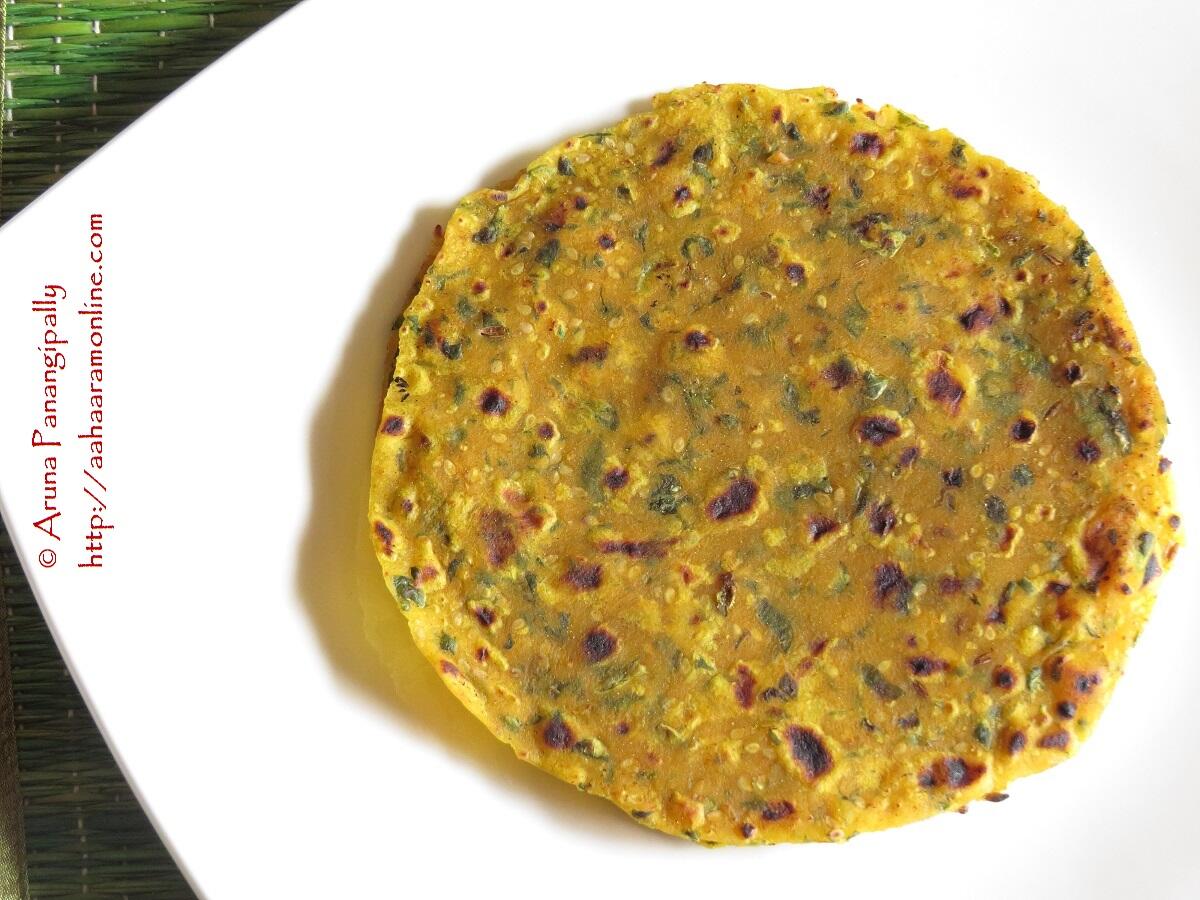 Pin
Methi Thepla is to travellers in Gujarat what Pulihora (Puliyodarai) and Daddojanam (Thayir Sadam) are to South Indians. A roti made with wheat flour, yogurt, oil, and loads of fresh fenugreek leaves, it stays fresh for 3-4 days. The trick to making it last is to use oil liberally in the dough and while cooking a Thepla. As a result, this Methi Roti is very popular with Gujarati travellers who have to go far. It is also a popular breakfast or tea-time snack to be enjoyed with a piping hot cup of tea. It can be relished by itself or with the Keri no Chundo, Keri no Murabbo or then with plain Dahi (yogurt).
A perfectly made Thepla is thin and almost translucent, as a result I find it easy to gobble up many in one shot. 🙂
Method to Make Methi Thepla
Methi Thepla
Methi Thepla is a Gujarati roti made with while wheat flour, fresh methi, and yogurt. It stays fresh for a few days and so is a great favourite while travelling.
Ingredients
2

Cups

Whole Wheat Flour

1

Packed Cup

Fresh Methi or Fenugreek Leaves

2 + 2

tbsp

Oil

1/4

Cup

Yoghurt or Dahi

1

tsp

Chilli Powder

1/2

tsp

Turmeric Powder

1

tsp

Sesame Seeds

Salt to Taste
Instructions
Method To Make Dough for Methi Thepla
Chop the methi leaves to fine pieces.

Set aside 2 tbsp of oil.

Combine all the other ingredients and mix well.

Add a little water at a time and knead into a semi-soft dough.

Cover the dough with a moist cloth and set aside for 15-20 minutes.
Method to Make the Methi Thepla
Divide the dough into 10 equal portions.

Roll each portion of dough between your palms into a round ball.

Pat down the dough ball to form a flat disc.

Dust the rolling surface lightly with some flour.

Place the dough disc onto the rolling surface.

With a rolling pin, roll the dough into a 6? thin circle.

Heat a tava or girdle till it is warm.

Spread a little oil on the surface.

Place the thepla onto the pan.

Over medium heat, cook till the side of thepla touching the pan is golden brown with some dark brown spots.

Flip the thepla over and cook till the side of thepla touching the pan is golden brown with some dark brown spots.

Repeat steps 2 to 11 to make other theplas

Serve hot with chilled dahi (yoghurt) or Chundo.