So I get this intriguing text from Anu on the day I am to meet her for lunch that says, "I have a gift for you." I am all agog because I know it is always something nice and lo behold, she gives me this super Spicy Milagai Podi made with Tuvar Dal.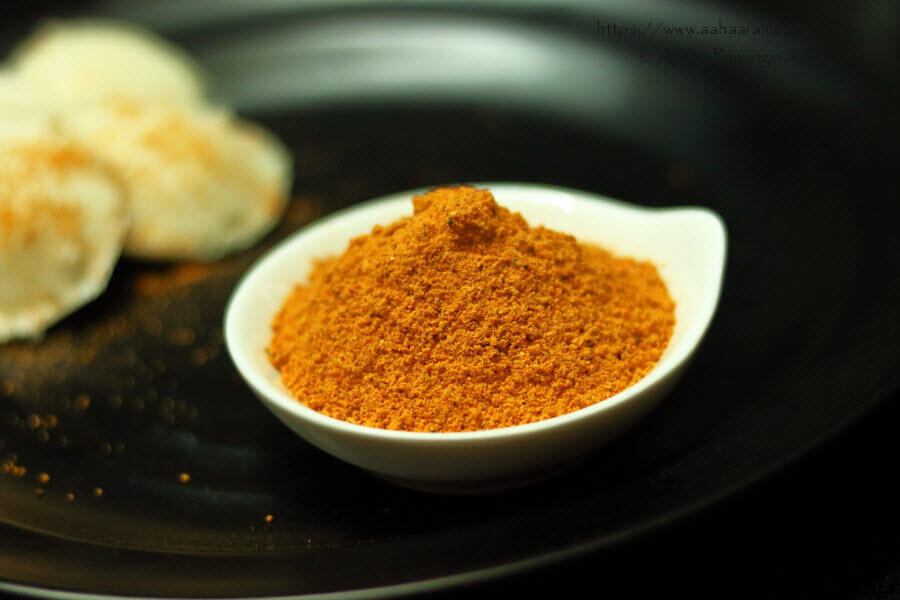 It was terribly sad that I received the gift at lunch because I had to wait till I got home after work to even taste it. 🙂 It was only the next morning did I savour it properly with some hot idlis, and then I was transported to heaven. This Spicy Milagai Podi was just that spicy and it made my day, nay my fortnight (because that's how long my stock lasted). It was spicy just the way I love my food, but not something that ate away at my insides.
As ever, Anu shared the recipe as soon as I asked her for it, and so came about this much delayed post. The recipe for Molaga Podi was unusual on two counts, it had tuvar dal as the star ingredient and the use of tamarind. That lent this must-have accompaniment to idlis and dosa a unusual flavour profile.
To those new to this blog, Anupama Michael is a childhood friend of mine with whom fates have always kept me connected, not matter how much distance or time separated us. She is a marvellous cook (as is her daughter who is a budding Chef and Pâtissier).
Anupama has contributed many recipes to this blog including Udupi Temple Rasam, Sanna Polo, Dalithoy, Khalle Ambo | Brined Mango, Khalle Ambo Gojju | Brined Mango and Coconut Chutney, and Mod Alelya Methichi Usal.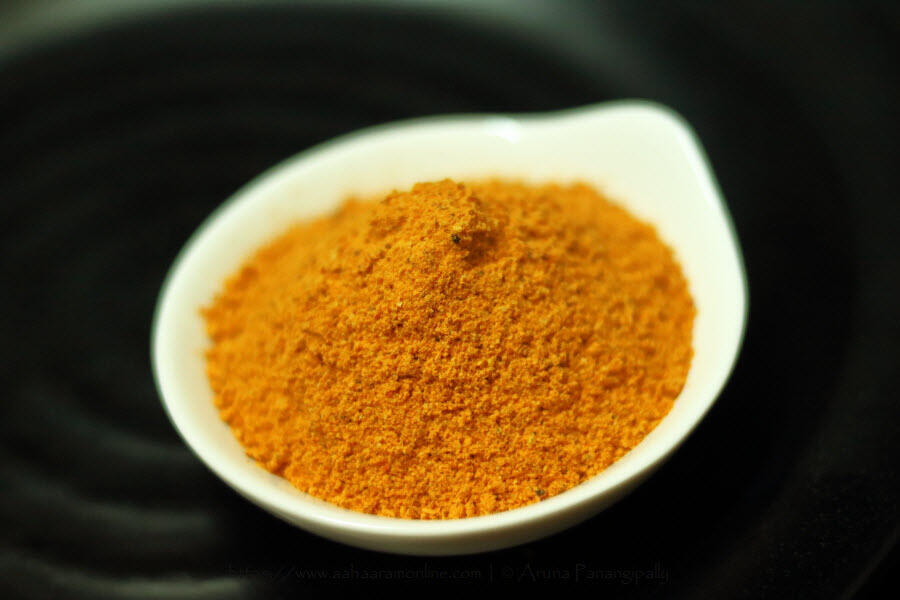 Recipe for Spicy Milagai Podi | Molaga Podi | Idli Chutney Powder (Made with Tuvar Dal)
Spicy Milagai Podi with Tuvar Dal | Idli Chutney Powder | Molaga Podi
This is a spicy Milagai Podi (also called Molaga Podi, Idli Chutney Powder) made with tuvar dal, udad dal, tamarind and two different types of chillies. The result is a tangy, spicy podi that tastes fabulous with idlis and dosas.
Ingredients
50

gms

Tuvar Dal, Pigeon Pea, Kandi Pappu

50

gms

Udad Dal, Husked Bengal Gram, Minapa Pappu

25

gms

Spicy Red Chillies, Pandi Chillies

(~ 40 in number, see Notes)

25

gms

Bydagi or Kashmiri Red Chillies

(~ 20 in number, see Notes)

1/2

tsp

Hing, Asafoetida

20

gms

Tamarind

(~ 8 x 2" strips)

Salt to Taste
Instructions
Over medium heat, dry roast the udad dal till it is golden brown and transfer to a plate.

Over medium heat, dry roast the tuvar dal till it is brown and transfer to a plate.

Add the hing and salt to the hot dals.

Over low heat, dry roast the bydagi chillies till they start to change colour and transfer to a plate.

Over low heat, dry roast the Pandi chillies till they start to change colour. Be careful not to burn the chillies while roasting them.

Add the tamarind to the hot kadhai and leave it there so that the moisture in it dries out.

When the dals and the chillies cool, transfer all roasted ingredients to the grinder.

Store the Idli Chutney Powder in an airtight bottle.
Savouring the Milagai Podi
Add a spoon of melted ghee, sesame oil, or coconut oil to a spoon of the Spicy Milagai Podi. Serve with Idlis or Dosas.
Notes
I used Pandi chillies which are super spicy. If your chillies are not so hot, then I would recommend using more of them.
The Bydagi chillies impart the nice orange-red colour and have a bit of heat as well. If you are using Kashmiri red chillies, increase the number of spicy red chillies you are using.
Do use two kinds of chillies. Increasing the number of non-spicy chillies in will just give you a peculiar aftertaste.
If you use only the spicy red chillies, the colour of your podi will be paler.