Mine is a family of Tomato Lovers (Sigh!) and leading the pack is my lovely cousin, Rama. 🙂 I believe all we need to set her heart a-flutter is to mention Tomato. Sorry, Vishal :-P.
Jokes aside, Rama is an accomplished architect who is passionate about her art and craft. Here is what she says about her metier, "Architecture, to me, is about creating humane environments that generate vitality and joy of being with a sensitive adoption and refinement of modern Architecture in given context. It is also to generate designs which are architectural interpretations that sub serve the client's needs perfectly."
Rama has mentioned this Tomato Rice recipe several times to me and I made it this week. My father absolutely loved it and I must admit that I liked it too. 🙂
This Tomato Annam or Thakkali Sadam recipe is so easy to make and makes for a perfect one-dish meal.
Do try my recipes for Tomato Pachadi, Tomato Onion Pachadi, Roasted Tomato Soup, Tomato Basil Soup, and Sundried Tomato Basil Pesto.
How to Make Tomato Rice | Tomato Annam | Thakkali Sadam
Serves: 4
Time: 30 to 40 mins
Ingredients
Basmati Rice – 1.25 Cups
Tomato – 3 Large
Capsicum – 1 Large
Onion – 1 Large
Red Chilli Powder – 1 tsp
Oil – 1.5 tbsp
Salt to Taste
Coriander for Garnish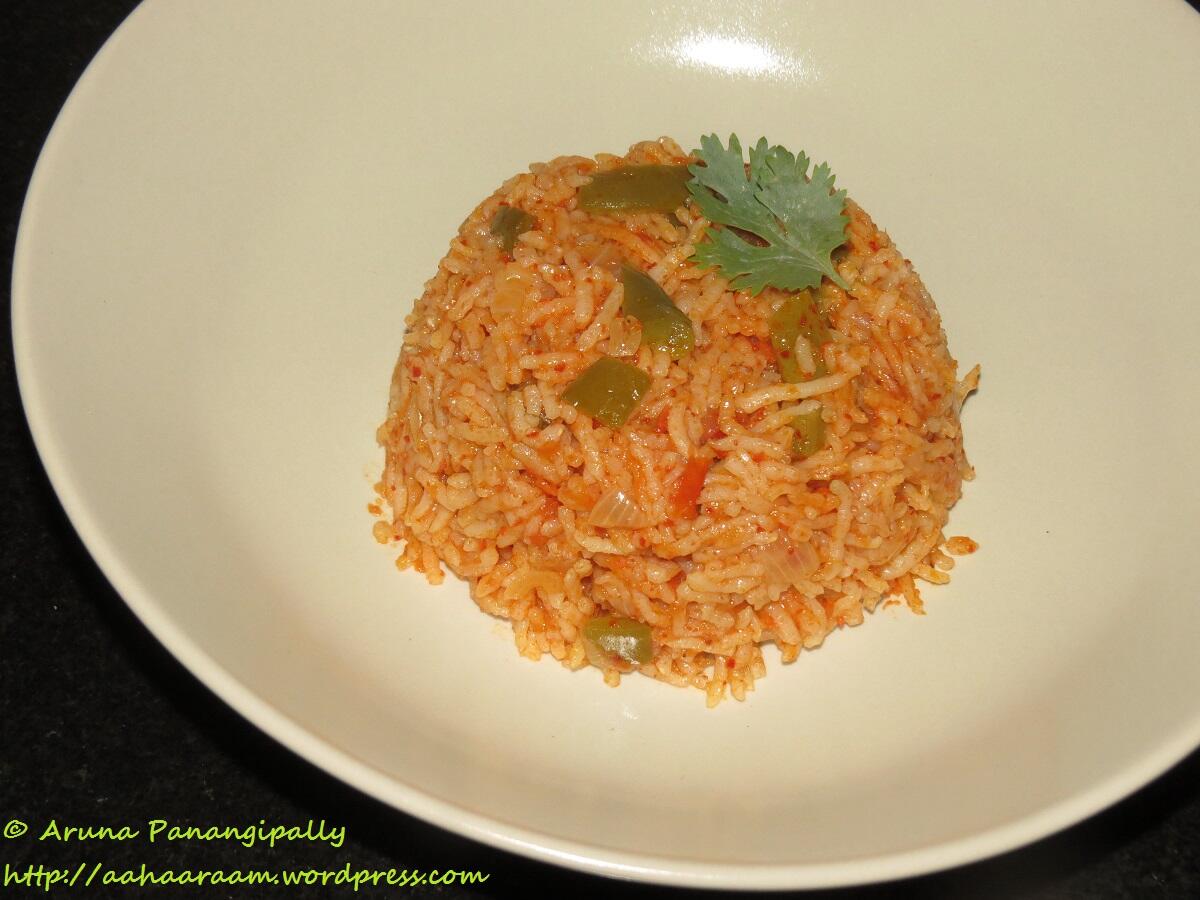 Pin
Method to Make Tomato Annam | Tomato Rice | Thakkali Sadam
The Preparations

Wash and soak the basmati rice for 10 to 15 minutes.
Drain the water. Set aside.
Puree 1.5 tomatoes. This gives the rice a great colour and flavour.
Chop 1.5 tomatoes to fine pieces.
Peel and chop the onion to 1/4″ pieces.
Chop the capsicum to 1/4″ pieces.

Making the Tomato Rice

In a wok or kadhai, heat the oil.
Add onion pieces and stir-fry till transparent.
Add the capsicum pieces and stir-fry for 2-3 minutes.
Add the tomato pieces and stir-fry till the pieces are soft and stewed.
Add the tomato puree and stir-fry till dry.
Add the salt and red chilli powder.
Mix well.
Add the soaked and drained Basmati rice.
Add 2.5 cups of water.
Cook covered while mixing occasionally till the rice is cooked.
Or
Pressure cook for 3 whistles.
Garnish with chopped fresh coriander.
Serve hot with Cucumber Raita or Boondi Raita.
Tips
You could add some crushed garlic (2-3 cloves) to the onion while frying.
Alternatively, you could add some roasted cumin powder.
I added the pureed tomato only for the colour.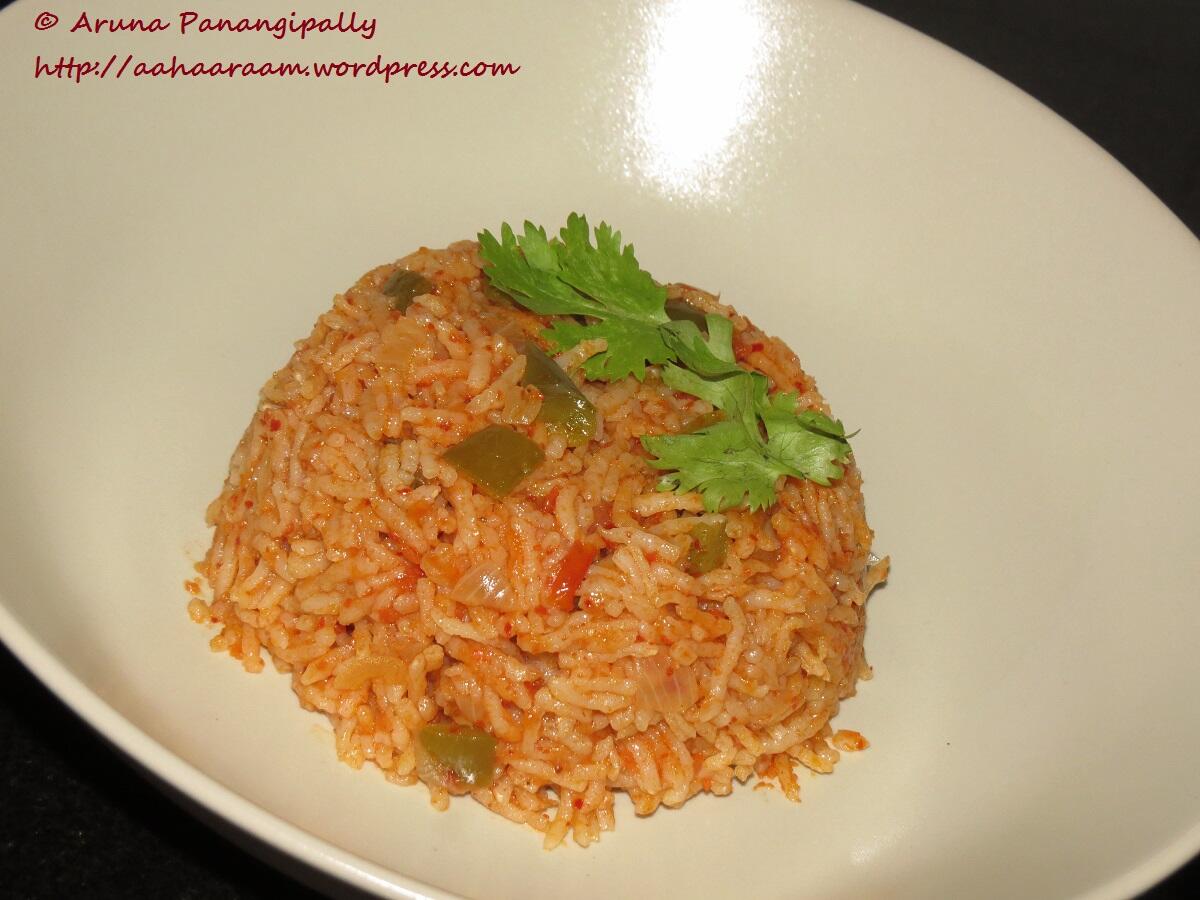 Pin