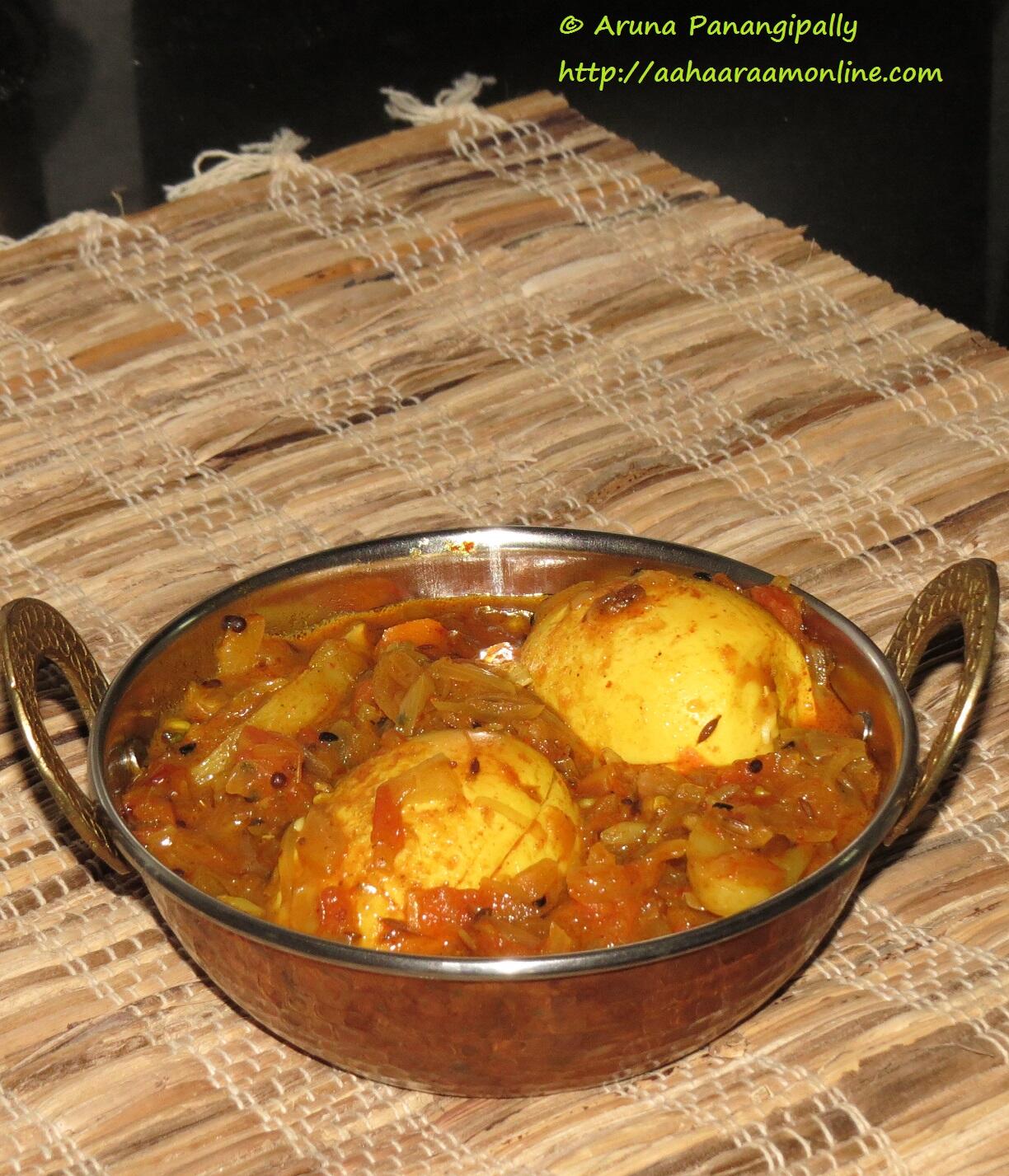 Pin
Today I am posting the recipe for Dimer Jhol or Bengali Style Egg Curry. Also, known as Dimer Dalna, there are many variations of this curry. This recipe features the one that uses Panch Phoran, the traditional Bengali spice mix of mustard (rai), cumin (jeera), nigella (kalonji), fenugreek (methi) and fennel (saunf) seeds.
The Panch Phoran lends a lovely flavour to this simple egg curry that uses tomato and onion in the gravy.
I love egg as can be seen from this list of egg-based recipes that I feature on this blog:
How to Make Dimer Dalna or Dimer Jhol
Serves: 4
Time: 45 Minutes
Ingredients
Eggs – 4
Tomato – 2 Medium
Onion – 2 Medium
Potato – 1 Large
Panch Phoran – 1 tsp
Fresh Grated Ginger  – 1/3 tsp
Fresh Garlic Mince – 1/3 tsp
Bay Leaves or Tej Patta – 2
Green Chillies – 2
Red Chilli Powder – 1 tsp
Turmeric – 1/2 tsp
Garam Masala – 1/2 tsp
Mustard Oil – 3 tbsp
Salt to Taste
Method to Make Dimer Dalna or Dimer Jhol
To prepare the eggs:

Hard boil the eggs.
Peel the eggs.
Using a sharp knife, make three cuts on the surface.
Mix 1/4 tsp turmeric, 1/4 tsp chilli powder, and a pinch of salt.
Rub the masala evenly all over the eggs.
Set aside for 5 minutes.

Other preparations:

Peel and chop the onions to fine pieces.
Chop the tomato to fine pieces.
Slice the green chillies vertically.
Parboil the potatoes.
Peel and cut into wedges.

To Make Dimer Dalna:

In a kadai or wok, heat the mustard oil to smoking point (till it from yellow to almost being colourless).
Turn the heat down and wait for a couple of minutes for the oil to cool a bit.
Add the eggs to this oil and move around till the surface is fried lightly.
Remove the eggs from the oil and set aside.
Add the potato wedges to the oil.
Fry till light golden brown.
Remove the potato wedges from the oil and set aside.
In the same oil, add the panch phoran and bay leaves.
Stir-fry for a few seconds. Be careful not to burn the panch phoran.
Add the onions and stir-fry till they are transparent.
Add the green chillies, garlic, and ginger.
Stir-fry for 10 seconds.
Add the tomatoes and stir-fry till the tomatoes are stewed and mashed well.
Add the garam masala and salt as well as the remaining turmeric and red chilli powder.
Mix well.
Add 1/2 cup water and simmer the gravy till it thickens.
Turn down the heat.
Add the fried boiled eggs and potato wedges.
Mix with a gentle hand so that the gravy coats the eggs.
Simmer the eggs in the gravy for about 5 minutes.

Serve hot Dimer Jhol with rice, rotis, or luchis.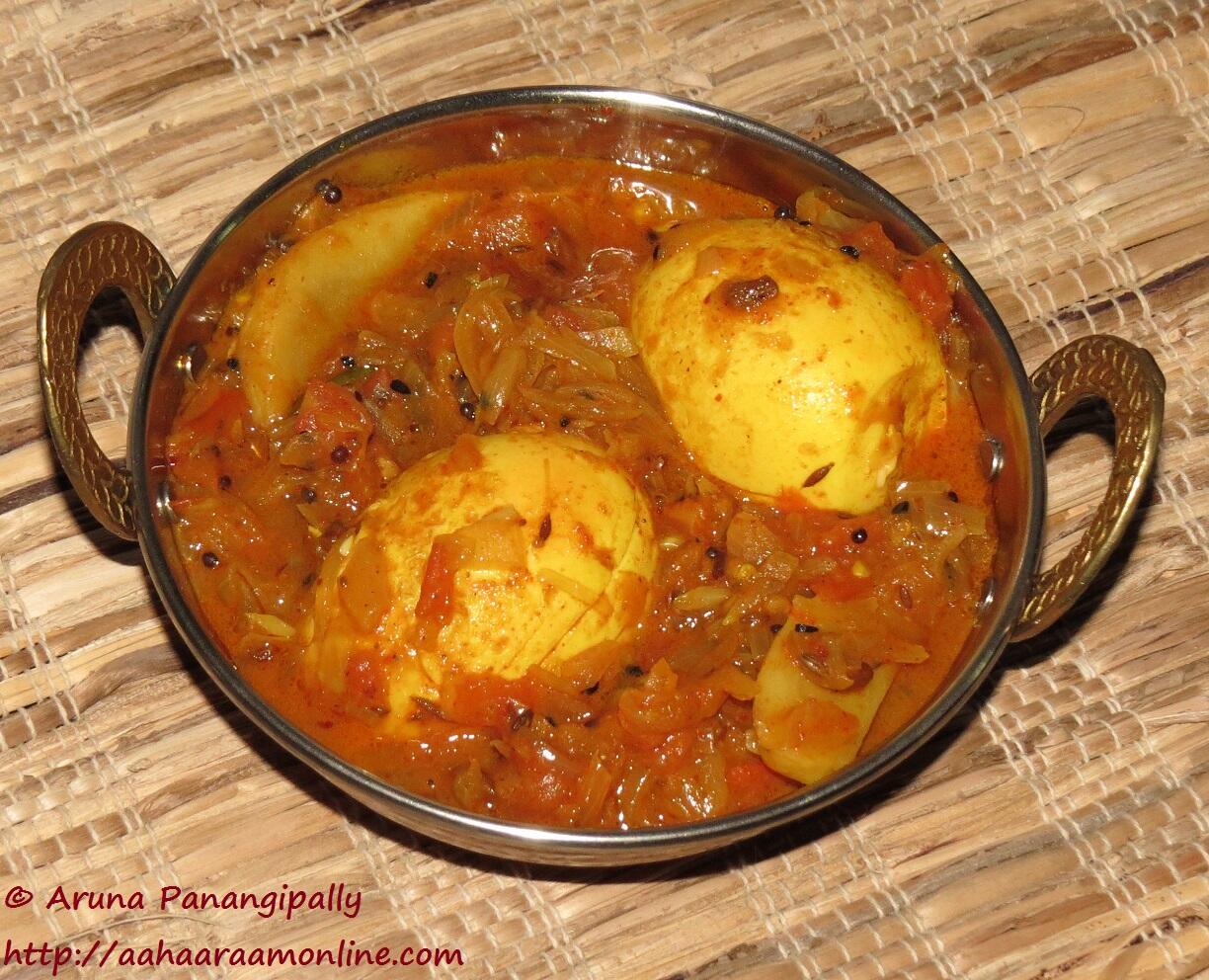 Pin