This week is all about bananas. Why you wonder? Simple because we went overboard buying both ripe and unripe bananas. 🙂 That proved a blessing in disguise as there were a few banana-based recipes that I wanted to try. Today, I present the first of these, the Kacche Kele ki Tikki.
My father absolutely loves cutlets/tikki in all forms. So I try new recipes for tikkis and have some up on the blog: Dahi ke Kebab, Hara Bhara Kebab, Kale Chane ke Kebab, Paneer Tikki, and Beetroot Tikki. 
I have been meaning to try Kacche Kele ki Tikki for a while now because I am fascinated by the use of Kaccha Kele (unripe bananas) as a substitute for potato in Jain cooking.
Jainism is a religion founded in Ahimsa or non-violence. In Jainism, Ahimsa is not restricted to humans and animals but all living beings including vegetation and micro-organisms.

For example, Jains do not eat any root vegetables because they believe that in cultivating and harvesting these vegetables, we dig up the ground and that harms many organisms. Also, when we harvest a root vegetable, we uproot the entire plant, thereby "killing" it.

You can read more about Jain food at this wikipedia link.
Living in Mumbai, we have grown up with Jain food. Most restaurants here will have Jain food available (stated on the menu or made on request). This food will not use onion, garlic, root vegetables, and other forbidden foods.
However, Jains are great foodies and have found interesting substitutes for forbidden foods. The most common example is the use of Unripe Banana (Kacche Kele) for Potatoes. So a Jain Samosa or Pav Bhaji will use banana as a substitute for potato.
So the Kacche Kele ki Tikki is a variation of the more popular Aloo ki Tikki, and just as delicious. I made the simplest form of the Kacche Kele ki Tikki this time and hope to get more adventurous with it soon!
How to Make Kacche Kele ki Tikki
Kacche Kele ki Tikki | Raw Banana Cutlets
Kacche Kele ki Tikki is a cutlet made with unripe bananas and is made on days of fasting. It is also preferred by Jains who do not eat root vegetables such as potato.
Ingredients
8

Unripe Bananas, Kacche Kele

1/4

Cup

Finely Chopped Coriander

2-3

tsp

Red Chilli Powder

2

tsp

Chaat Masala or Amchur Powder

1

tbsp

Lemon Juice

Salt to Taste

Oil for Shallow Frying
Instructions
Steaming the Bananas
Steam the whole bananas. I placed the whole bananas in a colander and steam them in a pressure cooker. Do not boil the bananas.

Take the bananas out of the steamer and let the bananas cool.
Making the Dough for the Tikkis
Peel the steamed bananas. I find it easier to peel the bananas, if I cut them in half.

Mash the bananas till there are no lumps.

Add the salt, chilli powder, chaat masala/amchur powder, coriander, and lemon juice.

Mix well so that the masalas are mixed into the banana and you have a nice firm dough.
Making the Kacche Kele ki Tikki
Divide the dough into 20 to 24 equal portions. Since we are shallow-frying the tikkis, we will keep them small in size.

Shape each portion into a 1/2" thick disk.

Over medium flame, heat a pan or tava. Use a flat pan as much as possible.

Add about 1-2 tbsp of oil and spread it well.

Place a few tikkis on the pan and let them cook for about 3 to 5 minutes till the side touching the pan is golden brown. Cook on medium flame so that the insides cook a bit as well.

Flip the Kacche Kele ki Tikkis.

Drizzle a few drops of oil around each tikki. The tikkis absorb oil rather quickly.

Cook for 4 to 5 minutes till the flip side is golden brown as well.

Serve hot with Dahiwali Pudina Chutney or Tomato Ketchup.
Notes
Do not boil the bananas; if you do, you will have a lot of water in the dough.
You can deep fry the tikkis as well. I prefer the shallow-fry route.
Cook the Kacche Kele ki Tikkis over medium flame to ensure they are cooked through.
The tikkis will actually soften as you cook them.
You can adapt this recipe for Vrat ka Khana by using Sendha Namak and Green Chilli Paste.
Here is a step-by-step procedure for the Kacche Kele ki Tikki with photos.
Steam the bananas:

I placed the bananas in a colander.

Place this colander over a vessel.
Steam for 10 to 15 minutes in a pressure cooker. I already have water at the boiling stage before I place the bananas in so 10 minutes is enough.
Let the cooker cool for 10 minutes. The bananas get some more time to cook. 🙂
Take out the steamed bananas.


Making the dough for the Kacche Kele ki Tikki.

Cut the steamed banana in half. It will become easier to peel.
Peel the banana.

Mash the banana well till there are no lumps. You may have some tiny lumps, that is OK.
Add the salt, chilli powder, chaat masala/amchur powder, coriander, and lemon juice.

Mix and then knead well so that all masalas are well-incorporated. Do not add any water even if you feel the dough is a bit dry. It will soften as you cook.



Making the Kacche Kele ki Tikki:

Divide the dough into 20 to 24 equal portions. For shallow-frying the tikkis, we will keep them small in size.
Roll each portion into a ball.
Using your fingers gently press to get a disc about 1/4″ thick and 2″ in diameter.

Over medium flame, heat a pan or tava.
Smear the pan with 1-2 tbsp of oil. You should have some oil floating around if you tilt the pan.
Add 6 to 8 tikkis to the pan. Leave some space to flip them over.


Cook for ~5 minutes till the side of the tikki touching the pan is golden brown. Use a spatula to lift each tikki gently and check if it is done.
Flip the tikkis over.
Drizzle a few drops of oil at the edges of each tikki.
Cook till the flip side is golden brown as well.

Cook the other tikkis in a similar fashion.
Serve hot with Dahiwali Pudina Chutney, Coriander Chutney, or then the popular Tomato Ketchup. 🙂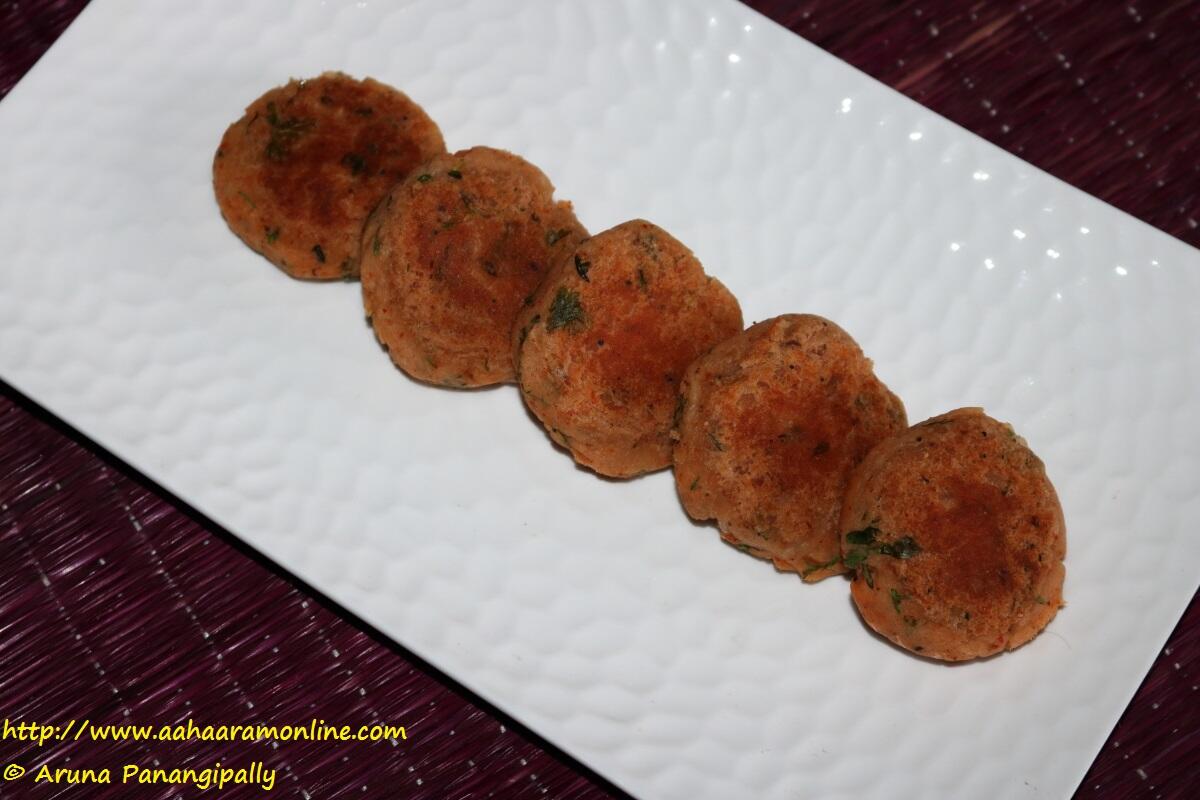 Pin