Sunnundalu (also known as Minapa Sunni Undalu) is a protein-rich Udad Dal Laddu that is a traditional favourite in Andhra Pradesh and Telangana. Easy to make and absolutely delicious, this laddu is made for most festive occasions like Deepavali.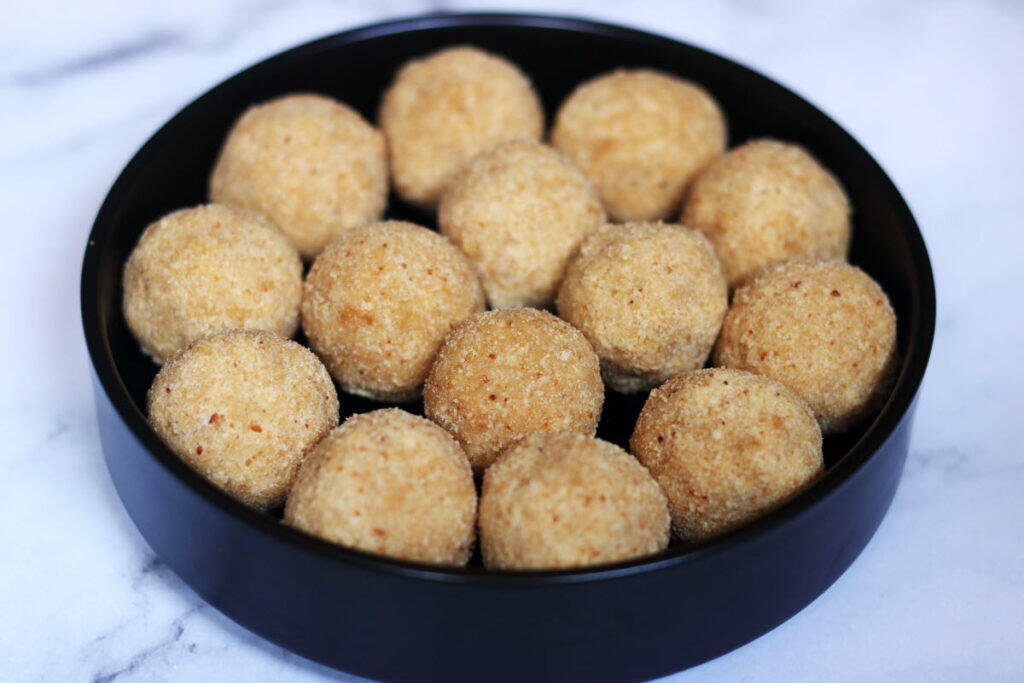 Why Do I Like Sunnundalu?
Let's start with the obvious; Minapa Sunni Undalu are simply delicious! 😀
You need just 3 ingredients to make this laddu: udad dal, ghee, and jaggery (or sugar).
This Udad Dal laddu is super easy to make (I made 25 laddus in under 45 minutes) and has long shelf-life of upto 10 days or more (if they last that long!).
You can make it "dry-ish" the way I did, or then a bit more moist by using more ghee.
You can make use Udad Dal with or without skin to make Minapa Sunni Undalu. I would recommend that you make this delicious udad dal laddu with split udad dal with skin because it is significantly more nutritious Sunnundalu made with husked dal.
Tips to Make the Perfect Sunnundalu
Dry roast the udad dal over low to medium heat and while stirring constantly to ensure that it is evenly roasted.
You can grind the udad dal to a fine powder or then a slightly coarse powder. I prefer to keep it just a bit coarse because then the texture is nice.
If you want soft laddus then use about 2-3 tbsp ghee more.
Make the laddus immediately after making the laddu dough. This is because as the ghee in the mix cools, the mix will harden and become powdery, making it difficult to shape the laddus.
Recipes for Other Easy to Make Laddus
Also try my recipes for: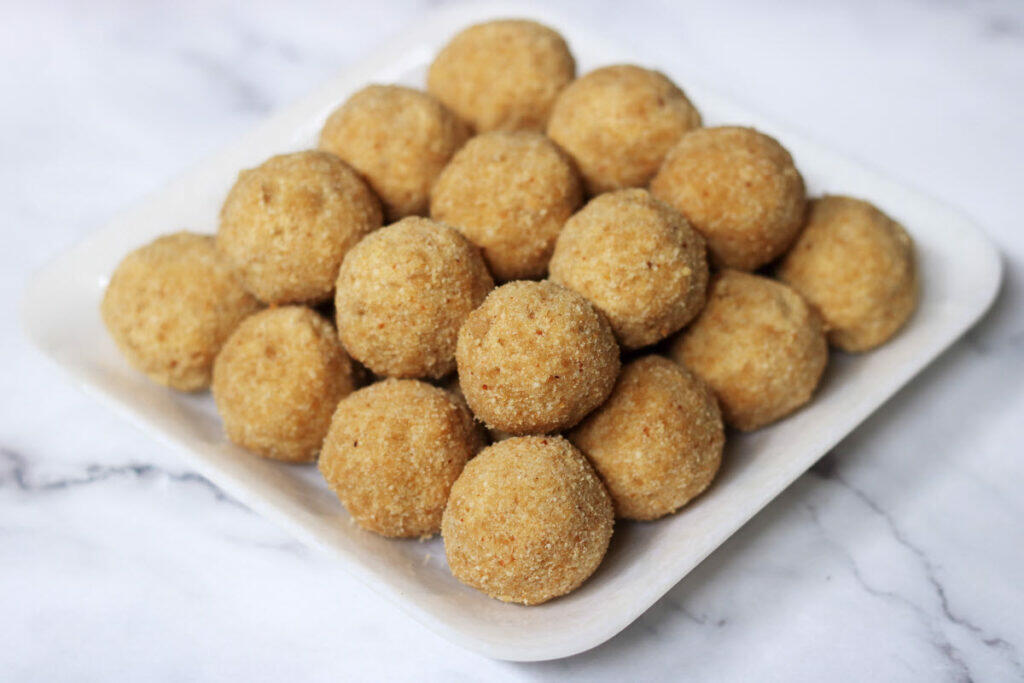 How to Make Sunnundalu: The Protein-Rice Udad Dal Laddus from Andhra
Roasting and Grinding the Udad Dal

In a heavy bottomed kadhai, over low to medium heat, dry roast 1.5 cups of udad dal (~300 gms) till it turns light brown.

Spread the roasted udad dal in a large steel plate for ~10 minutes to cool. Do not leave the udad dal in the kadhai as it will continue to roast.
Grind the roasted and cooled udad dal to a slightly coarse powder. If you are using sugar, you can grind 150 gms sugar along with the udad dal.



Making the Sunnundalu 

To the ground udad dal, add 1.5 cups of grated jaggery (~275 gms) and mix well. At this stage, you will find that the mix will be slightly moist from the water content in the jaggery. 

Now, add 1/4 cup melted ghee and immediately mix with a spoon till the ghee is well-incorporated.


Take about 2 tbsp of the Sunnundalu mix into your palm and using your fist press to form a laddu.
Repeat till you make all the Sunnundalu. You should get between 20 and 25 laddus.



Store the Minapa Sunni Undalu | Sunnundalu in an airtight container.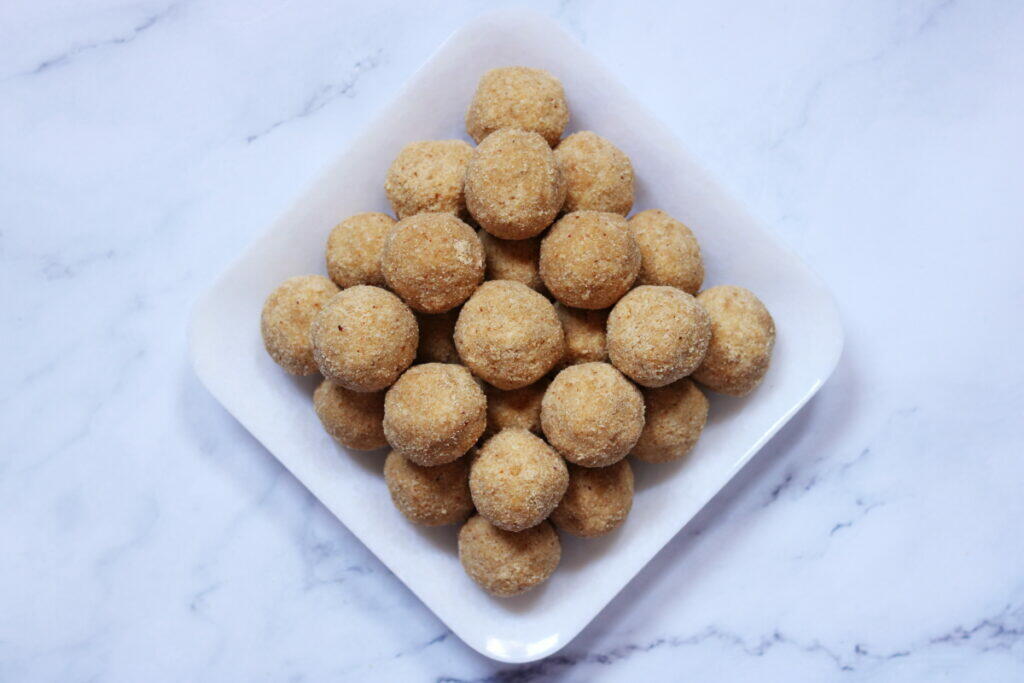 Recipe for Minapa Sunni Undalu | Sunnundalu | Andhra Udad Dal Laddu
Minapa Sunni Undalu | Sunnundalu | Andhra Udad Dal Laddu
This is the recipe for an Andhra Udad Dal Laddu called Minapa Sunni Undalu. Also known as Sunnundalu, these laddus are delicious, nutritious, and easy to make.

Ingredients
1.5

Cups

Udad Dal

(300 gms)

1.5

Cup

Jaggery

Grated (270 gms)

1/4

Cup

Ghee

(Melted) (60 gms)
Instructions
On low to medium heat, dry roast the udad dal till it is light golden brown.

Spread in a plate to cool a bit.

Grind the udad dal and jaggery to a fine powder.

Add the melted ghee and mix well. The texture will be like damp sand.

Divide into 20 equal portions.

Shape each portion into a laddu. You have to press hard so that the laddu holds shape.

Let the Minapa Sunni Undalu rest for an hout so that the ghee in them hardens and so do the laddus.

Store in an air-tight container.
Nutrition
Calories:
116
kcal
Carbohydrates:
19
g
Protein:
4
g
Fat:
3
g
Saturated Fat:
2
g
Polyunsaturated Fat:
0.1
g
Monounsaturated Fat:
1
g
Cholesterol:
6
mg
Sodium:
1
mg
Fiber:
3
g
Sugar:
12
g
Vitamin A:
1
IU
Vitamin C:
1
mg
Calcium:
13
mg
Iron:
1
mg