Sharad Navratri or Devi Navratri is one of the most important festivals and is celebrated across almost all parts of India. These 9 nights/10 days (navratri = nine nights) are dedicated to various forms of the Devi or the Goddess.
In 2023, Ashwin Navratri or Sharad Navratri is from October 15, 2023 to October 24, 2023.
On each of the 9 days, the Devi is worshipped in a different form. In Andhra Pradesh, one way of celebrating Devi Navratri is to worship Navdurga or the 9 forms of Durga. There is a different naivedyam offered each day. I have used the information from the Kanaka Durga Temple in Vijayawada as the primary source for the naivedyam to be offered.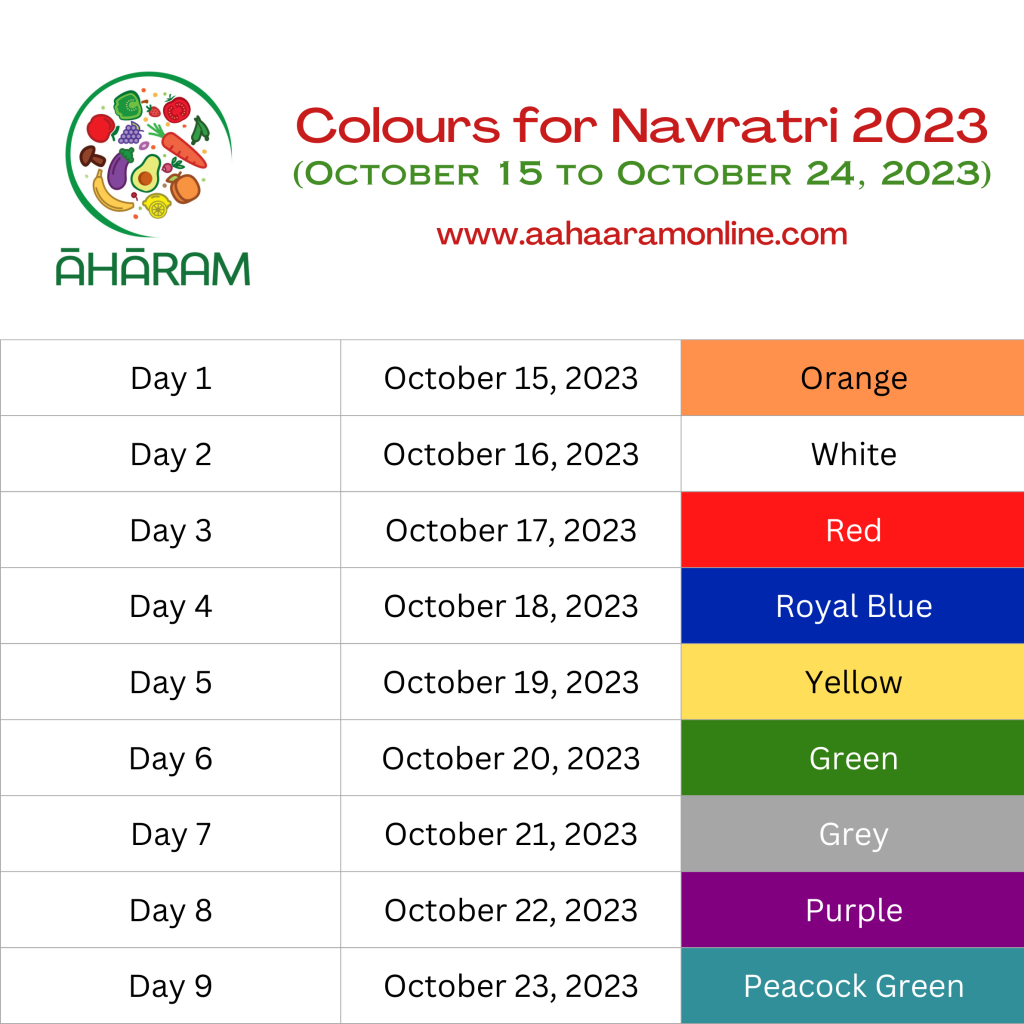 In addition, each day of Devi Navratri has a specific colour associated with it. I have shown two colours of each day of Navratri because I have used two sources of information: the popular list used across India and the list from the the Kanaka Durga Temple in Vijayawada.
During Navratri, in most South Indian and Maharashtrian homes, married women invite other married women and offer "tamboolam". Along with the taboolam, normally sundal is given as prasadam.
In recent times, the tradition of wearing a particular colour on each day of Navratri has grown in popularity. In the table below, I have given two options, one followed commonly (the WhatsApp list as I call it) and the the other followed by the Kanaka Durga Temple. 🙂
Please view the table in landscape mode (horizontally on the phone). It has a lot of details, I cannot make it smaller. If you view it lengthwise, all details are not seen.
Date
Form of the Devi Worshipped
Naivedyam
Navratri Colour to Wear
Kanaka Durga Temple
Popular/
WhatsApp List
October 15, 2023
Bala Tripura Sundari Devi
Light Pink
Orange
October 16, 2023
Gayatri Devi
Orange
White
October 17, 2023
Annapoorna Devi
Sandalwood Colour
Red
October 18, 2023
Mahalakshmi Devi
Pink
Royal Blue
October 19, 2023
Maha Chandi Devi
Red
Yellow
October 20, 2023
Saraswati Devi

Atukulu/Aval
Bellam/Jaggery

White
Green
October 21, 2023
Lalitha Tripura Sundari Devi
Red
Grey
October 22, 2023
Durga Devi (Durgashtami)
Saffron Red
Purple
October 23, 2023
Mahishasura Mardani
Reddish
Brown/Maroon
Peacock Green
October 24, 2023
(Vijaya Dashami/
Dasara/
Dussehra)
Rajarajeswari Devi

Naivedyam for Rajarajeshwari Devi

Maha Naivedyam including:

Green
Purple