When I first saw a photo of the Roasted Beetroot Hummus I was enamoured by its rich vibrant colour. It is indeed true that we eat with our eyes first. I had made a mental note to myself to try this wonderful dish and then Jenny Parikh (she of the wonderful Smorgastorta fame) recommended it to me as well. Now I knew I HAD to try it and try it, I did!
Making this Beetroot Hummus was right up my alley as I have become quite a Hummus fan and look forward to trying new variants. So far I have made:
Do try the Hummus with Roasted Beetroot because you will relish it both with your eyes and your tongue.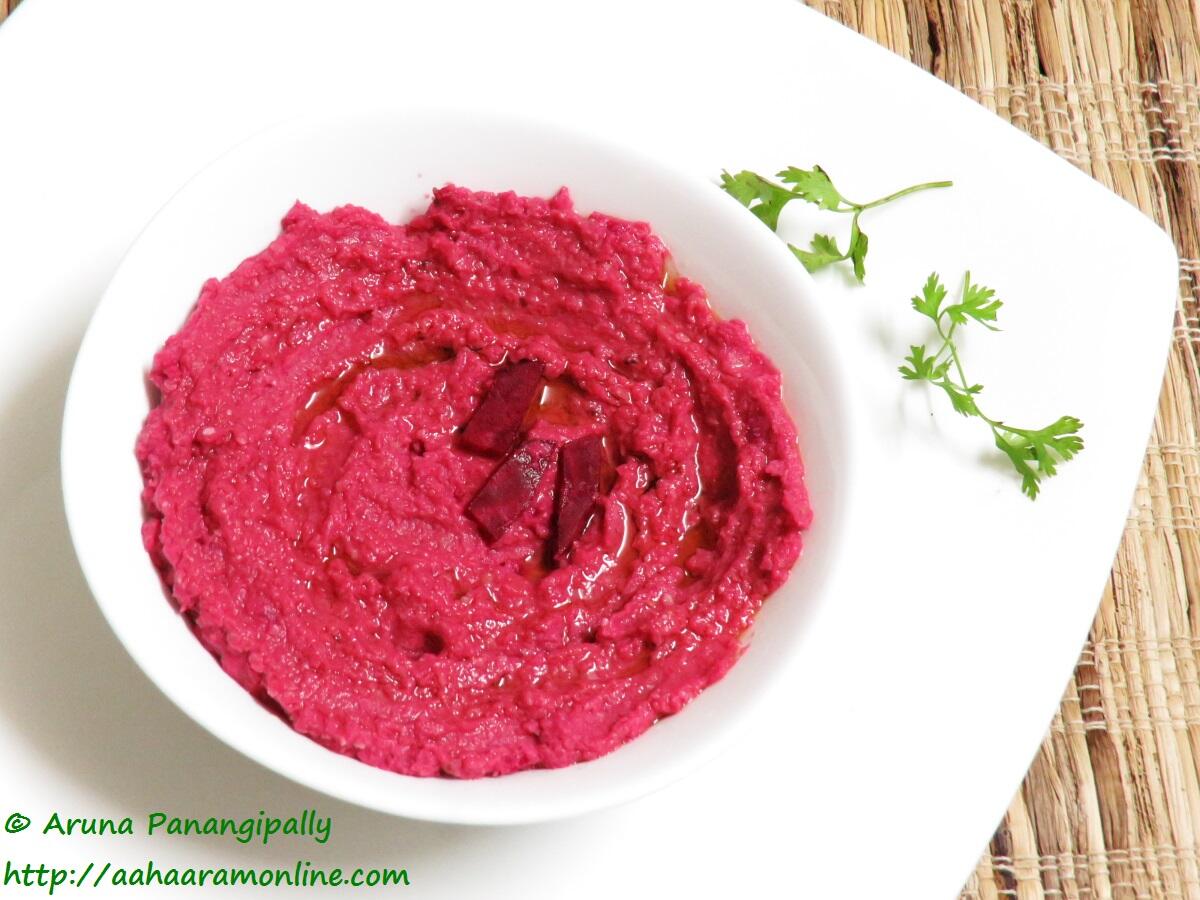 Pin
How to Make Roasted Beetroot Hummus
Roasted Beetroot Hummus
This is the third variation of a Hummus that I am trying. I loved the vibrant pink colour of the Beetroot Hummus as well as its sweetish nutty taste!
Ingredients
Cup

Dried Chickpeas

Garbanzo Beans or Kabuli Chana - 1/2

Beetroot - 1 Medium-sized

tbsp

Tahini - 1

Cloves

Garlic - 2 Large

tsp

Roasted Cumin Powder - 1/2

tsp

Lemon Juice - 2

tbsps

Olive Oil - 6

Salt to Taste
Instructions
Preparing the Chickpeas
Soak the chickpeas in 2 cups water for 6 to 8 hours.

Drain all the water from the chickpeas and rinse well.

Pressure cook the chickpeas in 2.5 cups of water for just 2 whistles.

Drain the water and save some of it.

Let the chickpeas cool.
Preparing the Beetroot
Peel the beetroot.

Cut into 1/8" slices.
If You are Roasting the Beetroot in an Oven
Toss the beetroot slices in about 1 tbsp of Olive Oil.

Layer a baking tray with foil.

Place the beetroot slices in the tray.

Bake at 150C till the edges start to brown.

Flip the slices over and bake till the flipside starts to brown.

Take out of the oven and let cool.
If You are Roasting the Beetroot in a Pan
Over low to medium flame, heat a non-stick pan.

Add 1 tbsp olive oil and swirl till the pan is well-coated..

Place the beetroot slices in the pan.

Over low to medium heat, let the slices roast and soften a bit.

When the side touching the pan starts to brown, flip the beetroot slices and continue to roast till the flipside starts to brown.

Remove from the pan and let cool.
To Make Hummus with Roasted Beetroot
Grind the Tahini, Beetroot, Chickpeas, Garlic, Cumin Powder, Salt, Lemon Juice, and 3 tbsp olive oil into a creamy smooth paste. If required, add some water in which the chickpeas were cooked.

Spoon the hummus into a large bowl.

Cover the surface with the remaining olive oil.

Enjoy with Lavash or Pita bread
Nutrition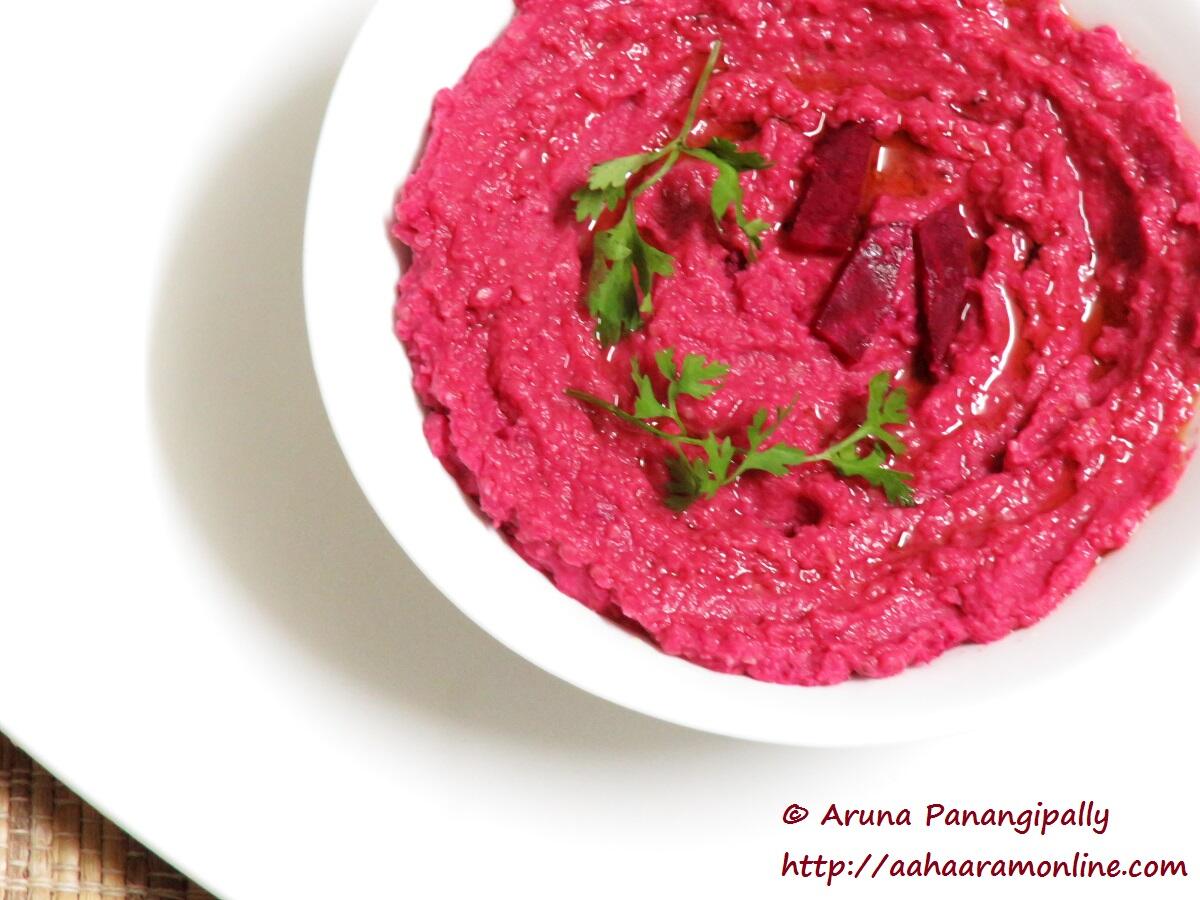 Pin